Villages Charter School Football Star Alvon Isaac Commits to USF!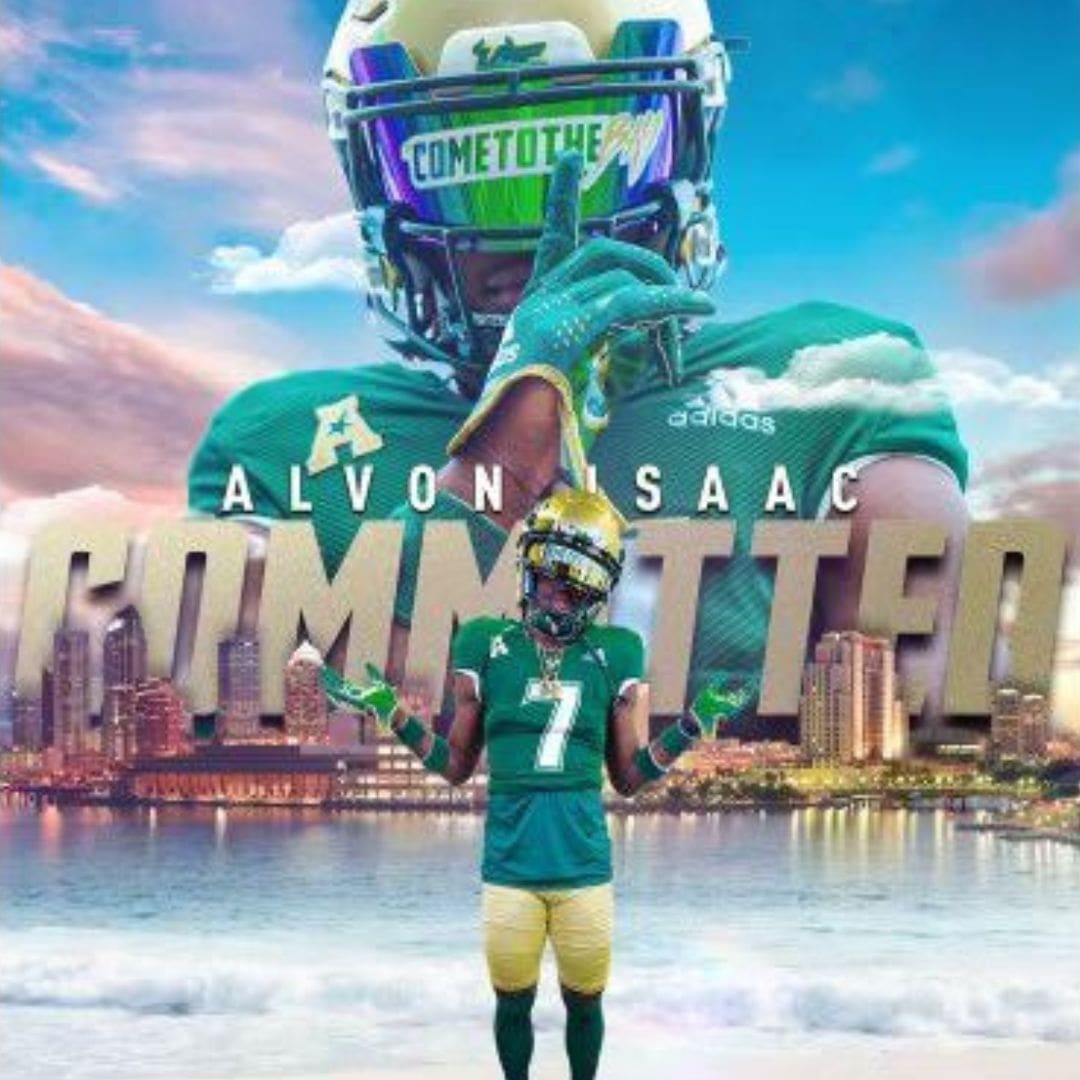 Alvon Isaac, the three sport athlete who plays for The Villages has committed to play football for the University of South Florida in 2024! The incredibly talented running back made his decision in a Tweet he sent out on July 4th. He needed to say only 1 word "Committed".
Isaac will be joining fellow teammate and former quarterback and linebacker who played for The Villages Mac Harris who currently plays defense for USF. Harris was a standout athlete playing a variety of positions including quarterback. Harris loved defense though and he has been a part of the USF Bulls since graduating a few years ago. Isaac will join a team who will likely be one of the best in the American Conference for years to come. The departure of UCF & Houston will allow USF to likely take the reins as one of the top programs of that conference.
Isaac is one of the best running backs in Lake & Sumter County. He averaged 6.7 yards per carry last year while rushing for 1,155 yards. He accumulated 15 touchdowns. 12 on the ground and 3 through the air. He also had a defensive touchdown. Isaac once scored 6 touchdowns in one game which tied a school record of Mac Harris who also had 6 touchdowns in a game. Isaac accomplished that last year.
Isaac averaged 115 yards per game last year. He is such a fast player. He works very hard in the off season and is one solid built piece of muscle. He also plays Basketball and Track & Field for The Villages. He made the last basket at The Original Villages High School last year in a thrilling finish against North Marion earlier this year.
USF is getting a solid player. We think that Isaac will be one of the best Running Backs in the American Conference. At 5'11 weighing 175lbs he is what you want for a Running Back but there is much more. He runs a 4.43 in the 40 yard dash. This year he hopes to possibly get into the high 4.30s that would be a terrific improvement.
Isaac runs a 4.07 in the Shuttle run he has a 36 inch vertical which is 3 feet! For his size that is great. He benches 200lbs while running a 10.84 in the 100M dash. Defenses have a tough time containing Alvon Isaac when he gets into the open field. If given space Isaac will get to the endzone often.
We are very excited for Isaac, his family and friends, teammates, coaches and The Villages Charter School as they send yet another athlete to a Division 1 program. Congratulations!
Photos Provided By:
Twitter
VHS
Kyle Coppola was born in Newton, Massachusetts and received his Bachelor of Fine Arts in Communications from Curry College in 2016. After traveling to Florida on a family vacation, he decided he could not get enough of the warm weather and made the move from snowy Massachusetts to central Florida 8 years ago.
For the last decade Kyle has gained valuable experience in social media content creation, marketing and sales, writing, video production, sports announcing and even broadcasting for local radio stations, such as FM 102.9 in The Villages and FM 91.5 in Massachusetts. Every year he volunteers at The Villages Charter High School as a play-by-play sports announcer for the football games as well as a public address announcer for the basketball games, including the annual Battle at The Villages Tournament.
Outside the office Kyle is a husband and father to two beautiful girls along with their cat. In his spare time he likes to spend time with his family, travel, play golf and swim. He is also a huge sports junkie and even bigger motorsports fan and loves to attend racing events when he can.
Share This Story!