Week 1 Friday Night Lights Football Results & Breakdown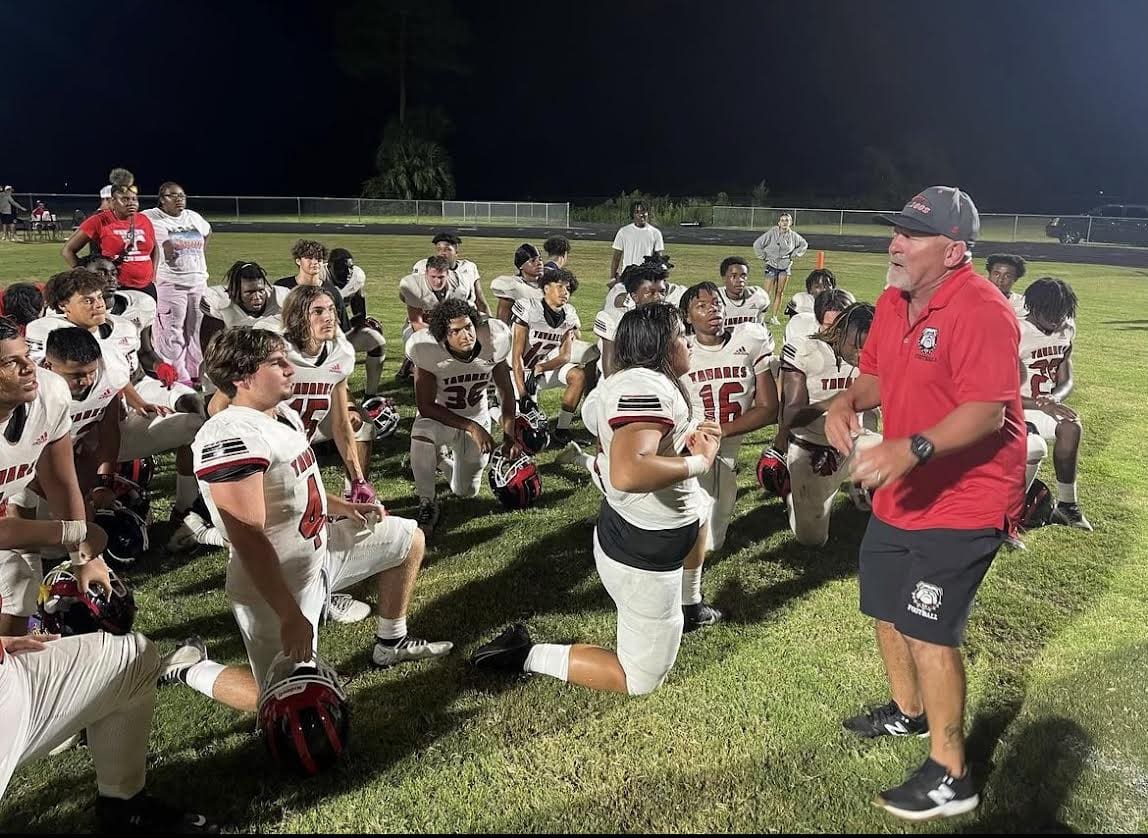 1-0 South Sumter 55 | 0-1 The Villages 6
South Sumter absolutely dominated this game from start to finish. We knew the Raiders were good, but we did not know just how good. This year the Raiders looked incredibly fast on the new artificial turf surface. This was the first game for the turf and it held up perfectly as would be expected. The turf allowed for a fast game that saw South Sumter able to control the ball with ease. The Village could not overcome the offensive firepower that South Sumter has. Jamare Dorsey ran all over the defense and was led by an outstanding group of offensive lineman who opened up holes all night long.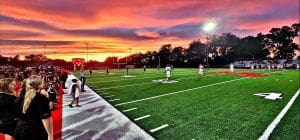 The Villages is a young team offensively. That was highly evident tonight as the South Sumter Defense man handled the offensive players for The Villages. Running the ball proved difficult and linebacker Malakhi Boone made sure that The Villages was not going anywhere fast on the ground. Patrick Harding did his best to find his targets including his brother Jonathan Harding. By halftime the score was 46-6. The game was basically over by the end of the 1st quarter. Almost a carbon copy of last years game at The Villages which South Sumter also dominated.
Overall South Sumter comes out of this game with a huge amount of momentum which should help them through the early part of the season. For The Villages they open up their brand new football complex next week against Zephyrhills. As for South Sumter they get another home game next week against North Miami Beach in what will be a very intriguing matchup to watch.
1-0 Mount Dora High 13 | 0-1 MDCA 7
In what proved to be one of the best games of the night, MDCA had the Hurricanes number early. MDCA ran the ball up the middle and tried to tire the defense of Mount Dora High out. Both offenses struggled to get down the field and the defense was a huge part of the success on this evening for Mount Dora. At halftime MDCA led the game 7-0 but head coach Luke Hutchinson gave a rousing halftime speech to his boys as he usually does.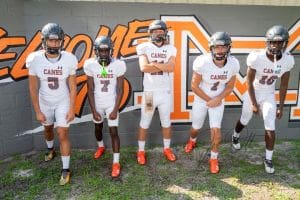 Then before the second half began, the stadium lost power! A few minutes went by and power was eventually restored but that delay seemed to rattle MDCA. The Hurricanes came out as a much improved team in the second half. MDCA blocked a punt and returned it for the touchdown to tie the game midway through the 3rd quarter.
By the 4th quarter and time winding down, The Hurricanes proved down the field for a rushing touchdown. That put the Canes up 13-7 but the extra point was missed. The score was 13-7. As time continued to wind down, MDCA just did not have the firepower to get down the field in time for a potential game winning drive. Mount Dora High would end up winning the game 13-7 as the final. Great game from both of these programs. Always a fun one when they get together.
0-1 Moore Haven 0 | Leesburg 42
Leesburg came into this season riding high off of momentum from a 47-0 win in the preseason against Crystal River. The Yellow Jackets look like a completely different team this year compared to a year ago which saw Leesburg win only 2 games. This season the Yellow Jackets are coached by former UCF quarterback Steven Moffett. From the day he stepped onto the campus with his new coaching crew, you know things were going to go in the right direction. That is exactly what happened tonight.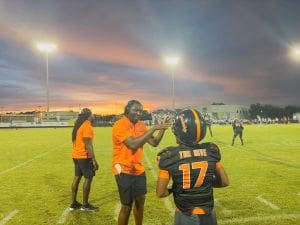 QB Solomon Georges looked terrific out there. He and coach Moffett were on the same page this evening. Leesburg did whatever they wanted with Moore Haven at times. The offensive line did a good job and overall it was a very good night of football. Defensively, Kanye Gaines was a standout. The Western Kentucky commit had a trumendous game stopping the run. Moore Haven could do nothing against Leesburg this evening.
1-0 Tavares 22 | 0-1 Atlantic 21
What an amazing first game this was for coach Gavin Jones. Tavares came out and many were saying that Tavares would be the same old team they were last year. Well they were in for a shock tonight! Tavares Football looked like a completely different program. They came out and played inspired football. They played for one another and together, these boys were able to keep it competitive into the 4th quarter.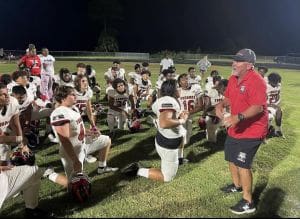 Eventually a game sealing interception was made and Tavares would win their first football game since the 2021 season. We are so happy for this school and program. Athletic Director Tracey Hanson has done a great job getting the right people into leadership roles at Tavares the last year or two. The win was not pretty, but a win is a win. We are proud of the coaches, family members and community for believing in this team. They certainly showed that they can and will do what it takes to win football games this year.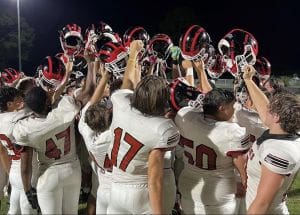 Other Scores
`1-0 Matanzas 32 | 0-1 South Lake 17
South Lake came out and played much better football than they did a year ago. That is the positive to take out of this game. Brad Lord is in his first year as head coach. He comes to South Lake after a lengthy career at Foundation Academy where he had a lot of success. No one expects South Lake to win right away. They actually kept things interesting late int the game but there are some good things they can take with them headed into the rest of the season.
1-0 Manatee High 46 | 0-1 Lake Minneola 27
A year after making a regional final matchup, Lake Minneola came out of the gate in 2023 with high hopes. However on this night Manatee had their number. The Manatee offense was terrific. They were able to run and throw the ball all over the field. Lake Minneola had a decent night offensively. Not every team that Lake Minneola plays this year will be the strength of Manatee so hopefully they can make some defensive adjustments. Look for Lake Minneola to rebound next week against Vanguard.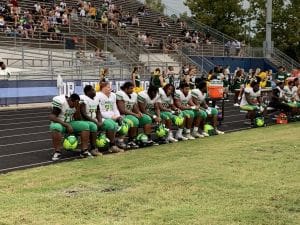 1-0 Countryside 40 | 0-2 Liberty Christian Prep 6
Tough game tonight for LCP but honestly we are just happy to have another tackle football team in Lake County! LCP may have lost but they won everyones hearts tonight. Especially Luke Watts who scored the first ever point for LCP on a 1 yard draw to the end zone. That was a big moment in this programs history. 8-Man Football is a little different that 11-Man. Played on a smaller field, most of the rules are the same but it is an entry level for many teams to get into a tackle program before taking on an 11-Man program. LCP is building this team one game at a time.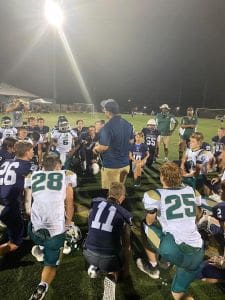 We are happy that they are playing football and the wins will come in time. Coach Chris Likely has some work to do but this first season needs to be viewed not in the win total but the heart and desire to want to compete at this level. We will continue to hope that LCP will eventually find success as the season moves along. Overall though we just want to see the kids have fun and continue to draw interest for kids who are coming up the ladder. This is a groundbreaking season. LCP is doing what they need to do. Keep fighting boys!
1-0 Eustis High 45 | 0-1 Harmony 3
Eustis took care of business against Harmony. Head coach Frank Scott has the boys looking good this year. They are defending district champions and they look like they should be able to compete for the title again in 2023. The offense was led by QB Troy Saladin who had an excellent night. The defense was also dominant in the trenches. Overall the Panthers are off to a great start this year. This is a good tune up game before what will be a big rivalry game next week at home against Leesburg. That game should be one of our games of the week. We look forward to that one!
1-0 Palatka High 45 | 0-1 Umatilla High 6
Tough game for Umatilla tonight. Palatka was fast and took advantage of the home field advantage. Not how first year Head Coach Eric Samuels thought the first game would go but Palatka was a very experienced team this year. Umatilla has a young group of guys who will eventually develop as the season moves along. We hope that Umatilla can have a better showing next week when they travel to Crescent City.
1-0 Seven Rivers 41 | 0-1 FA Leesburg 7
It was a rough game for the Eagles. Seven Rivers came out fired up and just pounded the ball on the ground. FA Leesburg had a noticeable size disadvantage in this game. QB Cason Cherry did his best to rally his boys and get them down the field but the defense for Seven Rivers was very strong. Only letting up one touchdown. Head coach Can Bui will have some work to do this upcoming week to prepare for a big matchup against Trinity Prep next week win Winter Park.
1-0 OCP 45 | Wildwood 20
OCP comes in with a great group of seniors this year. While Wildwood is a younger team this year, the Wildcats did the best they could to contain the offensive firepower OCP had. By halftime Wildwood was down 20-6. Early in the 3rd Quarter Wildwood would cut the lead to 1 score as they had a rushing touchdown to make it 20-12. Wildwood would miss the extra point. Special teams is something Wildwood will need to work on in practice this week. They have to develop a kicking game of some sort. OCP came right back with a touchdown and made it a 27-12 game.
Late in the 3rd quarter Wildwood cut the lead to one score again which made it 27-18. Wildwood would go for two this time and convert the try to make it 27-20. That would be as close as Wildwood would get unfortunately. OCP would go on to score two more touchdowns to seal the game. Tough loss for Wildwood but they learned a lot in this game. Next week Wildwood plays Chiefland at home in what will be an always competitive matchup.
East Ridge 38 | Pasco 21
The Knights came out strong against a very good Pasco team this year. The knights led by coach Donnie Burchfield looked much improved from a year ago. The win sets the Knights up for what should be a fairly easy contest next week against Crystal River.
Kyle Coppola was born in Newton, Massachusetts and received his Bachelor of Fine Arts in Communications from Curry College in 2016. After traveling to Florida on a family vacation, he decided he could not get enough of the warm weather and made the move from snowy Massachusetts to central Florida 8 years ago.
For the last decade Kyle has gained valuable experience in social media content creation, marketing and sales, writing, video production, sports announcing and even broadcasting for local radio stations, such as FM 102.9 in The Villages and FM 91.5 in Massachusetts. Every year he volunteers at The Villages Charter High School as a play-by-play sports announcer for the football games as well as a public address announcer for the basketball games, including the annual Battle at The Villages Tournament.
Outside the office Kyle is a husband and father to two beautiful girls along with their cat. In his spare time he likes to spend time with his family, travel, play golf and swim. He is also a huge sports junkie and even bigger motorsports fan and loves to attend racing events when he can.
Share This Story!