Wildwood is your Class 1A District 9 Flag Football District Champions!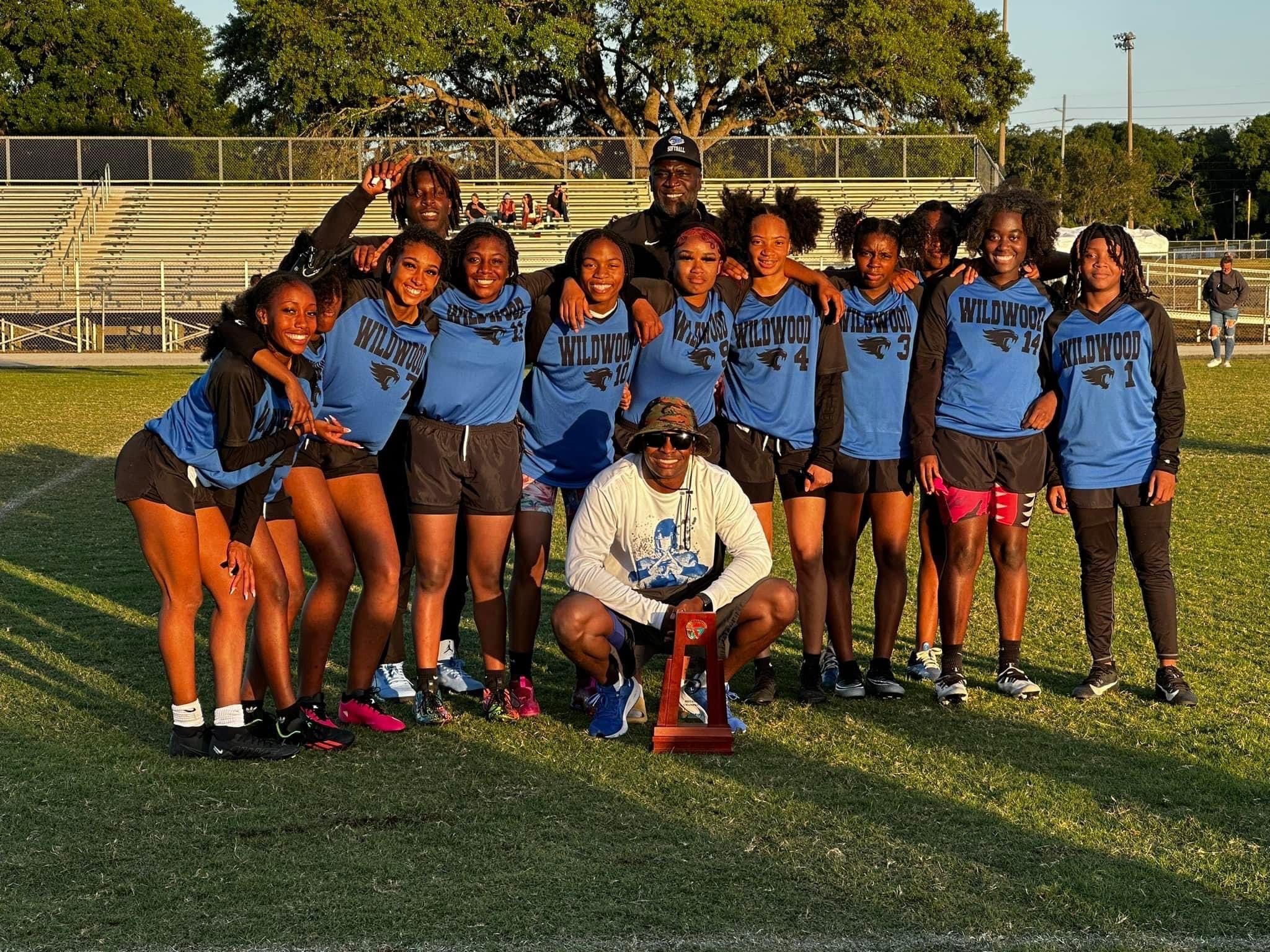 Wildwood High accomplished something impressive this past week. They captured their first Flag Football District Championship. However this story gets more impressive. Not only were Wildwood District Champions, but this was the first year that the Lady Wildcats competed in a district! It's also the first year in the state series and first ever Flag Football District Championship in School History!
Wildwood has a tendency to produce champions. They also produce district champions and go to state championship games often. Such is true with the Girls Basketball team which is one of the most successful programs in our state in recent years. Coach Brown led the Lady Cats to some amazing wins this season. He puts so much pride and effort into everything he does and it shows.
Coach Brown is not just the coach of the Lady Wildcats Flag Football program but he is the head coach of the Wildwood Football Team. That means the Lady Wildcats had a fantastic coach this year leading them to the district championship.
The girls team this season was led by Zoey Brown who was the quarterback for the Lady Wildcats. She was impressive all season long and along with Senior running back Kendall Brown, the two absolutely dominated through the air but particularly on the ground. Zoey and Kendall were so fast, teams just couldn't catch them.
Wildwood had a stacked roster which included players like Essiance Jasper, Trinidy Harris who were both standout basketball players this season. Along with Shakira Huff, Adejuah Corbin and more! The team was as good as you could possibly get! No one could keep up with the onslaught of offensive firepower the team had. Even defensively the lady Wildcats were just too fast and too good in coverage for opposing teams to make any ground on.
Outscored Opponents 233-2 In Regular Season! 
Wildwood was so impressive that during the regular season they outscored their opponents 233-2. Those are some devastating statistics. Just goes to show you how dominant this team truly was. In the playoffs, Wildwood would beat Crescent City 40-0 and in the semi-finals they took down Seabreeze by a score of 18-0.
Finally in the championship game, Wildwood finally had a tough battle. The Wildcats took on Mainland. It was a back and forth game but the Lady Wildcats pulled off the victory 18-14 to win their first District Championship in school history. It was a terrific season capped off by an impressive run in the district playoffs. Next up for the Lady Wildcats will be a trip to the FHSAA Regional Quarterfinals where the Wildcats will take on Somerset Academy on April 26th at 6:00pm at Wildwood High School.
We wish the Lady Wildcats the best of luck in the FHSAA playoffs and we hope they can bring home a state championship!
Photos Provided By:
Wildwood High School
Kyle Coppola was born in Newton, Massachusetts and received his Bachelor of Fine Arts in Communications from Curry College in 2016. After traveling to Florida on a family vacation, he decided he could not get enough of the warm weather and made the move from snowy Massachusetts to central Florida 8 years ago.
For the last decade Kyle has gained valuable experience in social media content creation, marketing and sales, writing, video production, sports announcing and even broadcasting for local radio stations, such as FM 102.9 in The Villages and FM 91.5 in Massachusetts. Every year he volunteers at The Villages Charter High School as a play-by-play sports announcer for the football games as well as a public address announcer for the basketball games, including the annual Battle at The Villages Tournament.
Outside the office Kyle is a husband and father to two beautiful girls along with their cat. In his spare time he likes to spend time with his family, travel, play golf and swim. He is also a huge sports junkie and even bigger motorsports fan and loves to attend racing events when he can.
Share This Story!