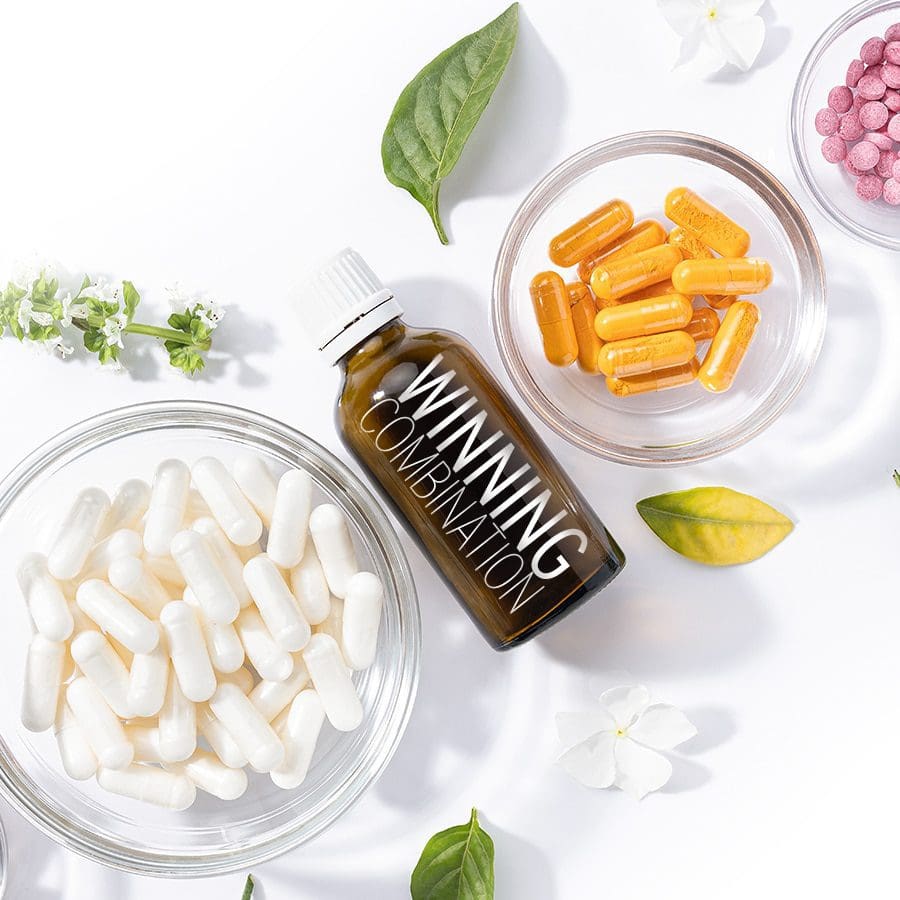 A to Zinc, what's a body to think?!
A wave of uncertainty caused many changes in thinking about how to stay healthy when the coronavirus pandemic swept the nation in 2020.
People began making and wearing face masks and shopping online, along with "eating out" by going to restaurants with drive-thru windows and/or curbside pick-up. 'Social distancing' became one of the most commonly-used phrases of the year.
When reports circulated about the importance of boosting immune systems to help ward off or overcome COVID-19 and other illnesses as quickly as possible, people began paying closer attention to what foods they were consuming and whether they were eating healthy enough. The pandemic also prompted a spike in walking and exercise, even if it meant doing it outdoors for a time.
Throughout the nation, people began turning to doctors, nutritionists, and health food coaches with questions about the most beneficial vitamins, minerals, and dietary supplements to boost immune health. 
In fact, during the height of the pandemic, vitamin supplements flew off shelves almost as quickly as toilet paper. And popularity of vitamins continues to this day according to Gretta Ellis, an advanced practice nurse practitioner (APRN) and owner of Ellis Integrative Family Practice in Tavares.
Gretta says she noticed the pandemic prompted a renewed interest in prevention, which pleases her since she encourages taking preventative measures to ward off illness and disease. 
"We are actually huge on prevention and getting immune support in place so that if you do get sick with COVID, or anything else, then your immune system is able to fight it off naturally," Gretta explains.
Lori Esarey, APRN and owner of Total Nutrition and Therapeutics in Lady Lake, concurs that vitamins and supplements remain in high demand.
"I will say that COVID has been very interesting. There has been this big niche to become more open-minded to taking supplements," Lori says. "In fact, people have become eager to learn what they can be doing to help their immune systems become more resistant to viruses, bacteria and illnesses in general."
Lori says there were times when vitamin D and Zinc were impossible to come by since they were touted as the most beneficial supplements for reducing the duration and severity of the COVID virus.
"When we take vitamin D and Zinc, and science shows it, they can modulate and strengthen your immune system, and make you bounce back faster after any exposure or illness," Lori says. "We can't prove that those vitamins or minerals have kept a person from getting COVID, because how do you know? But what I can say we know for sure is when a person is more nutritionally sound, when they are not nutritionally devoid or deficient, our immune systems work much more effectively."
"By taking vitamins, you are supplementing your diet and filling in the nutritional gaps we
all create every day."

—Lori Esarey, MS, APRN-C, FAARFM, ABAAHP 
According to Lori, the bottom line is that people should make a habit of eating nutritionally dense foods on a daily basis to promote good health. That said, she strongly encourages supplementation.  
"At the end of the day, I think we all know that our food is just not as nutritionally dense as it once was, and that's where supplementation comes in," Lori says. "By taking vitamins, you are supplementing your diet and filling in the nutritional gaps we all create every day because we either don't like certain foods or we microwave or overcook all of our stuff."
Gretta agrees. She says people should—first and foremost—make healthy food choices to prevent sicknesses and boost immune health, but at the same time, should supplement their diets with a good vitamin regimen.
However, she does warn that not all vitamins are created equal.
"Focusing on cutting out sugars and a lot of complex carbohydrates is really big for cutting inflammation and helping the immune system, but we also recommend high quality vitamins for immune support," Gretta says. "Usually, health food stores carry good quality vitamins and basically, you get what you pay for. With some of the cheap vitamins, you can be doing more harm than good, because you are mainly getting fillers and preservatives."
Gretta and Lori take vitamins daily. Both also take (as well as recommend) a daily probiotic that contains live cultures, for good gut and immune health.
"Probiotics, believe it or not, not only help with your immune system, but they help with anxiety and depression because having all the good bacteria in your stomach helps produce serotonin, or the good happy feelings," Gretta says. "And just like the vitamins, make sure you always get a good quality probiotic."
Gretta says her daily vitamin routine, used for preventative measures, includes Vitamin C (1,000 milligrams), Vitamin D-3 (5,000 milligrams), and Zinc (50 milligrams with food). She also says B12 vitamins are good for inflammatory response.
Gretta says that at Ellis Integrative Family Practice, she and her staff customize a plan with each patient.
Should one get sick however, she offers a Vitamin IV to get the immune system back on track. She says when vitamins are given intravenously, they go directly into the bloodstream instead of being absorbed by the stomach, which means they don't worsen nausea and vomiting.
"The vitamin IV is basically a big vitamin cocktail. It's called immunity and if you get COVID, the flu, or any sickness, I meet you outside and I hook it up to you right on the side of our building," Gretta says. "We have been fortunate to have kept all of our patients out of the hospital doing the IVs outside and getting them on immune support vitamins."
Lori says her recommendation for daily vitamins includes Vitamin C (1,000 milligrams), Vitamin D (5,000 to 10,000 milligrams), Zinc (20 milligrams), a good multi-vitamin, and Fish Oil (4,000 milligrams). 
She also says people should consider N-Acetyl Cysteine (NAC), good for anyone with chronic immune system challenges or when exposed to a sickness, since it helps the body produce L Glutathione, which she calls "the mother of all antioxidants."
When Lori gets sick with COVID, or another virus, she doubles her daily vitamin dosages, and adds a daily dose of glutathione (175 milligrams), until she's better.
"I would love to say that all of us eat well, exercise, and do all the right things so we won't get sick, but at the end of the day, none of us are immune to any disease, so we all have to do our daily work," Lori says. "That means getting plenty of sleep, drinking plenty of water, eating good, quality, healthy foods, and supplementation."
In addition to making those changes, being an informed consumer is vitally important.
She says people should make sure vitamins are high quality. Look for NSF or ANSI certifications on bottles. 
Because of that, she believes purchasing vitamins online may not be a good idea because you cannot be sure where they are coming from or how they have been stored. Temperature and humidity, if not adjusted properly, can compromise vitamin quality. Locally, she says health food stores and medical offices are better options than drugstores and big box stores for vitamin purchases. For probiotics, look for quality and live (good) bacteria and ensure they are not past their prime. 
Lastly, she suggests seeking professional advice before starting on a vitamin regimen to avoid the risk of side effects, prescription drug interactions, and improper dosing.  
"I absolutely do believe in vitamins, but I also believe that you have to be an informed consumer regarding the quality and your unique chemistry and needs," Lori says. "You have to respect supplements because they affect your physiology and going cheap can end up being the most expensive supplement you ever purchased because perhaps it harms you or hurts you in some way."
Lori urges people to seek out the most current research and expert advice on vitamin supplements, because vitamins work best when uniquely tailored to your individual needs.
"Just as prescriptions can cause side effects as well as benefits, so can supplements, so get an expert's help so that, number one, you're not wasting money, and number two, you're getting the results you are looking for," Lori concludes. 
Originally from Nogales, Arizona, Roxanne worked in the customer service industry while writing independently for years. After moving to Florida in 1999, Roxanne eventually switched her career path to focus more on writing and went on to become an award-winning reporter for The Daily Commercial/South Lake Press newspapers for 16 years prior to coming on board with Akers Media as a staff writer in July 2020 – her dream job come true.
Share This Story!