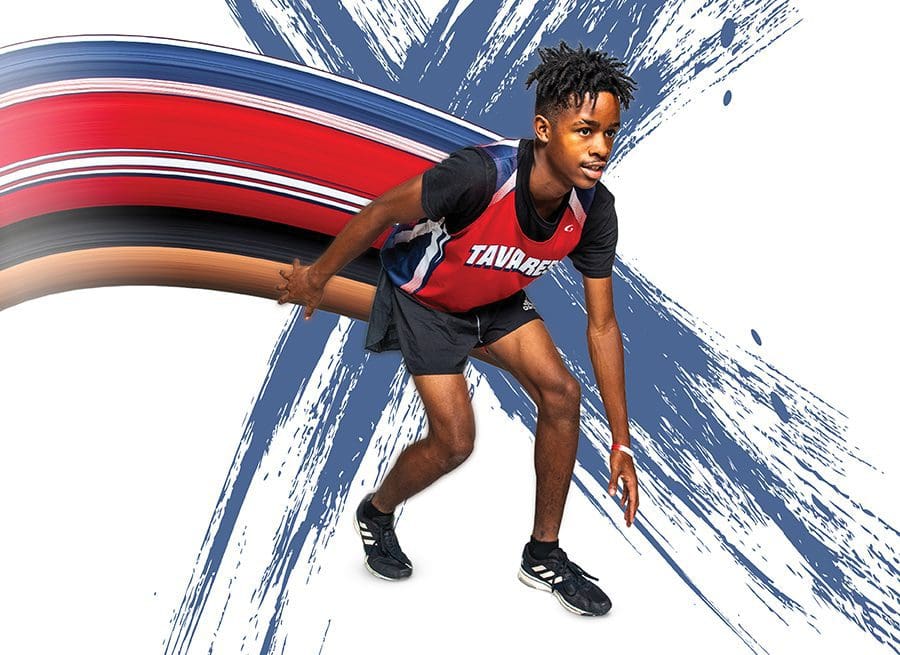 In the Zone
Sixteen-year-old Aaron Harris has made big strides since he began running in third grade.
In May 2022, while at Tavares Middle School, Aaron broke six school records, including the mark in the 400-meter run, which he ran in :53.6, the fastest time in the state and third best time in the nation for his age group (14-16). 
"I like the competition, but I also like running because sometimes it keeps my mind off of things," Aaron says. "My tip for others is what I tell myself, 'Never give up, give it your all, and just have fun with it.'"
Now a Tavares High School freshman, Aaron is intent on giving his all more than ever after fully recovering from a hip injury that kept him out of the state championships last year.
Currently, Aaron is playing junior varsity basketball, but come February he'll be part of the track team with a speed-centered mindset. 
"Sometimes when I'm running, I don't see anything except for what's in front of me, and I'm not focused on anything until the end when I start thinking that it's me running, instead of like my body doing it for me," Aaron explains. "I guess you can say I'm in the zone."
Originally from Nogales, Arizona, Roxanne worked in the customer service industry while writing independently for years. After moving to Florida in 1999, Roxanne eventually switched her career path to focus more on writing and went on to become an award-winning reporter for The Daily Commercial/South Lake Press newspapers for 16 years prior to coming on board with Akers Media as a staff writer in July 2020 – her dream job come true.
Share This Story!