Amusement: Comedy & Theatre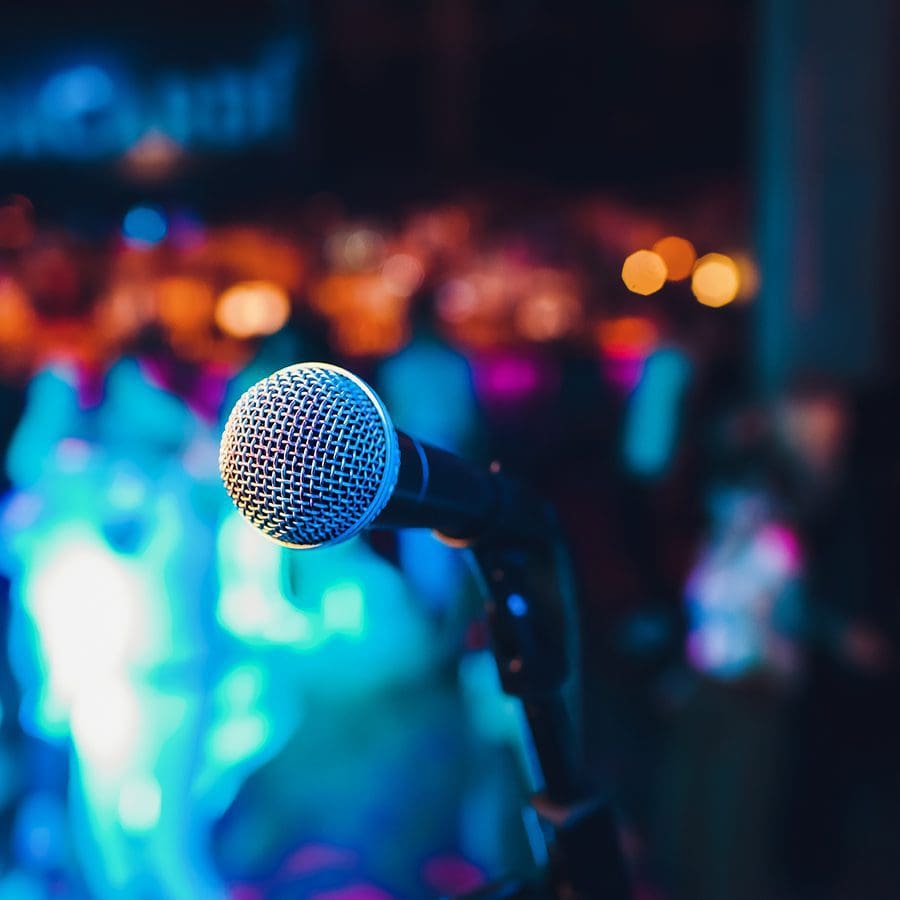 There are many benefits to laughter and that's no joke. Laughter can reduce your stress, depression, and anxiety, and make life seem much more enjoyable. Fortunately, laughs are aplenty in Lake County thanks to a growing stand-up comedy scene. See for yourself and get your funny bone tickled by talented comedians—some well-known, others soon to be stars—performing in the upcoming months. You'll laugh until your heart is content. 
Venues
Fruitland Park Comedy Night
Fruitland Park Community Center
352.360.6734 | myoder@fruitlandpark.org
The City of Fruitland Park offers a comedy show on the third Friday of each month at 8pm inside the Fruitland Park Community Center that attracts comedians from throughout the U.S. Each show includes a headliner and a feature act. "We also allow locals to get up on stage and perform before our headliner and feature acts," says Fruitland Park Recreation Director Michelle Yoder. "It's really neat to allow them to see if they enjoy comedy." A full-service bar is offered outside the venue, and guests are treated to pretzels.
---
Friday Night at the Black Box
Black Box Theater in the Clermont Performing Arts Center
352.394.4800 | www.clermontperformingarts.com
The City of Clermont offers a comedy show on various Fridays at 8pm each month at the Black Box Theater in the Clermont Performing Arts Center. The event attracts comedy greats, including performers from the SAK Comedy Club in Orlando, and nationally known or up-and-coming comics. In response to the growing popularity of the series, new carpet, fresh paint and upgraded seating and other improvements have been made at the Black Box Theater, an intimate, 192-seat venue. "The new seats are fully upholstered with comfortable bottoms and backs and there is plenty of room for our guests," Theater Manager Jon Sousan says. "The seating has also improved the acoustics for the entire theater. By reducing the harshness, the audio will be much more detailed and easier to understand."
---
Lazy Mac's Taco Shack and Tequila Bar
Old Mill Playhouse Theater in the Lake Sumter Landing Market Square
352.753.6227 | www.lazymacs.com
Lazy Mac's Taco Shack and Tequila Bar serves up burritos, taco bowls, and nachos with a side of laughter in the Lazy Mac's Laughs Comedy Club inside the Old Mill Theater at Lake Sumter Landing. The club features Bonkerz comedians from television and movies every Tuesday and Wednesday at 8pm. Doors open at 6:30pm. Tickets cost $15 per person and include a two-item minimum purchase from Lazy Mac's Taco Shack and Tequila Bar's menu. 
Performances
February 4
Vicki Lawrence
The Sharon, The Villages
As a high school senior, Vicki Lawrence joined the legendary cast of "The Carol Burnett Show," and later starred as "Mama" Thelma Harper on "Mama's Family." Vicki is also an Emmy Award winner who had a No. 1 hit with "The Night the Lights Went Out in Georgia." Her current tour, "Vicki Lawrence and Mama: A Two-Woman Show," is a mixture of stand-up comedy, music, and observations about real life.
---
February 8
Carmen Vallone
Lazy Mac's Taco Shack and Tequila Bar, The Villages
During 12 years of performing comedy, Carmen Vallone has appeared on NBC's "Last Comic Standing," CBS's "Comedy Night School," and in the 2007 documentary "Heckler." He is also host and producer of "A Joke Off!," a nationally touring comedy competition.
---
February 10
Gid Pool
Clermont Performing Arts Center
You're never too old to become a comedian. Just ask Gid Pool, who took his first stand-up comedy class in 2007 at age 61. Two years later, he was one of the winners at the Branson Comedy Festival in Missouri. Since then, Gid has been featured on NBC's TODAY show and makes regular appearances on celebrity cruises. 
---
February 22
Billy Ray Bauer
Lazy Mac's Taco Shack and Tequila Bar, The Villages
During 26 years as a stand-up comedian, Billy Ray Bauer has performed alongside Drew Carey, Dave Coulier, Richard Jeni, and other legendary comedians. He has also appeared at many popular comedy clubs throughout the country, such as Comedy Castle and Funny Bones.  
---
February 24
Terry Fator
The Sharon, The Villages
Terry Fator, the winner of Season 2 of "America's Got Talent," dazzles audiences with his unique blend of comedy, singing, celebrity impersonations, and ventriloquism. He has spent the past 10 years as a headliner at the Mirage Hotel in Las Vegas, winning numerous awards such as "Best Show," "Best Impressionist," and "Best All-Around Performer."
---
March 3
Cam Bertrand
Clermont Performing Arts Center
In 2019, Cam Bertrand became the youngest comedian to win Florida's Funniest competition, besting 180 comics for the title. He has also opened for some of today's most iconic comedians, such as Joe Rogan and Pete Davidson. The rising star has appeared at the Laughing Devil Comedy Festival in New York, the World Series of Comedy in Las Vegas, and the Laughing Skull Comedy Festival in Atlanta. 
---
April 7
The Funniest Teacher in Florida with Devin Siebold & Mike Rivera
Clermont Performing Arts Center
Devin Siebold is a comedy force to be reckoned with. He was named iHeartMedia Monsters in the Morning Comedian of the Year, won the Boston World Series of Comedy, appeared on Laughs on FOX, won Side Splitters Comedian of the Year 2014, was selected for Comedy Central Up Next, Florida Top 10 College Picks, and a semi-finalist in Florida's Funniest Comedian.
After decades of award-winning comedy and classroom experience, Mike Rivera won America's Most Hilarious Teacher on ABC's "The View." He's also been seen on HBO, Showtime, and comedy stages around the world.
---
May 19
Dale Jones
Clermont Performing Arts Center
The name Dale Jones might sound familiar. That's because he has appeared in "The Very Funny Show" on TBS, "Last Comic Standing" on NBC, and "30 Seconds to Fame" on the Fox Network. He also won the Comedy 10K, Laughlin Comedy Festival, San Diego Comedy Festival, and the Antelope Valley Comedy Festival.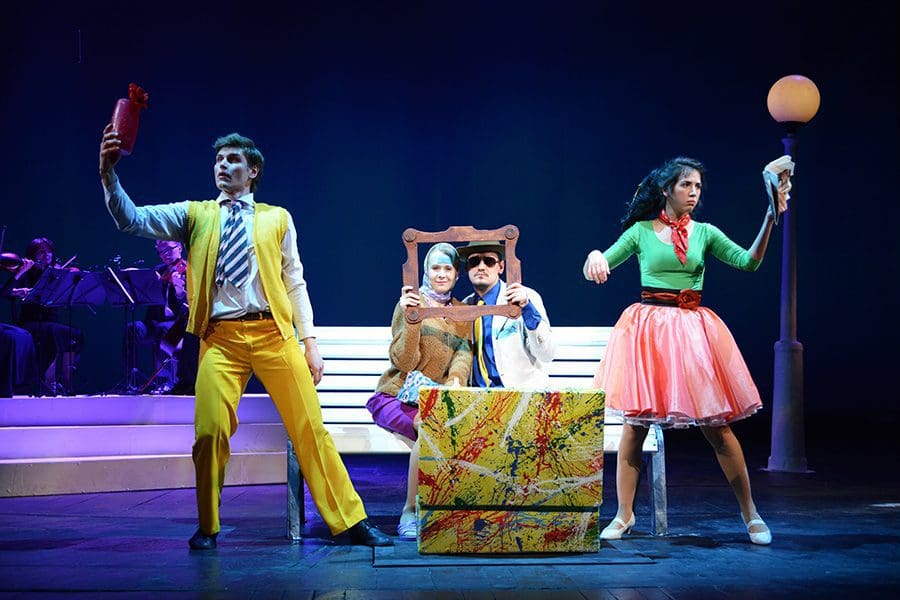 There's only one Broadway, but you don't have to go to New York City to experience talent on the theatrical stage. Community theatres located in towns and cities near you support talented local performers and offer them a place to shine. Why not check out one of these shows? You'll be transported into a magical night of lights, action, and song with each parting of the curtain.
Venues/Shows
Bay Street Players
109 N. Bay St., Eustis
352.357.777
Eustisstatetheatre.org
March 17-April 2
Lend Me a Tenor is a musical about a world-renowned singer set to play Pagliacci at the Cleveland Opera Company in the fall of 1934, and events between many people involved with the show after a mishap leaves him debilitated.
A farce by Ken Ludwig
Directed by David Clevinger
May 26-June 11
Ronald Dahl's Matilda the Musical, the story of an extraordinary little girl with a vivid imagination and a sharp mind who dares to take a stand and change her own destiny.
Book by Dennis Kelly
Music & Lyrics by Tim Minchin
Directed by Ashley Richards
Melon Patch Players
311 N. 13th St., Leesburg
352.787.3013
Melonpatchplayers.org
March 17-April 2
Nickelodeon: The SpongeBob Musical, a show about the chaos that erupts when SpongeBob and all of Bikini Bottom face the total annihilation of their undersea world and how the power of optimism can save the world.
Written by Kyle Jarrow
Produced in arrangement with Concord Theatricals
Directed by Dustin Lavine & Charlie Halterman
May 5-May 21
Boeing, Boeing, a 1960s French farce featuring a Parisian womanizer with three fiancees—all airline hostesses—whose schedules collide; causing them all to arrive at his apartment at the same time.
Written by Marc Camoletti
Produced in arrangement with Concord Theatricals
Directed by Tom Kline
Sonnentag Theatre at the IceHouse
1100 N. Unser St., Mount Dora
352.383.4616
Icehousetheatre.com
March 17-April 9
Hello Dolly! follows the story of a strong-willed matchmaker as she travels to New York to find a match for a miserly "well-known unmarried half-a-millionaire."
Music & Lyrics by Jerry Herman
Book by Michael Stewart, based on Thornton Wilder's The Matchmaker
May 12-June 4
The Underpants, a musical farce about the bored wife of a demanding husband and how their lives are changed by a public wardrobe malfunction when she jumps on a bench to see the king pass by in a parade.
By Steve Martin, from a farce by Carl Sternheim
Moonlight Players Theatre
Clermont Performing Arts Center
3700 U.S. Hwy. 27, Clermont
352.394.4800
Clermontperformingarts.com
April 21-23 & April 28-30
Seussical the Musical, a show featuring the Cat in the Hat telling the story of Horton, an elephant who discovers a speck of dust that contains the Whos in their tiny little world and all he endures to protect them.
Written by Stephen Flaherty
Book by Lynn Ahrens & Stephen Flaherty, based on the works of Dr. Seuss
Lyrics by Lynn Ahrens
Presented by the Moonlight Players
Is there a particular subject that you would like us to write about?
Give us a shout!
Is there a particular subject that you would like us to write about?
Give us a shout!
Is there a particular subject that you would like us to write about?
Give us a shout!
Originally from Nogales, Arizona, Roxanne worked in the customer service industry while writing independently for years. After moving to Florida in 1999, Roxanne eventually switched her career path to focus more on writing and went on to become an award-winning reporter for The Daily Commercial/South Lake Press newspapers for 16 years prior to coming on board with Akers Media as a staff writer in July 2020 – her dream job come true.
Share This Story!