Attractions: Showing off muscles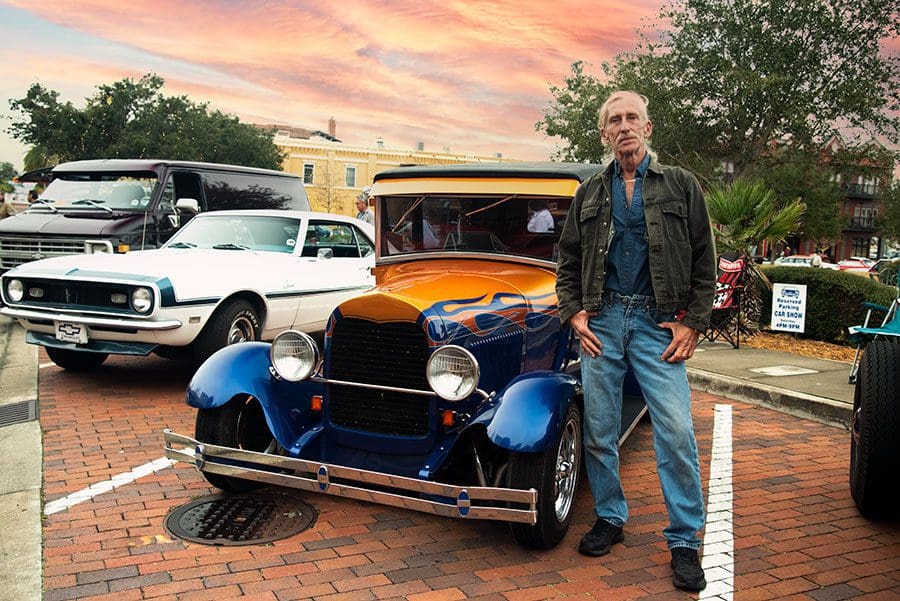 Local car show revs up interest among automotive enthusiasts.
Photos: Nicole Hamel
Jose Fuentes pops the hood of his 1968 Chevrolet Camaro to reveal an engine as clean and shiny as the white exterior. Nine years ago, he restored the vehicle, installing a 400 horse, small-block engine and a new 700 R4 transmission. He also repainted and reupholstered the vehicle. 
His classic Camaro has two distinct features: it's one of only 4,896 models to come with a bench seat rather than the standard bucket seats. And it was one of only 5,294 models to have a gearshift on the steering wheel column instead of between the front seats. 
"It runs great," Jose says. "I've taken it as far as Georgia and Tennessee."
Jose is one of many car buffs who frequently roll into the Eustis Classic Car Cruise-In on the fourth Saturday of each month from 4-8 p.m. The downtown area becomes a massive parking lot as an amazing collection of cars stretch as far as the eye can see.  As classic songs like "I'm a Believer" and "Respect" blare from a loudspeaker, sun rays beam down on mighty fine pieces of machinery, revealing their meticulously polished surfaces, sparkling chrome, and shiny tires. 
"I'm always surprised by the unusual cars here that you don't expect to see in Eustis." 

—Jack Rudy
The show offers appeal to all age groups. For older people, it's a trip down memory lane. For younger people, it's a rare glimpse into the automotive industry of yesteryear's design, styling, engineering and performance. 
Unlike some car shows, none of the vehicles are roped off, so car aficionados can get up-close views of both the interior and exterior. 
And owners are enthusiastic to talk about their automobiles.
Kevin Sheppard, who lives in Volusia County, came to the show in January to showcase his 1928 Ford Model A Sedan. When he purchased the car six years ago, it had all original parts. He spent $7,500 beefing it up, including the installation of a 350-airboat engine and a new coil spring suspension. He also repainted the vehicle with orange flames. It's quite the conversation piece. 
"I cruise in this every weekend," Kevin says. "Women often wave to me. Women also want to take pictures with their kids standing outside the vehicle or sitting in the front seat."
Tom Foster, of Port Orange, is equally proud of his 1983 AMC Spirit he purchased six months ago. The ruby-red car can complete a quarter mile on a track in 12 seconds. 
"I had been looking for a car, and when I came across this AMC Spirit, I couldn't think of the last time I saw one on the street," Tom says. "It rides really smooth."
Of course, not all vehicles on display are tire-smoking, engine-roaring automobiles from a bygone era. Some are the tire smokers of today. David Boudreau, of Tavares, who made his first appearance at the Eustis Classic Car Cruise-In since obtaining his 2015 Dodge Challenger SRT, patiently waited two years before finding the exact model he wanted. The wait was worth it. Several months ago, his sublime green car with a 6.2-cylinder engine ran 150 miles per hour on a track in Bradenton. 
David, once a Ford Mustang devotee, is now a Dodge Challenger fan. 
"I love the color because it really pops," he says. "You just don't see many Challengers with this color."
Others attend the show merely to observe. Jack Rudy, a resident of Eustis, is a YouTuber who under the handle "Raconter1" produces videos of older cars with mostly original parts. Jack, who has 11,000 subscribers to his channel, enjoys talking to automobile owners and learning the history of their individual cars. 
"Owners really open up when it comes to their vehicles," Jack says. "The vehicles are like part of their family."
Though he travels to classic car shows throughout the state, Jack never misses the Eustis Classic Car Cruise-In. 
"This show happens every month and is never canceled," he says. "I'm always surprised by the unusual cars here that you don't expect to see in Eustis. You can come here and be surrounded by great vehicles, great people, and great food. This is an awesome event."
In other words, this show will definitely get your motor running. 
---
Know of a cool event you'd like us to feature in Attractions? → Contact us at least three months in advance and provide all the details to james@akersmediagroup.com.
Akers Media Group's James Combs has been a staff writer for several local publications since August 2000. He has had the privilege of interviewing some of Lake County's many fascinating residents—from innovative business owners to heroic war veterans—and bringing their stories to life. A resident of Lake County since 1986, James recently embarked on a journey to lead a healthier lifestyle. He has lost 60 pounds and walks nearly five miles a day. In his spare time, he enjoys target shooting, skeet shooting and watching his beloved Kentucky Wildcats!
Share This Story!