Attractions: The sweet smell of success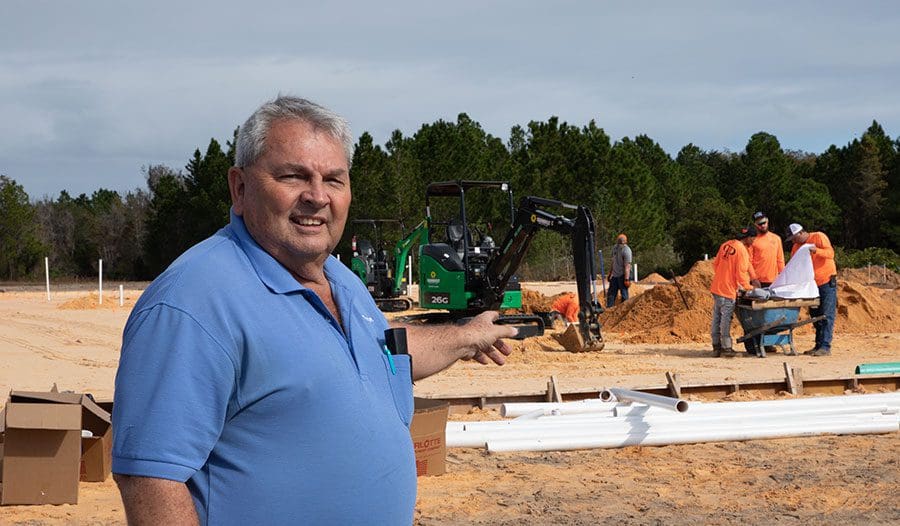 Business owner from Miami is looking forward to a bright future in Eustis.
Photos: Anthony Rao
Lake County will soon be home to a company whose owner is taking the candle business by storm.
Karen Lawrence, who owns Lulu Candles in Miami, is relocating to a 26,000-square-foot building under construction at Cobb Commerce Park on County Road 44 in Eustis.
The industrial park is being developed by Jerry and Nan Cobb, owners of Cobb's Triangle Tractor next door.
"As soon as I drove up to the property, I said, 'This is it. This is where I am going to build,'" Karen says.
Karen, originally born in Columbia, grew up in Brazil. She came to the United States when she was 13. After graduating from the University of Michigan, Karen moved to Miami and worked as an industry consultant for SunTrust Bank. 
But she was not satisfied. "I decided I needed to become an entrepreneur; that I was not meant to work for someone else," she says.
For 20 years since then, Karen has manufactured high-end private label candles for resorts, hotels, spas, and other businesses. Her main products were being imported from Columbia, but years ago, after noticing a decline in quality and consistency from her supplier, she considered alternatives.
"I took matters into my own hands and started researching and experimenting with making my own candles," Karen says. "It took me a good four years of trial and error to let go of importing completely and depend solely on my own personal product with the quality I needed to be able to compete in the U.S. market."
Nearly three years ago, Karen rolled out a line of her own, Lulu Candles, and her company exploded when it hit the Amazon scene.
"People just love the look of my candles and the scents we offer are very unique, as compared to any other brands," Karen says, explaining that she never realized how hard making candles is.
"I first tried making soy candles in 2006 and it was a disaster. It's not as easy as people think, or just putting fragrance to wax. There's a whole science behind it," she adds. "If I wasn't so persistent in the development process, it wouldn't have worked, but I was determined. I wanted to make the best candle and I decided I wasn't going to stop until I figured it out."
Today, Lulu Candles are rated as some of the best candles on Amazon, with scents like bamboo rose, passion fruit-infused mango, Tuscan tangerine, white tea and fig, wild lemongrass, and sexy man, starting at $14.95 for a 6 oz. lidded candle that burns for up to 50 hours.
Karen says her top sellers are fresh linen and pineapple evergreen, but she believes the long-lasting burn and cost-to-quality ratio of her hand poured creations have put her on top.
"We are a high-end candle being sold for discounted prices," Karen says.
Last year, Karen began looking for a place to build her own facility instead of continuing to lease.
Karen said land in Miami is expensive, but someone told her to consider Sanford, so she took a trip up. During that visit, she found Mount Dora and immediately knew she wanted to live there and began looking for land zoned light industrial nearby.
She was introduced to the Cobbs and fate did the rest.
Karen purchased three of the eight available lots at Cobb Commerce Park to accommodate her new manufacturing and shipping facility – two-and-a-half times the size of her current location – plus give her plenty of room for future expansions.
Jerry says he's looking forward to Lulu's opening, expected in mid-2021.
To expedite the process of developing the land and attracting business prospects, the Cobbs have been working with city officials, who waived water and sewer impact fees and created an economic development incentive program to cover other costs.
Jerry says the idea of Lulu Candles and other businesses setting up shop in Eustis is great because it will diversify the local economy and create more job opportunities for local residents.
"If you look at your tax base in a city, it's the commercial entities that make the world go round and everybody benefits from that," Jerry says. "The arrival of this company will bring attention to the whole park."
Karen says she currently employs about 50 people in Miami, and since only about half are coming with her, she will definitely be hiring locally.
Karen is ecstatic about her move and her future.
"It's mind-boggling to be honest. I always worked very hard and I always wanted to be successful, but to be considered one of the #1 candle companies in the U.S. is big and I am grateful to Amazon because they've put my product in front of millions," Karen says. "I'm so proud to have created something people love. It's very rewarding." 
---
You know of a cool place you'd like us to feature in Attractions? → Contact us at least three months in advance and provide all the details to roxanne@akersmediagroup.com.
Originally from Nogales, Arizona, Roxanne worked in the customer service industry while writing independently for years. After moving to Florida in 1999, Roxanne eventually switched her career path to focus more on writing and went on to become an award-winning reporter for The Daily Commercial/South Lake Press newspapers for 16 years prior to coming on board with Akers Media as a staff writer in July 2020 – her dream job come true.
Share This Story!