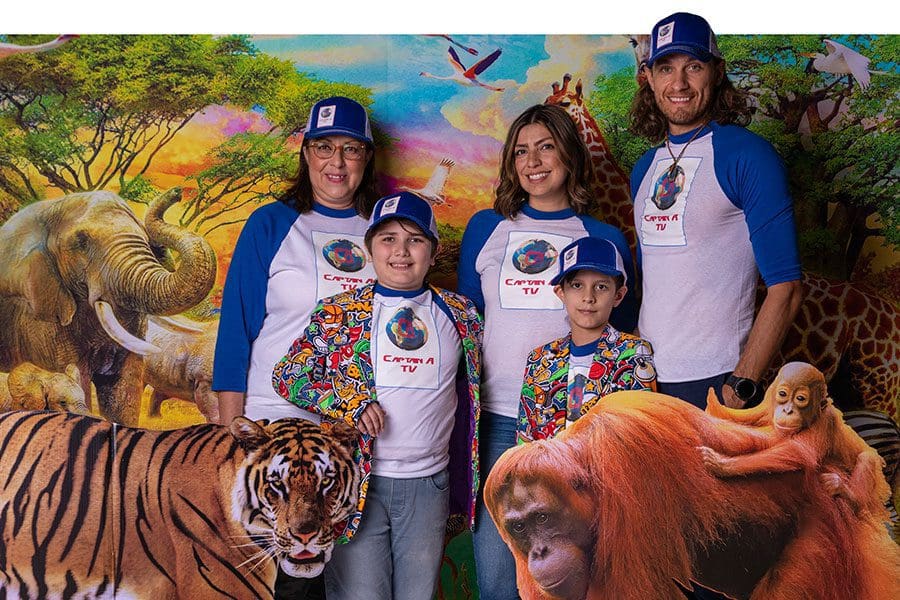 Captain A and Captain SySy are on a mission to teach families about how to save the environment and endangered animals.
Aiden Cardoza and Sylar "SySy" Borden, better known by their online aliases, Captain A and Captain SySy, respectively, are dedicated to saving the earth and the many species of animals that have become endangered in recent years. 
At home, both boys are the loving owners of a labradoodle brother and sister pair named Rocket and Bella. Rocket is A's puppy and Bella is SySy's. "At ZooTampa we learned about how some species of animals are becoming endangered and how the earth itself is in danger," says Captain A. The boys became inspired to help. 
SySy's favorite animal at the zoo is the sloth, and A's is the black bear and the Sumatran tiger. "I like to go to places like ZooTampa and other AZA zoos (Association of Zoos and Aquariums), which help to save endangered animals like the Aldabra tortoise, the second biggest tortoise in the world," says Captain A. 
Noticing the boys were so passionate about animals and the environment, their moms decided to start a YouTube channel with the goal of teaching other kids and their families about the same endangered animals they care about, and how to help. "It actually started when we did a Hurricane Matthew video. Then after that, we did our zoo animals videos when we learned about climate change and animals that are becoming endangered and extinct," says Captain SySy. 
The first video featured on the Captain A TV YouTube channel was to bring awareness about Hurricane Matthew and how to stay safe, but after that video, the family decided to continue. 
"We mostly focus on how climate is affecting the animals, and how we can save them. We get the ideas from ZooTampa, and of course look them up to see if they're true and they always are," A says. "We talk about certain animals in every video like kangaroos, Aldabra tortoises, mostly ones that are endangered or critically endangered. The Florida panther is endangered because of car accidents and poaching. At ZooTampa we learned about one whose paw was stuck in a bear trap and sadly had to be removed." 
"Captain A and Captain SySy's videos focus on educating families about caring for our Mother Earth and animal friends. They even discuss important topics like climate change using a kid-friendly approach," Monica says, adding that the captains want to reach as many families as possible and get more kids excited about helping their planet. 
Monica also explains how the boys have changed their own families' ways and efforts in helping the earth. 
"We have added solar panels to our home, recycle all we can, and donate our compost to Eco Strategies Group, which uses what their garden produces to help feed cancer victims. As the captains' parents we have realized, through their eyes, that the world is more precious than we ever imagined. They inspire us to make a difference, not only for their futures, but their children's futures, and that of all generations to come," she says.
How did they get their captain titles, you might be wondering? Well, both boys actually got their names in different ways. Aiden's mom, Monica, and SySy's mom, Sofia, are mother and daughter themselves. However, Monica says, the boys were raised kind of like brothers because of their closeness in age. Aiden is 10 and SySy is 9. 
"The captains started because Captain A was a huge fan of Captain America, and started calling himself Captain A.
He wanted to fly and save people, save animals, and SySy wanted to do these things with him, so he started calling himself Captain SySy because he liked pirates. You would always see A in the Captain America cape and SySy in the pirate hat and boots, so that's how the names started," Monica says. 
Being interested in pirates and Pirates of the Caribbean, SySy has always been interested in the Kraken, as well, which is why the giant squid is his favorite sea animal. "All of the times people say they have seen the Kraken it's believed that what they saw is the giant squid," SySy says. 
His mom, Sofia adds, "SySy likes the sand, but A likes the water." When the family took a trip to Hawaii, they had adventures on land and sea. Besides lots of hikes, SyS,y's favorite excursion was the helicopter ride they took over the active volcano rock bed. A's favorite was when he and the dads went scuba diving in the ocean, and he saw lots of sea urchins. His favorite sea animal is the great white shark, and the hammerhead. "We have explored more of the moon than we have the ocean, so I'm more of a fish guy," he says. 
The family puts in a team effort to produce the videos and explore nature. SySy's dad, Frank Borden, is a professional video editor and produces their videos, and has also helped A with his photography, along with A's dad, Tony Cardoza, also an amateur photographer. "I'm a photographer and I usually like to take pictures of endangered animals," says Captain A. "It's important to take pictures of the animals because it shows people how much you care, and it can show people how much they should care too."
Captain A's photography has really taken off since he started taking pictures on their family hikes. "Aiden has been in the FLVS (Florida Virtual School) photography club for two years and he's won awards both times. He's very dedicated, and when he takes photos he spends hours out there," says Monica. Both of the boys attend FLVS and are homeschooled. In the club, students are given "projects," and Aiden is often identified for his good eye. "He's very creative and SySy is a super actor and model because he does all these great poses," Monica adds. 
The year 2021 was A's second year winning the gold medal in photo club at FLVS's Club Awards. Currently, his work is being recognized and is on display in the "Environmental Art Exhibit" at the Orlando Science Center in downtown Orlando. The exhibit is called "Earth's Voice: an Environmental Art Exhibit," and is put on by the Orlando Science Center and the CLEO Institute, a nonprofit focused on environmental efforts. Monica says the CLEO Institute's goal is "sharing awareness from exceptional Earth Advocates through impactful art that expresses the urgency we need in caring for our Mother Earth and all of her beautiful creatures." 


"It's really cool when you see your child making a difference and getting noticed," she adds. 
Both captains plan on using their photo artwork to help raise awareness and funds for AZA zoos and aquariums working to save endangered species from going extinct, Sofia adds. 
As a family of content-producers, the team works together building storyboards. The captains come up with most of the ideas, facts, jokes, and solutions for what they will feature in their videos. In addition, they all go out into the field to film a variety of "animal friends" at local AZA registered zoos and aquariums, wildlife sanctuaries, and preserves, for Captain A TV's awareness videos. They often meet with Zoo Animals Ambassadors at these locations, who take part in the filming of the captains' educational videos. 
While Captain A TV has been around for nearly four years, last year, due to COVID-19, the boys decided to host their very first Zoom Earth Day event, so all of their friends could safely participate. In preparation for their event, they were able to meet with National Geographic's Secrets of the Zoo: ZooTampa's Animal Ambassador, Roni. "She was incredible with the children," says Monica. "She also continues to support the captains in their efforts to raise awareness, and joined us as a live guest speaker for Captain A TV's 2021 Zoom Earth Day event." 
This year, the 2nd Annual Captain A TV Earth Day Event was a great success, doubling the captains' team of Kid Ambassador Correspondents, with over 90 families attending. The captains premiered their newest Earth Day video with ZooTampa Animal Ambassadors Roni and Katie, where they learned about two-toed sloths and Indian rhinos. Guest speakers from ZooTampa, Eco Strategies Group, City of Orlando Waste Division, and Conservancy for Cuyahoga Valley National Park were also in attendance. 
So, how can you help the captains in their efforts to save Mother Earth and her animals? The best way, Captain A says, is by using the three Rs: Reduce, Reuse, Recycle. Reduce your waste with the amount of non-recyclable products you buy and use. Reuse materials by, for example turning empty plastic bottles into artwork, Captain A suggests. And recycle, by recycling all paper, plastic, and metal products and trash you would normally throw away. 
Additionally, composting your food waste products is another way of reusing materials; turning "trash" into fresh soil to help plants grow faster without chemical fertilizers, Captain A explains.
To watch Captain A TV videos, visit YouTube.com and search "Captain A TV." You can also find the captains on Instagram @captainatv, Twitter @captainatv1, at captainatv.com, and on Facebook. Lastly, if you would like to see the boys' artwork, "Earth's Voice: an Environmental Art Exhibit," will be featured at the Orlando Science Center until August 22, 2021.