Celebrating 10 years of BWOS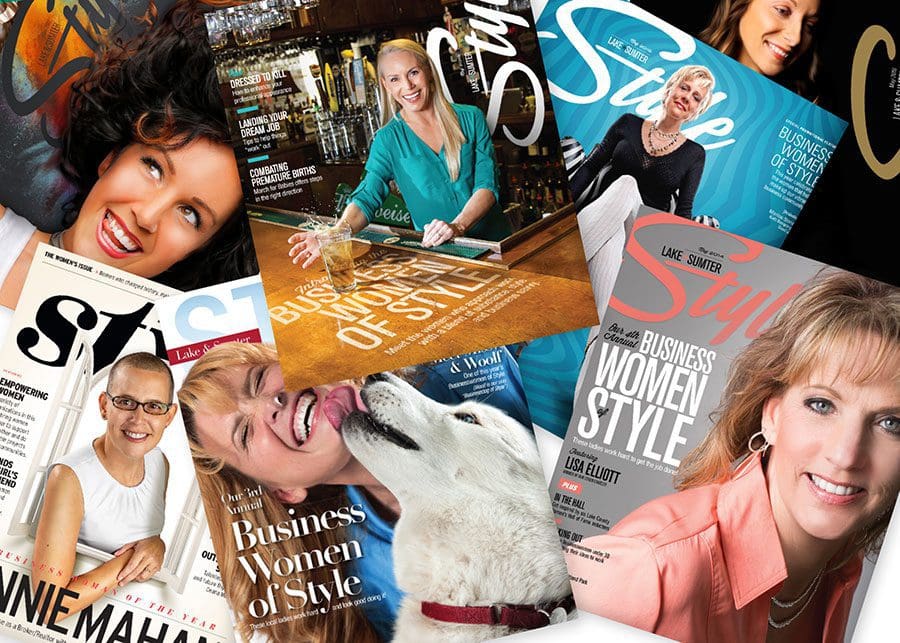 Local female entrepreneurs share memories of being featured in this popular advertising section.
Story: Roxanne Brown, Theresa Campbell, James Combs
When you're a print magazine, there's only one appropriate way to celebrate an anniversary. That celebration is best reflected within the pages of the magazine. Why? Because it's a frozen moment in time only print can capture. This issue is one we'll proudly show off years down the road because it will still resonate long after the publishing date. 
Style is celebrating the 10th anniversary of Businesswomen of Style. 
Throughout the years, we've featured businesswomen representing a wide range of professions, including doctors, lawyers, politicians, financial advisors, hair stylists, and more. Of course, the average citizen may not realize how much work goes into putting this section together. 
We bring in makeup artists and hair stylists to make these women feel beautiful and radiant. Our photographers and graphic artists design special props to enhance their photo on the page. Our writers interview them so they can share how they've reached success in their respective professions. 
Then, we host a reverse drawing party, where the Business Women of Style participants are invited to a fun-filled evening of camaraderie, food, and drinks. The lucky winner of the reverse drawing appears on Style's May cover and receives a free four-page inside spread. 
Enjoy this ride down memory lane and learn why these talented women have enjoyed stylin' in Style. 
---
Reflections of past participants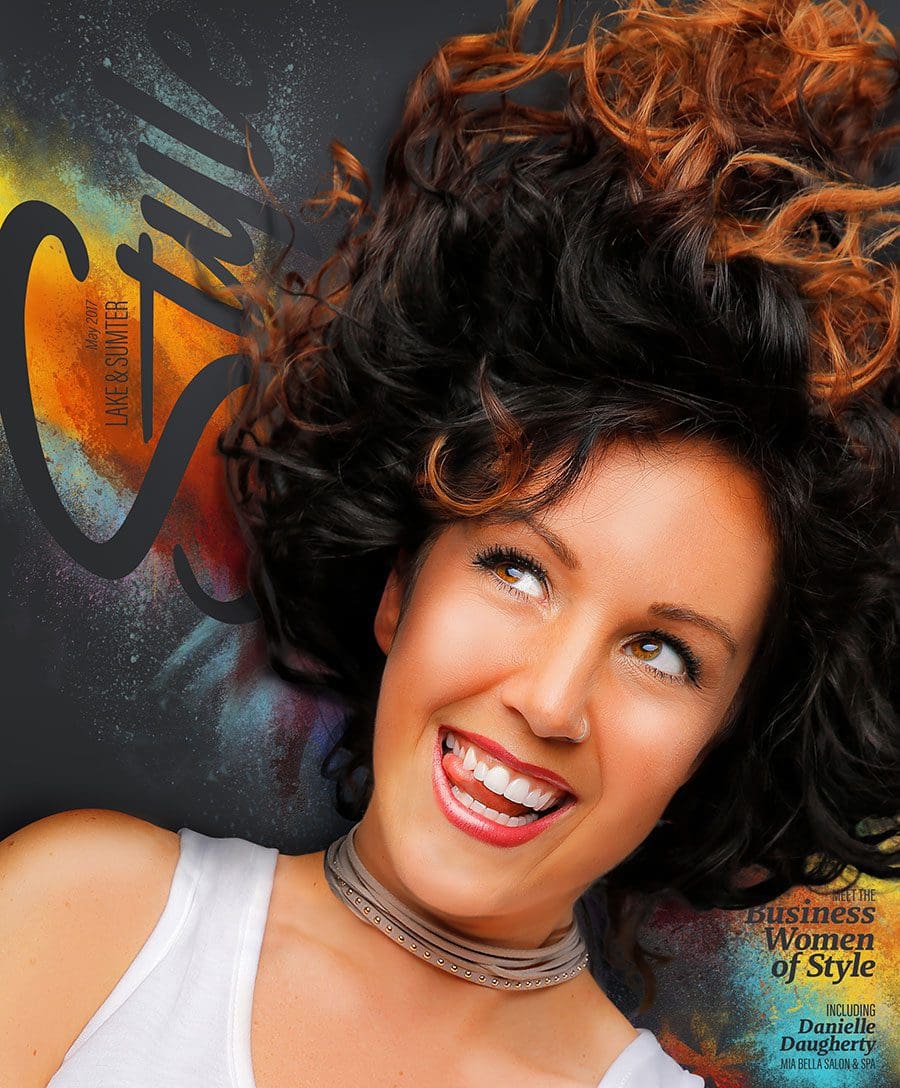 Danielle Daugherty
The co-owner of Mia Bella Salon and Spa in Fruitland Park with her mother, Dawn Couliette, Danielle Daugherty won the reverse draw to be the cover girl on the 2017 issue of Business Women of Style. 
She was photographed on the floor making a cute facial expression as her hair flowed upwards in a cascade of curls. 
So, what was it like being on the cover? 
"Honestly it was such a surreal feeling," says Danielle. "Mostly because it was the first year of opening our business, and any small business owner knows that year is so scary. So, when we got the cover, it was just like God was reassuring us that we were doing the right thing, and everything was going to be successful. And boy was it!" 
Danielle says the being featured on the cover made her feel special. 
"It was such a neat feeling to go into a restaurant and see someone reading Style magazine and seeing my face on the cover. I don't think I ever would've thought that could happen," she says. "I think the thing I love the most about it is the support we felt as a business from the community and from the magazine. There's nothing like knowing people support you and your dream."  
Over the years, Danielle has enjoyed seeing the different color themes and props for the Business Women of Style events. 
"My favorite issue was the red issue. Mostly because I really loved my outfit. And the photographer made it such a fun time," says Danielle. "I think we laughed the entire time and I felt like I was a 6-foot supermodel when really I'm just a 5-foot normal girl."
Danielle encourages other women to participate in Business Women of Style. 
"I would say do it, it does so much for your business and gets the word out there for everyone to get to see your heart and your passion behind your dream," she says. "I love the team at Style, they are so supportive and so kind. But also, it just is a way for other people to be a part of the journey with you as you were running your small business." 
Danielle believes being profiled in Business Women of Style over the years has been good for Mia Bella Salon and Spa. 
"We try to be a part of it every year and I can't tell you the excitement that it generates from not only the people inside our salon but for our clients as well," she says of seeing the theme, etc. "They're just as excited as we are."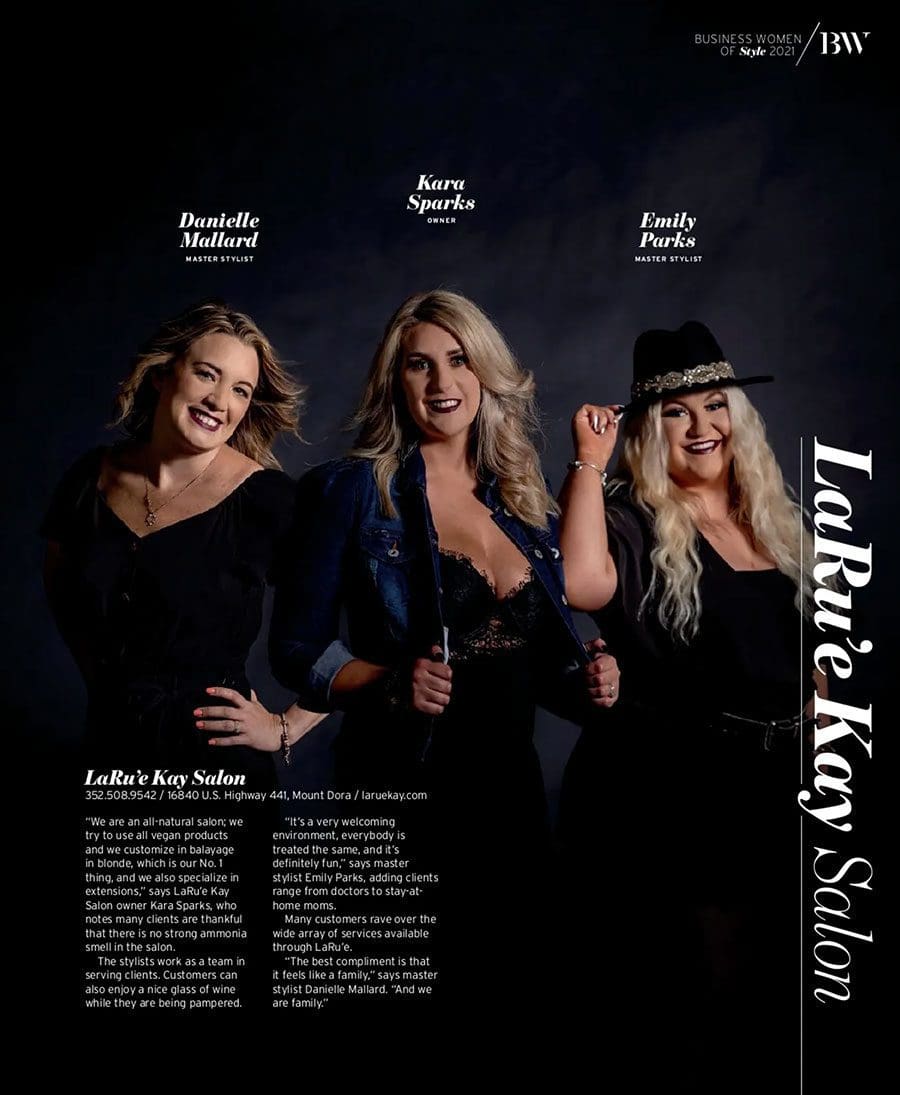 Kara Sparks 
Because it's such a powerful means of advertising, several women have become regular participants in Businesswomen of Style. 
Kara Sparks, owner of Larue Kay Salon, is one of those familiar faces. For six consecutive years, she has enthusiastically signed up for the special advertising section. 
"It's about women promoting women and people supporting small-town businesses," she says. "Having been born and raised in Lake County, I appreciate being part of a publication that sheds a positive light on our businesswomen."
Kara, a 2004 graduate of Tavares High School, consistently receives positive feedback each time she appears in Business Women of Style. 
"People come up to me and say, 'Hey, I saw you in the magazine.' It's great advertising because people learn who you are, what you do as a professional, and what services you offer. The exposure I receive is just awesome."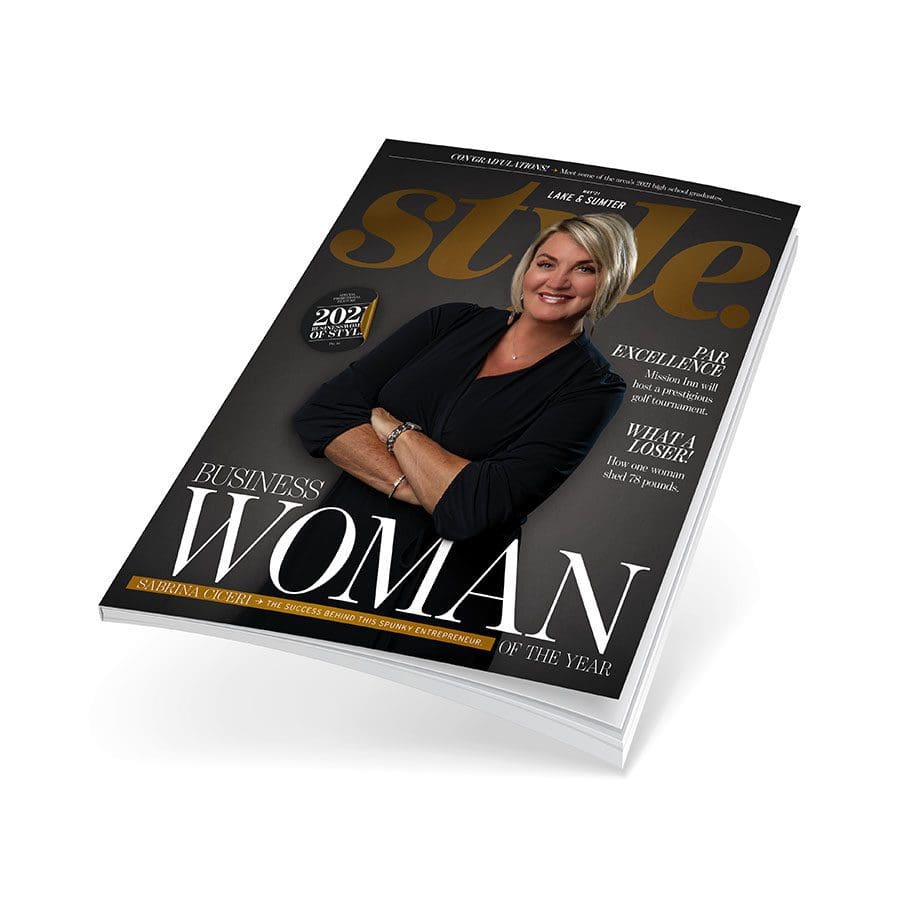 Sabrina Ciceri
For local entrepreneur Sabrina Ciceri, the words "Business Women of Style," bring back the exciting moment during 2021's reverse drawing when she won Style's Business Woman of the Year.
"Being chosen as the Business Woman of the Year was super exciting! It was fun and made me feel honored to have the story done on my life and career," Sabrina says. "I felt even more proud, happy and motivated about the work I love."
Sabrina recommends investing in BWOS because the exposure it generates is priceless.
"It really is great for business. So many people say they saw me in the magazine, and it helps business," Sabrina says. "And even during times we don't need the added business, we always know the value of staying relevant and for people to know who we are." 
She adds: "Competition is just around the corner and new businesses pop up all the time. I like to be proactive in my marketing…not reactive."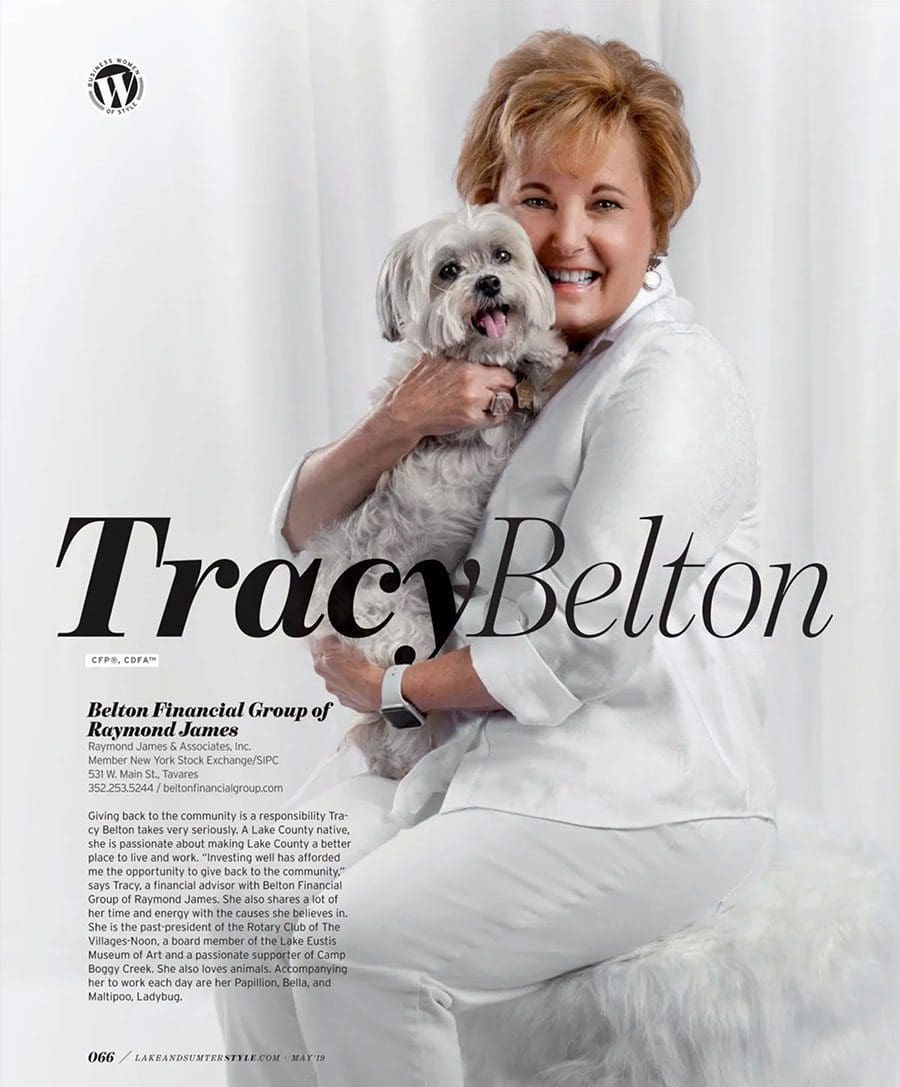 Tracy Belton
As a certified financial planner for nearly 40 years, Tracy Belton knows a good investment when she sees one. She's the first to admit that advertising in the Business Women of Style is a worthy investment. 
"It gives me county-wide coverage," says Tracy, owner of Belton Financial Group of Raymond James. "I have people in my Rotary Club approach me and tell me how much they enjoyed reading my article and seeing my photograph in Style magazine. I receive more comments from being in Business Women of Style than I do from any other form of advertising."
That exposure is a big reason why Tracy has advertised in Business Women of Style eight times. She also enjoys the experience of coming into the office and interacting with Style's staff. 
"The staff is very professional," she says. "The styling and photography are excellent and make me look very good. I'm always pleased with the finished product."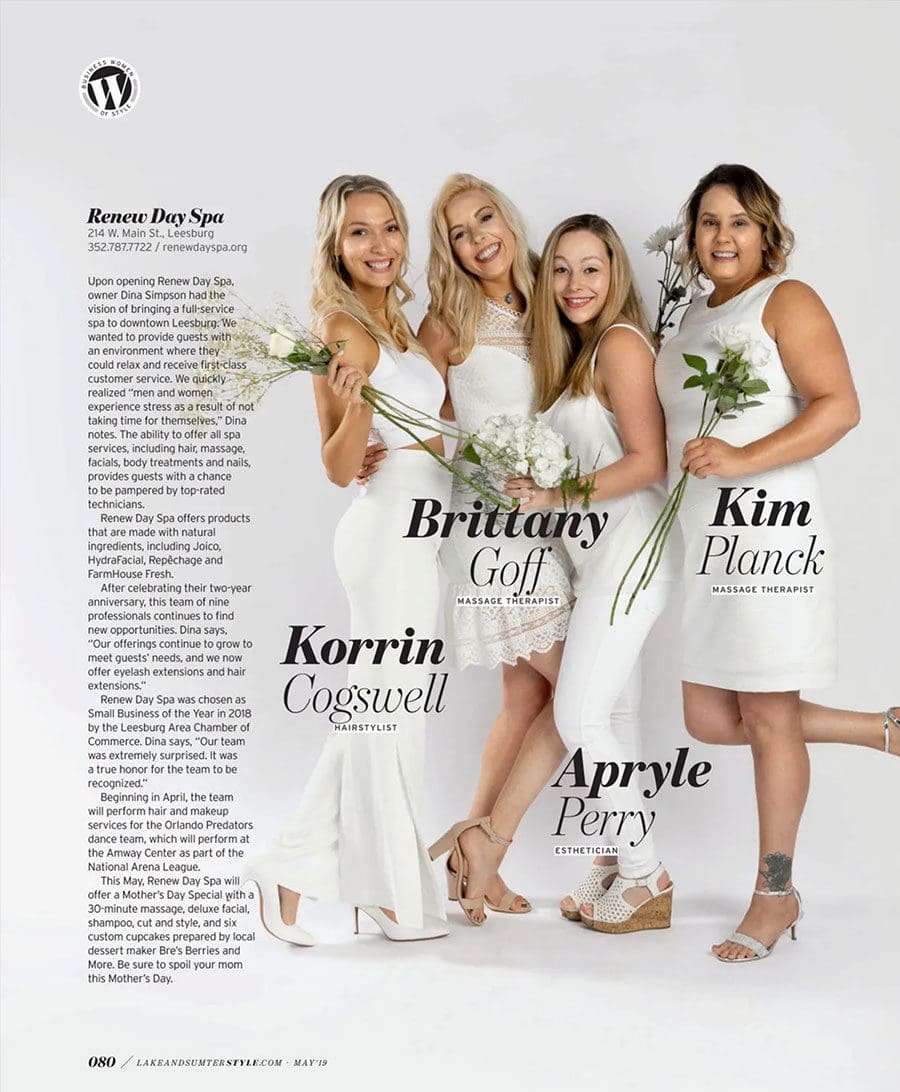 Dina Simpson
Owner and stylist of Renew Day Spa in Leesburg, and Renew Hair Salon in The Villages, Dina Simpson believes being profiled in the Business Women of Style issues is great for business. 
"We want to stay involved as it is a way to meet and stay connected with the newer and more established businesses featured in the issue," says Dina. "The overall experience is very positive including the professional photography, digital creativity and overall layout. Each issue has been extremely unique."
Several of Renew's stylists and makeup artists have provided the hair and makeup for the magazine's photo shoots, too, which Dina says has been a great way to meet other businesswomen. 
"We have loved working with a variety of female business owners and being able to highlight them for the issue," says Dina. "Additionally, several are clients, and it is a natural extension from Renew Day Spa." 
She adds being in Business Women of Style is a win-win as it provides great business exposure. "We would definitely recommend other businesses to be featured in the issue. It is a great way to market your business to a large target market."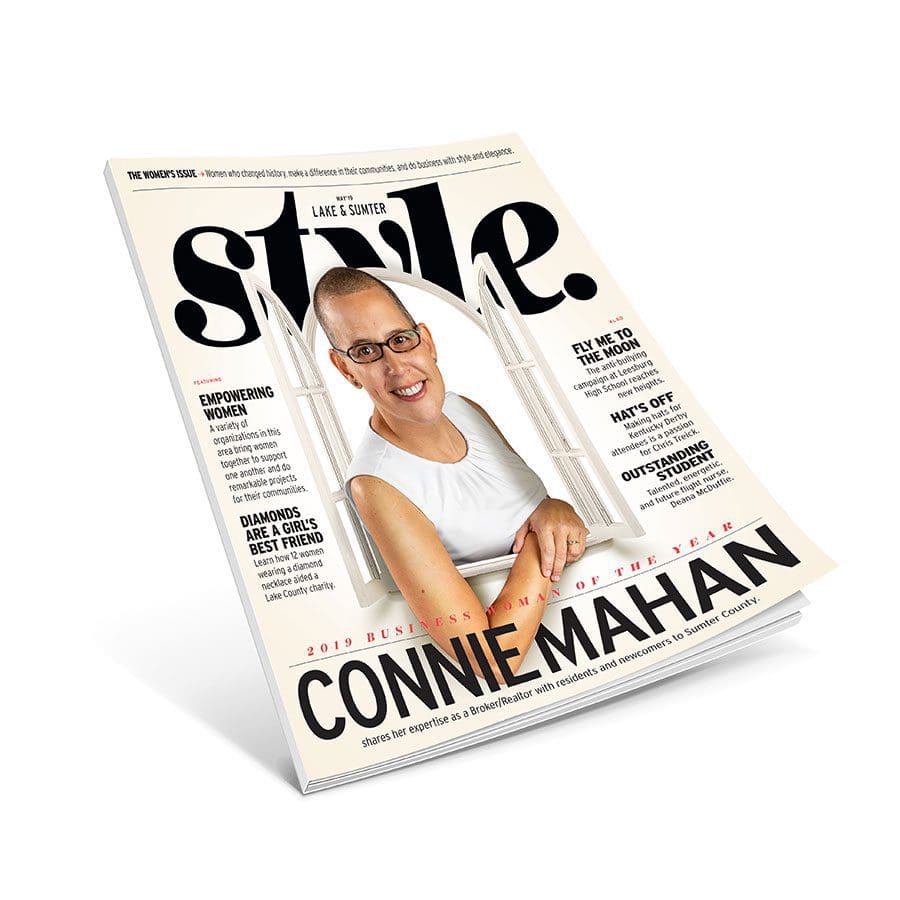 Connie Mahan
Connie Mahan got a lot of attention after appearing in the 2019 Business Women of Style issue.
She looked great in her all-white outfit, the theme for that year's feature, and after winning the reverse drawing, she appeared on the cover. 
After that, people from all over Lake and Sumter Counties recognized her. And though it was thrilling, especially from a business sense, Connie says the attention took a little getting used to.
"Looking back now, that year was already a big year for us as a company, the biggest year we'd had at the time, so to also be on the cover, was pretty amazing because it gave me the opportunity to highlight all the other things we were doing," Connie says. "Overall, I'd say the experience was interesting because I'm never looking to be really centerstage. It was nice, but at the same time, a little overwhelming, but not in a bad way at all."
Connie says since then, what's kept her participating in Business Women of Style is the pride Akers Media takes in publishing such a high-quality publication, and in working with the magazine staff – from advertising to editorial, photography and design.
"Everyone at Akers makes it a lot of fun and does a great job, I don't know if I would keep doing it if it wasn't through Akers," says Connie, explaining that because of all that, she would for sure encourage other businesswomen around the community to take part. 
"I think BWOS is a great opportunity for the person doing it. It's nice to feel good, look good, and most of all, it's nice to have that experience, that moment where you are kind of allowed to celebrate yourself."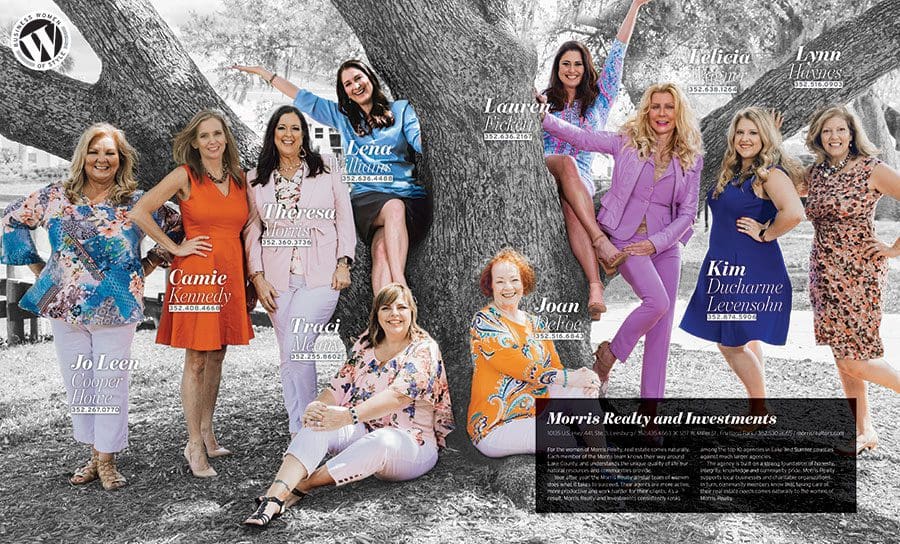 Theresa Morris / Morris Realty & Investments
There's a reason why Theresa Morris, owner of Morris Realty & Investments, consistently advertises in Business Women of Style. For her, it's a golden opportunity to spotlight her successful female real estate agents who come from all walks of life. 
"It allows us to celebrate the success of women in general," Theresa says. "It also shows other women that they can be successful in not only real estate but in any career they pursue. Each of my female agents have had their own journeys to get to where they're at, but they all ended up doing very well in theircareers. Business Women of Style allows us to recognize their accomplishments."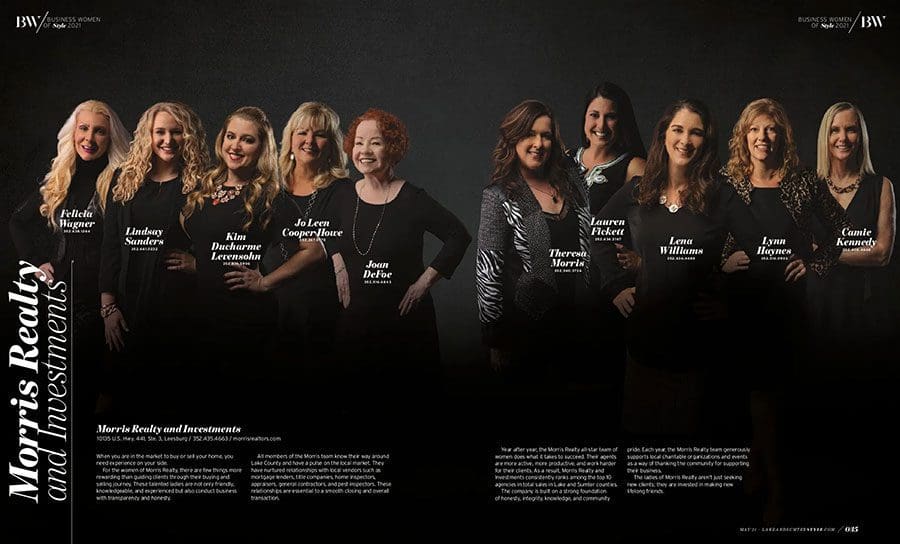 Moreover, it's an opportunity to thank their loyal customers who have helped Morris Realty & Investments achieve success. 
"Being in Business Women of Style is a way of celebrating our customers, too," Theresa says. "We couldn't be successful without them."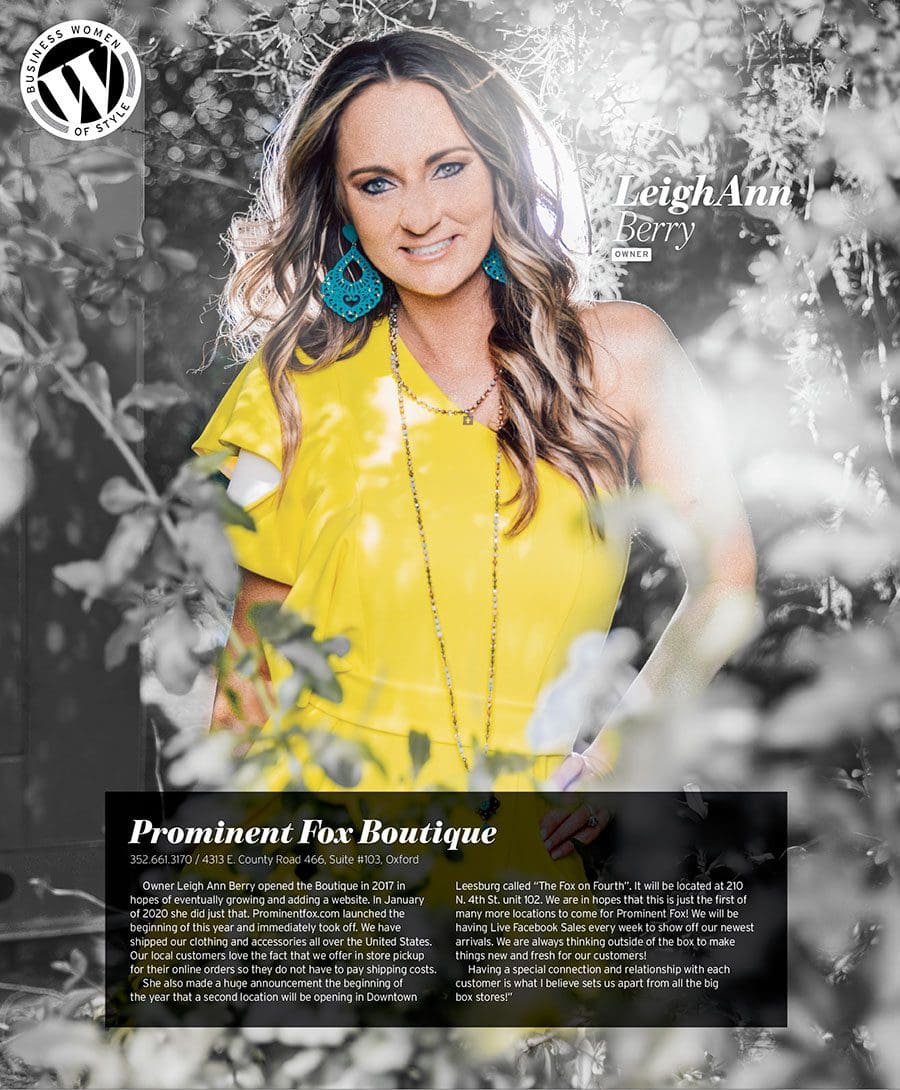 Leigh Ann Berry 
"Growing up I would always look forward to looking to see who I knew in the Lake and Sumter Style magazine," says Leigh Ann Berry, owner of Prominent Fox Boutique in Leesburg. "It seemed like each month there would always be someone I knew, and I just thought that it was so awesome." 
Leigh Ann was tickled the first time she appeared in Style magazine as a businesswoman promoting her business. 
"When I was approached and asked to be in the magazine, I was really surprised and very humbled. I was honored honestly, I thought to myself 'Wow! I've made it!' I was proud of myself, it was a feeling that I hadn't felt before and I liked it," she says. "My first issue of I showed up so nervous. I wore a white jumpsuit from my store. I didn't know what to expect. I walked into hair and makeup, and they really made me feel like a celebrity."
Leigh Ann says everyone that she has worked with for the Business Women of Style photo shoot sessions have been so professional and easy going. "It's like you're catching up with an old friend. They're all just good people. After my first issue, people were coming into my boutique just to meet me. It was great! Some of them are still my customers to this day."
Leigh Ann believes being profiled in Style magazine is great benefit as a business owner. 
"I would definitely recommend Style magazine to any business owner," she says. "It's the perfect way to advertise in the community. It's been great for my business, and I've met so many new people. I hope to continue to be a part of the Business Women of Style for as long as I can."
Jessy Flinn
As co-owner and head chef of Gourmet Today, a Leesburg-based catering service, Jessy Flinn takes pride in everything she does.
That includes promoting her company in Busines Women of Style.
Jessy says being part of it makes her feel great, adding that, "seeing women in the community who are also featured gives comradery surrounding successful women. I love being surrounded by strong and powerful women."
Jessy also recommends that other businesswomen, if they haven't it already seriously consider being featured because it is a great way to network and promote business.  
"It's a great way to be seen and heard, and you are seeing the new faces coming up in the business community," Jessy says. "It's a great way to get to know people you should probably be getting to know."
"I have picked up many clients from BWOS, and friends too," adds Jessy.
Most of all, Jessy says the entire BWOS experience is fun, from having professional photos taken, to being interviewed, to opening the May issue and seeing your own story come to life so vibrantly.
"My all-time favorite theme was our two-page spread featuring the women of Gourmet Today in a massive food fight. Such a fun photo and I'm told you can still smell the buttercream from the cake we threw on a sunny day upstairs at the Opera House (where Akers Media is located)," Jessy says.
Jessy's tip for the greatest pictorial results: "Give it a try and HAVE FUN with the photo shoots. The photographers are great about working with you and making you look and feel like a million bucks."