Collin Buschor is our Young Entrepreneur of The Month!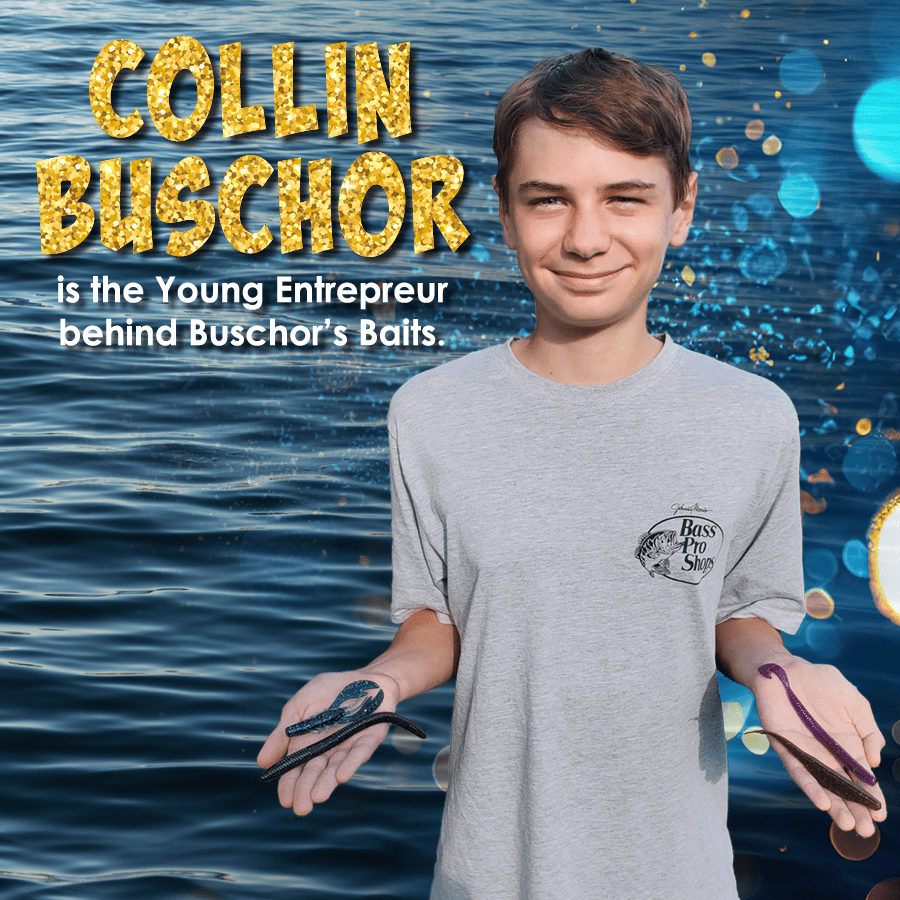 Collin Buschor is one amazing story. At just 14 years of age, Collin Buschor started fishing with his father Mike Buschor just over a year ago. The two of them had never fished before so everything was a learning process for them. Eventually the more they fished together the more they realized how much they enjoyed it. Collin is homeschooled and lives in Eustis, Florida. His father is a firefighter so they have plenty of time in the mornings and evenings to fish.
As collin continued to fish he was using soft plastic baits which over time, got ruined by the fish biting them or when they caught them. Constantly needing to buy more bait and faced with a very strict family budget, Collin began brainstorming ways to improve the way they caught fish.
Collin Started The Business at Age 14!
Since Collin was only 14 he found it difficult to find a job at his age. Wanting to spend his own money, Collin decided that he wanted to make money somehow. The question was how? Around the middle of May of 2023, Collin was struggling to finish up school since all he wanted to do was fish.
Collins' mom knew he was getting a bit tired of the schoolwork and told him that he should start his own business. This way Collin could count the work as school work which was something he enjoyed and he could make money while doing it. So Collin went to work thinking about making his own bait so that the family could save money over time. Plus if it works out he could sell it. So Collin decided to create Buschor's Baits.
The Buschor family bought four CNC aluminum bait molds, which gives a nice shine to the bait versus cast aluminum which gives it a dull look. Collin chose a combination of Crawdads, Speed Tail, Trick Worm, and Jerkbait molds to start, since it's the bait they tended to fish with the most. The bait requires an injector, plastic, and some pigment and glitter to make.
Collin Learned Almost Everything On YouTube
Collin learned almost all of this off of YouTube videos that he watched about the process and made sure he got all the right products. Collin and his father Mike tested the products out and they started catching fish immediately. The bait was an instant success and not too long after the early succes the father and son duo began selling the bait to the general public.
They started selling the first week of June of 2023. Collin says "My family placed large orders right away. It was very helpful to have their support. The church shared it on their facebook page and it helped us out a ton. My mom runs an online boutique from home so she was really helpful in teaching me to use facebook, managing inventory and sales. Since we offer unique colors, tournament anglers are now purchasing their custom baits to help set them apart from the competition. They are hoping it gives them an edge during the tournaments."
Collin works right out of his home in Eustis. Collin went on to say "This business we have created alongside my father has shown me that starting a business is harder than I realized. My parents are just really hard workers. I am trying to do all the things they do and it's not as easy as they have made it look but I am learning every day."
Collin and His Father Work in 100 Degree Heat Much Of The Time
Collin went on to say "My dad and I work in the hot garage and it gets to be 100+ degrees so we are trying to make sure to be patient and kind with one another as you can imagine. WE have a lot of fun creating and experimenting with new colors, but I am still trying to learn everyday to make sure I can make the business as successful as possible." To work in those kinds of conditions you have to be dedicated and this young man is certainly committed!
Collins favorite part of the business is coming up with new colors and then catching a fish that same evening using the bait that he created. "There's just something really satisfying and cool about that. It also makes me really happy when new customers share their photos with the catches they got using our bait. IT was really exciting when a few days later on their first try fishing with our bait, they sent photos of their catches. It makes me happy to know they are able to fish and catch something.
Collin is an incredible story. This young man's business will continue to grow and we wish him and his family nothing but success. If you happen to be in the area, support this local family business and help them hopefully buy an Air Conditioning unit for their Garage!
Kyle Coppola was born in Newton, Massachusetts and received his Bachelor of Fine Arts in Communications from Curry College in 2016. After traveling to Florida on a family vacation, he decided he could not get enough of the warm weather and made the move from snowy Massachusetts to central Florida 8 years ago.
For the last decade Kyle has gained valuable experience in social media content creation, marketing and sales, writing, video production, sports announcing and even broadcasting for local radio stations, such as FM 102.9 in The Villages and FM 91.5 in Massachusetts. Every year he volunteers at The Villages Charter High School as a play-by-play sports announcer for the football games as well as a public address announcer for the basketball games, including the annual Battle at The Villages Tournament.
Outside the office Kyle is a husband and father to two beautiful girls along with their cat. In his spare time he likes to spend time with his family, travel, play golf and swim. He is also a huge sports junkie and even bigger motorsports fan and loves to attend racing events when he can.
Share This Story!