Defensive Player of The Week Mount Dora High School EJ Balderas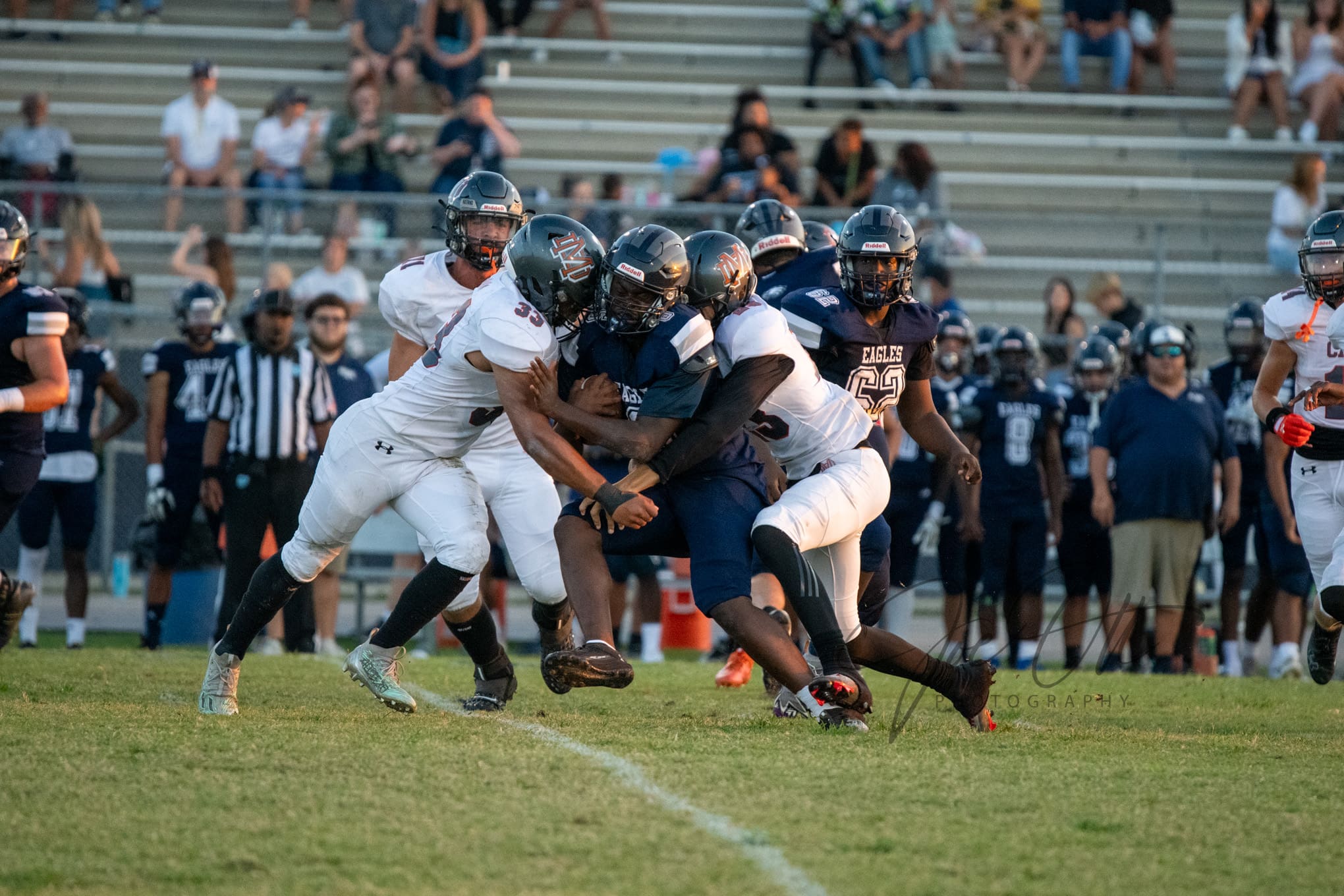 EJ Balderas is our defensive player of the week. The junior linebacker has been having a nice start to the year and this past week made some key tackles to help Mount Dora High School to a 19-7 win against South Lake High.
Elian or better known as EJ Balderas wears number 33. He is a player that coach Luke Hutchinson has been excited about for a lot of reasons but this past week he put all of Lake & Sumter County on notice with his physical skills along with his best game of his career.
Balderas had 10 total tackles along with 5 solo, 5 assists a tackle for a loss and an interception return of 27 yards. This season is a key component to the Hurricane defense and now has 24 tackles, and 6 tackles for a loss. That is good enough for 2nd on the team behind senior Russell Fickett with 7.5. Balderas also has 2 sacks so far on the season and caused a fumble earlier in the season. It has been a great week for Mount Dora High athletics as volleyball star Sydney Guthrie was our athlete of the week.
Meanwhile, Balderas is coming off of a sophomore season which saw him make 50 tackles with 6 tackles for a loss. He has already equaled the total of last season's tackles for loss and we are only 5 games into the 2023 season. Last year he was third on the team in tackles and this season he truly is having a great year. He was the team's sack leader last year so Baldares has been improving every season.
The game against South Lake proved to be difficult for Mount Dora High School. The Hurricanes struggled to move the ball offensively and South Lake is a lot better than the record suggests. The Eagles play some tough competition and they have had some difficult games to start the 2023 season. This was a game that was decided in the trenches.
Both offensive lines on both teams struggled against stout defenses that proved hard to penetrate the entire evening. Mount Dora's Russell Fickett and Tommy Wheeler Jr. Have also led the defense this season. But this past Friday it was EJ Baldares who just went above and beyond with his play.
We look forward to seeing EJ Balderas continue his incredible play as the season moves on. The Hurricanes will need everyone healthy down the stretch as well. Many are saying that the district championship could come down to a home game in late October against Eustis High School.
We want to congratulate EJ Balderas on his great Friday Night this past week and hopefully Mount Dora High can replicate some of that success against a young Umatilla High School team this weekend during the first district game of the 2023 season.
Photography Provided By:
Joe Ott Photography "Fan Zone"
Kyle Coppola was born in Newton, Massachusetts and received his Bachelor of Fine Arts in Communications from Curry College in 2016. After traveling to Florida on a family vacation, he decided he could not get enough of the warm weather and made the move from snowy Massachusetts to central Florida 8 years ago.
For the last decade Kyle has gained valuable experience in social media content creation, marketing and sales, writing, video production, sports announcing and even broadcasting for local radio stations, such as FM 102.9 in The Villages and FM 91.5 in Massachusetts. Every year he volunteers at The Villages Charter High School as a play-by-play sports announcer for the football games as well as a public address announcer for the basketball games, including the annual Battle at The Villages Tournament.
Outside the office Kyle is a husband and father to two beautiful girls along with their cat. In his spare time he likes to spend time with his family, travel, play golf and swim. He is also a huge sports junkie and even bigger motorsports fan and loves to attend racing events when he can.
Share This Story!