Eustis Lashawn Williams Breaks School Receiving Record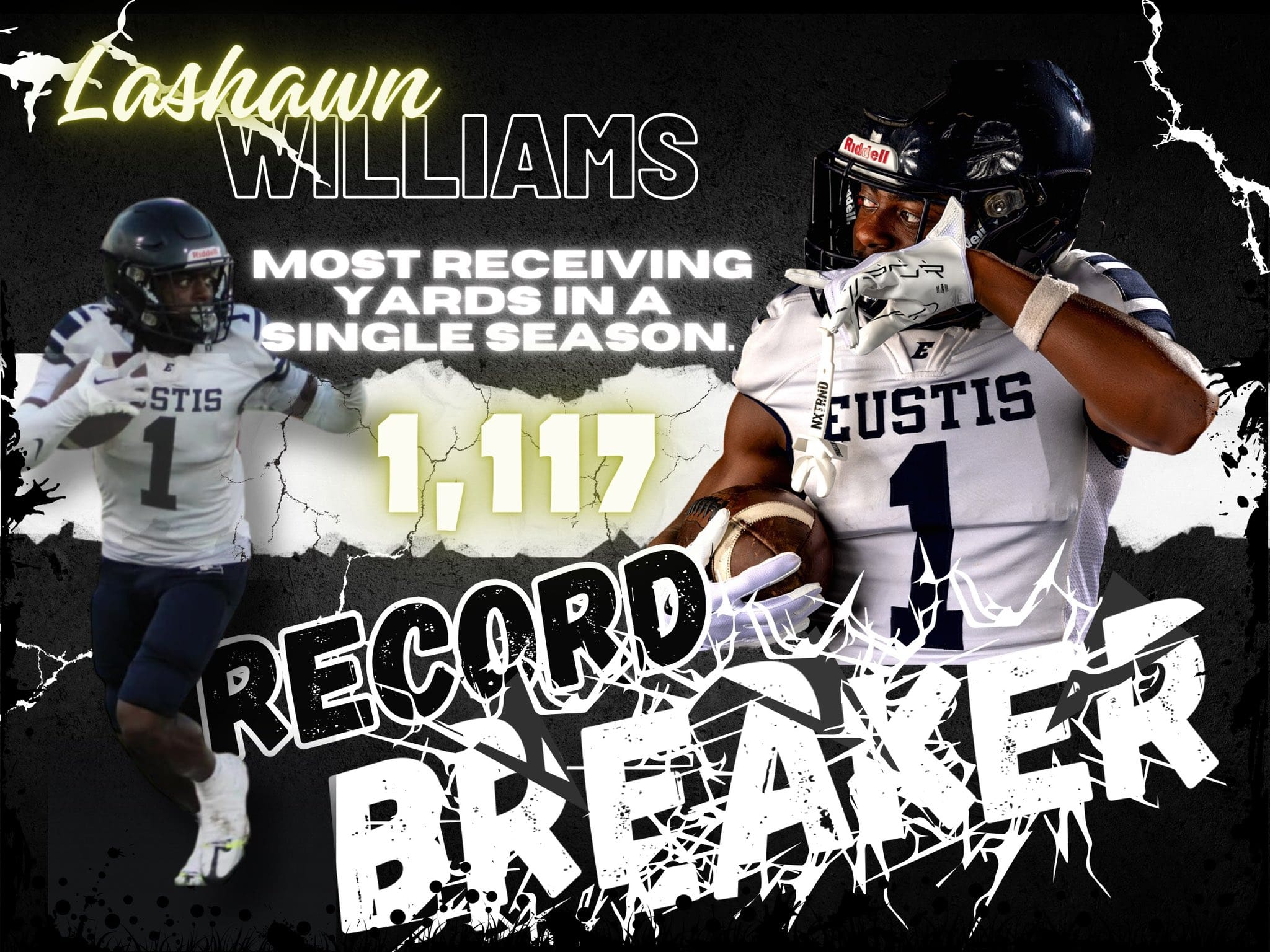 We have to give it up for Eustis High School senior, Lashawn Williams, who had an amazing 2023 football season. Williams broke the single-season receiving record at Eustis High School. He was just a solid player all season and he broke the record with under 70 receptions on the year which is even more impressive.
Williams, a key player in Eustis' impressive 7-4 season, contributed significantly to the team's success, securing a second district championship in the past two seasons. His remarkable performance included a total of 1,117 receiving yards in 2023, with 65 receptions, and an impressive 14 offensive touchdowns, averaging 17.2 yards per reception.
Teaming up with quarterback Troy Saladin, the duo proved to be an offensive force to be reckoned with, as Saladin joined the 2,000 club, throwing for 2,014 yards and concluding the season with 33 total touchdowns, averaging 14 yards per throw.
Despite the season coming to an end, Williams is set to continue his football journey at Southern Illinois, having committed to play for the Salukies. The senior receiver's reliable performance throughout the season has left an indelible mark on Eustis High School's football program.
Head coach Frank Scott, a guiding force for Eustis, has led the team to back-to-back seasons of district championships. This season showcased the team's versatility, transitioning from a ground-focused strategy to a more aerial approach, a testament to Scott's coaching prowess.
Reflecting on the program's transformation, from a 1-9 record four years ago to a winning season, the Eustis Panthers have much to anticipate in 2024. As they bid farewell to a successful season, the Eustis community eagerly looks forward to witnessing Lashawn Williams' continued success at Southern Illinois.
Congratulations to Lashawn Williams on a record-breaking season, and best wishes for his future endeavors!
Photo Credit – Eustis High School X and Facebook Page
Kyle Coppola was born in Newton, Massachusetts and received his Bachelor of Fine Arts in Communications from Curry College in 2016. After traveling to Florida on a family vacation, he decided he could not get enough of the warm weather and made the move from snowy Massachusetts to central Florida 8 years ago.
For the last decade Kyle has gained valuable experience in social media content creation, marketing and sales, writing, video production, sports announcing and even broadcasting for local radio stations, such as FM 102.9 in The Villages and FM 91.5 in Massachusetts. Every year he volunteers at The Villages Charter High School as a play-by-play sports announcer for the football games as well as a public address announcer for the basketball games, including the annual Battle at The Villages Tournament.
Outside the office Kyle is a husband and father to two beautiful girls along with their cat. In his spare time he likes to spend time with his family, travel, play golf and swim. He is also a huge sports junkie and even bigger motorsports fan and loves to attend racing events when he can.
Share This Story!