First Academy (Leesburg) High School Football Preview 2023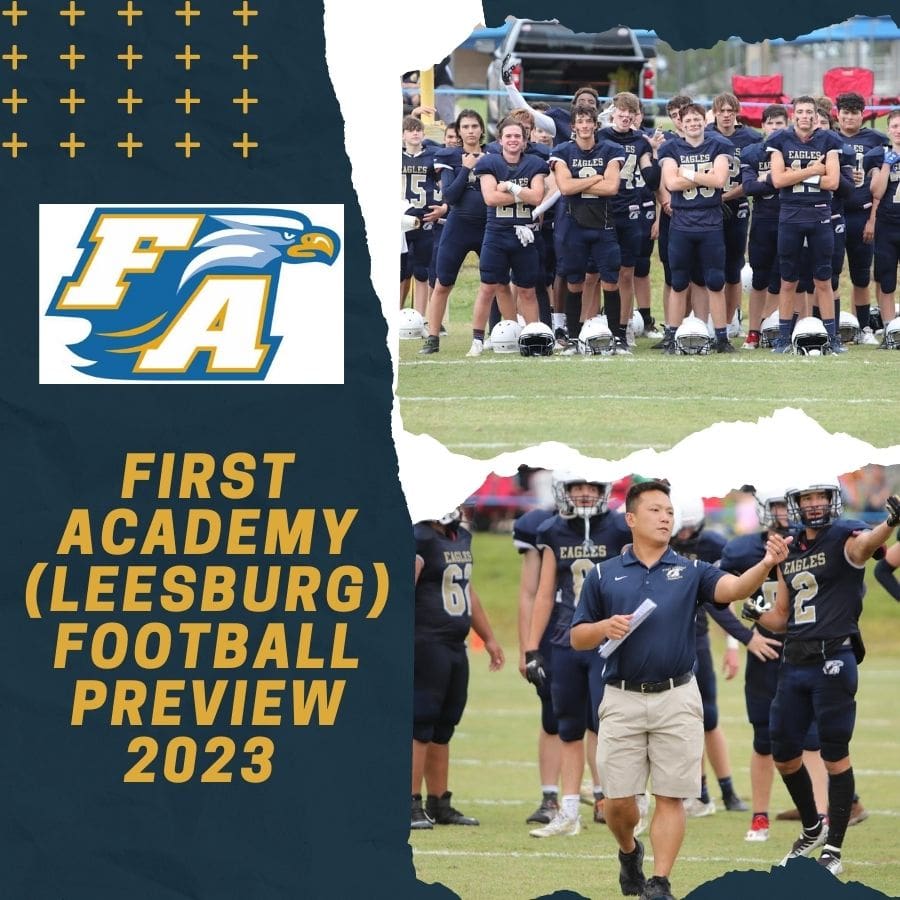 The First Academy Eagles come into the 2023 season with a majority of their roster returning. Last year the Eagles were young up front both offensively and defensively but the returning players will add an enormous amount of depth to the roster in 2023.
The Eagles have made many great strides in the weight room during their summer workout sessions and the team seems to have a great group of seniors leading the way. I got a chance to talk with head coach Canh Bui who says there have been a few internal changes for the upcoming season. "We have added a wide receivers coach during our spring season who will be working hand in hand with his father who is our offensive coordinator. The two of them will bring an explosive dynamic offense to our program."
Coach Bui went on to say " Our fan base is growing with each and every game. We will be implementing student bodied themed games to keep the fans excited and to harness more of the school spirit." First Academy (Leesburg) has been steadily growing each and every year. The program is extremely popular and that's due to the word of mouth in the community. People love sending their children to First Academy and it's just a great all around program that we are lucky to have in this area.
The Eagles will be coming into 2023 with a few standout players including #11 Cason Cherry who is a Junior and the brother of Bryce Cherry who was a standout player for the Eagles last season. Cherry has the arm strength and field vision to get the ball to any of the Eagle playmakers. Cherry will get plenty of help from #2 Running Back Nate Pruett who also returns for his Junior year. Pruett is fast and elusive in the backfield and if the Eagles can put a decent offensive line together this year he should get opportunities in open space.
Meanwhile Cason Cherry will get to throw the ball to a few great upcoming wide receivers. They include #8 Alex Cichielo, a Senior who will be one of the leaders of the offense and defense. Cichielo plays WR and Safety who will bring plenty of experience to the secondary. #4 Devyn Leiva returns for his Sophomore campaign and #3 Bryce Norflee is an exciting Freshman wide receiver who showed a lot of promising catches and rushes in the spring game. It will be interesting how Coach Bui uses him this upcoming year.
The Eagles have some standout Defensive players who will have much more experience than a year ago. #44 Rhett Walsh a Junior Defensive End and #12 Logan Stalvey a Sophomore who also plays Defensive End should help out the defense and protect the run game. Both players have shown growth over the past year. Lastly we have to mention #22 Senior Fullback Bryson Barnett who will be an absolute force during running plays.
The Fullback position is not as prevalent as it used to be but when used effectively it's still one of the most important positions on the Football Field. While many teams have elected to go with a shotgun formation with a spread offense and only a running back, the game was built on Triple Option and QB under center formations with a traditional fullback leading the way for the running back.
If you watch Army play in college football they have used a very similar offense that mimics a 1940s style football offense but it is still very effective because teams don't train for it much anymore.
Coach Bui says "This is by far the best off-season training I have been a part of at First Academy. Over the last four years, we have worked hard to instill competition and motivate the players to push themselves in the weight room. Offensively we are looking very good with almost all of the key positions occupied by returning players. Defensively, we are returning all but the linebacker core which we will be calling on the up and coming players to step up into those roles."
First Academy (Leesburg) last had a winning football record in 2015. We are approaching 8 years since that team went 6-4. Could this be the year the team turns things around and makes a potential playoff run? The school does not have much room for error. Since moving to the SSAC, that division only plays 8 football games per year. MDCA has dominated the conference in recent years.
The Catholic and Christian Schools are always competitive games. However at the end of the day schools are focused on ensuring their students are focused on their studies and letting Jesus into their lives. One of my favorite things that most of these schools do is that they pray together after the games. Some teams even break bread together and have meals with one another. God is the almighty creator of all things. These kids have values that stem beyond the football field and understand that Faith in God will guide them down the right paths.
We are so excited about the First Academy football season! We pray for the safety of the players, parents and coaching staff this season, and we hope the Eagles can go out and have a competitive year in 2023! Go Eagles Go!
Photos Provided By:
Coach Canh Bui
Kyle Coppola was born in Newton, Massachusetts and received his Bachelor of Fine Arts in Communications from Curry College in 2016. After traveling to Florida on a family vacation, he decided he could not get enough of the warm weather and made the move from snowy Massachusetts to central Florida 8 years ago.
For the last decade Kyle has gained valuable experience in social media content creation, marketing and sales, writing, video production, sports announcing and even broadcasting for local radio stations, such as FM 102.9 in The Villages and FM 91.5 in Massachusetts. Every year he volunteers at The Villages Charter High School as a play-by-play sports announcer for the football games as well as a public address announcer for the basketball games, including the annual Battle at The Villages Tournament.
Outside the office Kyle is a husband and father to two beautiful girls along with their cat. In his spare time he likes to spend time with his family, travel, play golf and swim. He is also a huge sports junkie and even bigger motorsports fan and loves to attend racing events when he can.
Share This Story!