Getting to the bottom of it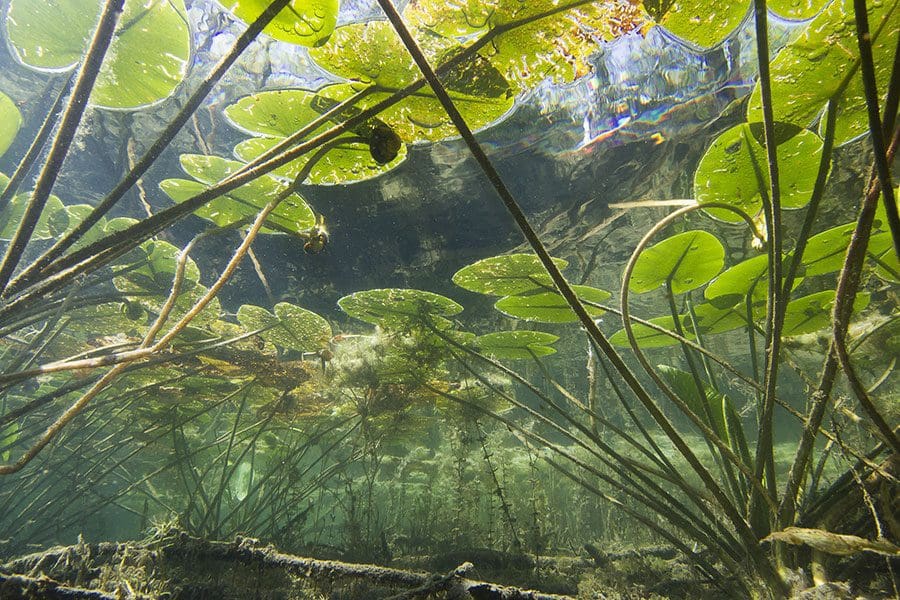 Lake County Water Authority officials talk about the condition of the area's many lakes.
---
State of the Lakes: With summer upon us, Lake County's claim to fame – its more than 1,000 lakes – are a focus among boaters, swimmers, fishermen, sunset chasers, photographers and people just wishing to stroll around and enjoy the lakes' generally peaceful nature.
Because of that, water officials are continually looking at water conditions to see where the lakes are thriving and where they may be in need of help.
---
Lake County Water Authority 
The Lake County Water Authority (LCWA) has been dedicated to water quality improvements in our lakes and rivers since 1953. Its office, based in Tavares, is run by a board of trustees and a staff committed to not only doing what they can to uphold the organization's mission, but to spread awareness of what people can do to help. 
The LCWA works closely with other entities like the St. John's River Water Management District (SJRWMD), the Florida Fish and Wildlife Conservation Commission (FFWCC), city and county officials and residents.
Harris Chain of Lakes
According to the LCWA's Executive Director Ron Hart, the good news is that the Harris Chain of Lakes is at the top of its game. 
"The Harris Chain of Lakes is one of the few in Florida we are seeing tremendous improvements in water quality, habitat and fisheries," Ron says, explaining that those improvements are due to various projects the LCWA and partnering organizations have led and helped fund.
He adds, "Our agency and multiple other agencies within our county have placed a lot of effort and money into implementing programs that have dramatically reduced pollutant loadings to our water bodies, and established quality habitats within our lakes and waterways, and we're seeing the results of the benefits now due to the improvements that have been occurring over the last 10 years."
Ron says one of the greatest benefactors of those efforts is bass fishing, a sport near and dear to Lake County. He says for many years, Lake County was known as the place to catch trophy fish, but conditions had declined drastically, that is, until recently.
"Fishing tournaments were avoiding Lake County because of the poor-quality habitats and the low number of game fish. Now, they are really starting to flock to Lake County because they are getting some of the highest catch rates in the country when they are fishing on our water bodies. Not only that, but it is also large fish that they are catching," Ron says. "It represents the county very well in the work we are doing."
Clermont Chain of Lakes
According to Water Resources Director Jason Danaher, the Clermont Chain of Lakes in the south end of the county is a whole different story. 
He said certain areas, including Lake Minneola, a highly frequented lake for recreational swimming and boating, is experiencing an unusual outbreak of blue green algae blooms, which could potentially be dangerous if not managed. 
Jason says when City of Clermont officials notice a heavy bloom in the Waterfront Park area, they'll immediately call on the LCWA to take water samples and test them for toxins. 
"We've tested it many times and although there is the presence of the blue-green algae, the concentration of toxins has been very low or not present at all. It's still well below EPA guidelines as far as what's considered harmful for humans or pets," Jason says. "Blue green algae is natural, it's been around for billions of years. You look at a super clear lake, and if you go to sample it, there's going to be blue green algae but just in low concentrations."
---
Most Abundant fish species that can be found in Lake County's lakes:
Bluegill (by far the most common)
Threadfin Shad
Eastern
Mosquitofish
Inland Silverside
Golden Shiner
Pugnose Minnow
Largemouth Bass
Redbreast Sunfish (in many lakes the redbreast sunfish would be replaced by the redear sunfish)
Florida Gar
Seminole Killifish
---
He says the thing to look out for is pond scum, that sometimes looks like spilled blue-green paint, on the lake's surface.
"When you see the pond scum, that's when people start to notice it and when it's at that high of a concentration, you run the risk of it producing toxins," Jason says.
Ron says, "We tell people, if it looks bad and there's a surface scum, avoid it, don't go in. Even though it's probably very safe, because it rarely produces toxins in high amounts, it's still better to err on the side of caution, than risk the health of your children."
Contributing Factors
On the Harris Chain, the impacts from muck farms near the lakes were affecting water quality, but the SJRWMD purchased many of those former agricultural sites to control the loading source of excessive nutrients, cutting off the flow of nutrients coming downstream and into the water.
On the Clermont chain, the culprit stems from new development and a growing population.  
Water Resources Manager Steve Crawford says eliminating the problem will take the cooperation of residents who live near lakes to leave native shoreline vegetation intact so the plants can filter upland runoff and provide habitat for fish and wildlife. 
Instead, many lakeside residents clear the land to create beaches. This leads to more nutrients entering our waterways, erosion problems and attracting invasive plants like torpedo grass. 
Most of all, Steve says residents throughout town need to accept that "maybe it's ok that our yards are not as green, because instead, we want clear water in our lakes."
Ron says green lawns equal green lakes. 
"When people fertilize their lawns, the fertilizer runs off into the lakes and what doesn't is going somewhere, so we're seeing elevated nutrients in our ground water," he says. 
Also, as the population of people in and around the Clermont Chain and throughout Lake County increases, so does the volume of sewage, which includes nutrients and pharmaceuticals. 
"Pharmaceuticals are great for our health, but they are also entering our groundwater and waterways and some of those persist for very long periods of time," Steve says. 
Projects
Ron says many of the improvements the Harris Chain has experienced are due in part to the construction of the Nutrient Reduction Facility (NuRF) downstream of Lake Apopka that treats the source of the water running into area lakes.
Ron says the facility is designed to remove 60 percent of the phosphorus in the water. Phosphorus is important because it is the primary cause of algal blooms. The improvements being made at Lake Apopka by the SJRWMD combined with the 60% nutrient removal greatly improves water clarity, habitat, and fisheries downstream in places like Lake Beauclair and Lake Dora.
With that, Ron adds: "I think we're at the tip of the iceberg right now. We're seeing some very positive benefits, but if we continue on this route, we can greatly increase what the potential truly is on these waterbodies."
Ron says the LCWA is seeing new areas of submerged aquatic plant growth in these lakes. These areas are creating new fishery habitats that have not been present for over 50-70 years.  
"I think it's an exciting time to work for our agency and be a resident living here because we're seeing some results, I thought we would never see in my lifetime on the Harris Chain of Lakes," he says.
Ron adds: "We have a lot of very good cooperative agencies that are all working together towards one common goal," citing the LCWA, the SJRWMD and the FFWCC.
"With the work they are doing in restoring and managing habitats along our lakes, we're seeing some dramatic improvements," Ron says.  
Other beneficial projects include major storm water treatment projects like those recently funded and constructed in Tavares, Leesburg and Clermont. These systems have been installed to filter the majority of pollutants out of the stormwater prior to entering our lakes 
"These projects address historic discharges of pollutants that are not required to be treated by regulation, but rather, projects these cities are choosing to perform because it's the right things to do to protect our lakes and waterbodies. That's why we're helping these cities by funding the implementation of these retrofits," Ron says. 
On The Horizon
In August 2020, the Lake County Water Authority hired a national consulting firm to conduct a study of the sources responsible for the pollution of chemicals causing blue-green algae blooms and other problems in Lake Minneola.
The agencies are working on determining the source of the problem but have been unable to trace it, so Jason says the next step may be testing the water as it enters Lake Louisa – the mouth of the Clermont Chain of Lakes.
"We're looking at trying to treat a symptom, the symptom being the blue green algae that persists in Lake Minneola, but we have to work on trying to find the source to cut the head off the dragon and that may be the source of water making its way down the chain, because all the Clermont Chain water bodies were experiencing blur-green algae this year," Jason says.
Sharing the Waterways
According to the LCWA, a female manatee named "Leesburg" — the first recorded manatee in Lake County — was first spotted in the Harris Chain of Lakes in 2015.
"Leesburg" became a familiar face in many areas around Lake Harris, but because she was suffering from frost bite from cold water temperatures, she was captured, transported to Lowry Park Zoo, fitted with a tracking device and released to the St. John's River.
Immediately however, she made her way right back to Leesburg and with her companion "Trevluc," (culvert spelled backwards since that's where he was rescued from), she later became pregnant. In the summer of 2017, she gave birth to a calf the public helped name "Sunset." 
Unfortunately, with an increase in numbers of manatee visits comes an increase in manatee deaths, most due to collisions with watercraft, a fate that Trevluc and Leesburg both met. In fact, when Leesburg died as a result of a boat strike about a month before she was found injured by a local resident in January 2020, she was carrying a near full-term male calf, who also died.
According to Ron, the same thing continues happening to other manatees and because of that, he urges people to stay alert when boating on the lakes.
LCWA officials say boaters can help protect these gentle giants by tasking someone to be the lookout for manatees and boat responsibly, particularly when in a narrow waterway, along a shoreline or nearing a navigation lock
or other structures.  
For more information on manatees or the Lake County Water Authority's programs, including podcasts, visit lcwa.org or call 352.324.6141.