Health Pros: Central Florida Plastic Surgery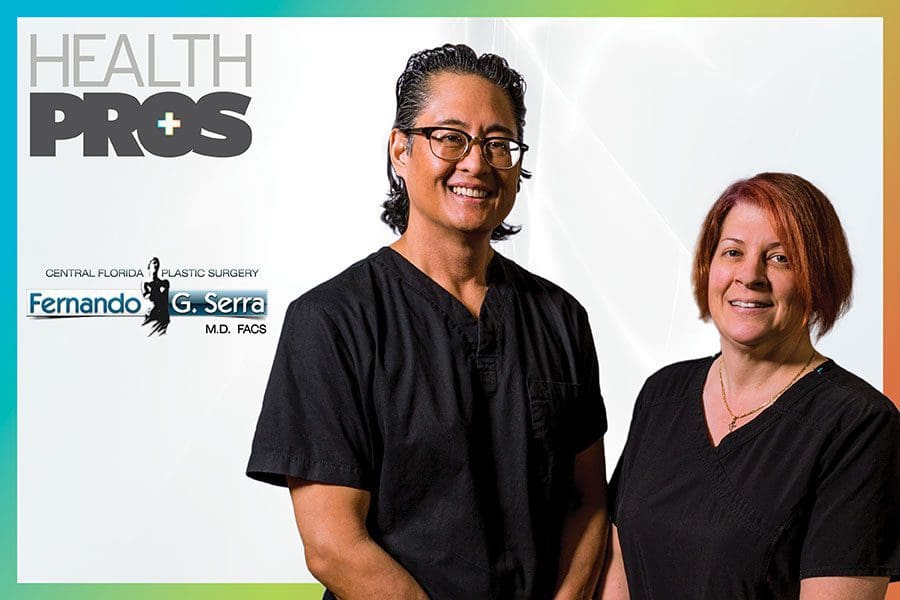 The goal at Central Florida Plastic Surgery is to lift bodies and spirits for a killer cosmetic experience, one patient at a time.
Besides stellar workmanship when it comes to contouring, sculpting, or re-shaping, Central Florida Plastic Surgery offers something bigger practices in the area can't always deliver – an unmatched level of intimacy and personalized care.
Plastic surgeon Dr. Fernando Serra says that from office to OR, patients can count on consistency when it comes to their encounters with Central Florida Plastic Surgery.
"Patients are not a number here, we're not volume-driven. It's just one patient at a time, one masterpiece at a time," Dr. Serra says, explaining when he opened 23 years ago, Rodlynn Stephens has been his surgical first assist for 21 years, and Joy Vermillion has been the office manager for 10 years.
"I've always remained a small specialty boutique, a very intimate practice with the same three faces patients will encounter throughout their whole journey. With that comes a continuity of care I think our patients really appreciate," Dr. Serra adds.
Similarly, people can always count on a familiar setting, since all procedures either take place in their office or at the nearby Santa Fe Surgery Center in The Villages.
"Neck, facial and laser liposuction are performed as in-office procedures with oral sedation and local anesthesia. As well as simpler procedures like skin cancer and skin lesion removals," Dr. Serra explains. "As for bigger body contouring and breast procedures, they are performed at The Santa Fe Surgery Center here in The Villages, a very personalized, small surgery center, but with all the technological amenities of a large hospital to handle any cutting-edge procedure we'll be performing."
"We see it as a beautiful extension of our intimate office experience," he says.
Additionally, Dr. Serra prides himself on getting to know every patient, something he strongly believes elicits the most successful end results.
"What makes a great plastic surgeon is not just how well he or she cuts or sews, but getting to know patients, understanding their medical history, and getting to know what their goals and aspirations are to find the right procedure, the right course of action to obtain the results they're looking for," says Dr. Serra.
He says it's all part of the practice's unwavering commitment to continuity of care, and a dedication to ensuring every one of their patients is treated with dignity and compassion, rather than as a patient number with a procedure code.
Rodlynn adds: "We get excited to see our patients go through a transformation that enhances their presence. We can help patients look on the outside like they feel on the inside, and in the most comfortable way possible."
---
Central Florida Plastic Surgery  
352.259.0722 / 910 Old Camp Rd., Ste. 142, The Villages / drserra.com