Health Pros: Dr. J. Mandume Kerina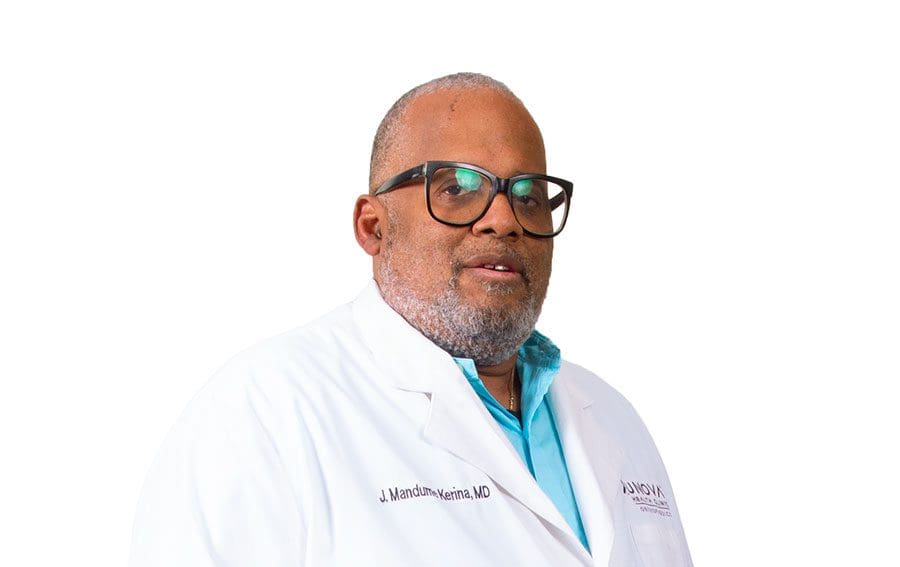 Thanks to the the meticulous surgical skills of Dr. J. Mandume Kerina, a patient no longer lives with agonizing hip pain.
After having dealt with pain for many, many years, William Chester had enough.
That is why he was so pleased to be rid of it within less than five weeks of his total hip replacement, done using Dr. J Mandume Kerina's new, anterior method.
William says that after having lived with the pain for so long, he was relieved when it was reduced dramatically the day of the surgery. In addition, the recovery process was much easier than he expected. 
"The rough part of it was probably three days and it was just the swelling in my leg, and then it progressively dwindled, and it hasn't been five weeks," William says. It was a huge surprise to him as he'd expected to be in bed 23 hours a day. "The first week the pain wasn't unbearable. I walked with a walker for the first week as much as I wanted to. Dr. Kerina encourages you to walk all you want," he says. 
By the middle of the second week into his recovery, William began walking with a cane for a few hours a day and used it until week four. Now in week five of his recovery, he only uses it periodically. Additionally, though he was prescribed tramadol, he only took two pills the first week before switching to about six Tylenols a day. By week three, he wasn't taking any pain medication, and his pain is now almost completely gone. 
William was also happy to return to his fishing boat just two weeks after his surgery. He was able to go out on a quiet day during
calm weather and catch a few fish before heading back home. At five weeks post-op, William returned to work, where he is on his feet for a minimum of nine hours a day.
William says that pre-hip replacement, the pain had gotten so bad it affected every aspect of his life whether at work or home adding that: "I didn't have any balance before, so the surgery helped everything. I haven't even smiled for the last two years and now I can't stop smiling because I don't have that pain anymore." 
And he's not the only one happy about it. William's girlfriend, Angela, notices a complete transformation in William's demeanor following his hip replacement. 
"He would always stand up, and he would have to stand still for about 15-20 seconds before he could move. After the surgery he could get right up and move. And that look of pain that was on his face that I've been watching forever, is not there anymore," Angela says. 
William says he recommends Dr. Kerina for anyone needing hip surgery. "If Dr. Kerina is performing the surgery, I would suggest it in a minute. With this new technique he doesn't have to cut muscle or tendons, so that just allows the recovery process to go so much faster." 
Medicare Now Covers Outpatient Total Joint Replacement Surgery
Beginning this year, Medicare will cover outpatient total joint replacements. In the past, total joint surgeries have required extended hospital stays or a rehab facility while the patient recovers. Now, with better anesthesia and surgical techniques, plus improvements in prosthetic implants that have significantly reduced the recovery time after a joint replacement, that's no longer required. 
What does this new Medicare rule mean?
The new Medicare rule represents a recognition that patients often recover from surgery better in their own homes versus extensive hospital stays that are no longer necessary for post-operative rehabilitation. These surgeries are now classified as outpatient, meaning that the patient may be discharged as soon as they meet discharge criteria. This gives patients more options regarding their care; including choosing the location, price-point, and quality of care.
What are the benefits of outpatient joint replacement?
When it comes to patient safety, outpatient surgery has lower infection and complication rates. Patients can recover easier at home in a comfortable setting, as opposed to staying overnight in a hospital. Outpatient surgery is also much more affordable than in-patient hospital surgery.
Are you a candidate for outpatient joint replacement?
Patient safety is the primary driver as far as where surgery can be done. There are many contributing factors that determine if a person can qualify as an outpatient joint patient. Single health factor concerns such as having diabetes or being overweight are not automatic disqualifiers. Schedule an appointment at UNOVA Hip & Knee to see if you are a candidate for outpatient total joint replacement surgery.
---
UNOVA Hip & Knee can perform multiple types of outpatient joint replacement surgeries at the TLC Surgery Center. Currently, patients using Medicare can only have outpatient total knee replacement surgeries performed at our surgery center by Dr. J. Mandume Kerina and Dr. Thomas H. McCoy. Patients with commercial insurances like Aetna and Blue Cross can have other types of joint replacement surgeries done at UNOVA's surgery center.
The outpatient joint replacement surgery has been optimized for the patient's best surgical experience. Patients who have their total joint surgeries done with UNOVA Hip & Knee can benefit from opioid and narcotic-free anesthesia, as well as a rapid recovery post-operative program.
Unova Hip & Knee Center  
888.847.4895
539 Rolling Acres Rd, Lady Lake
unovahealth.com