Health Pros: Eustis Lakeside Dental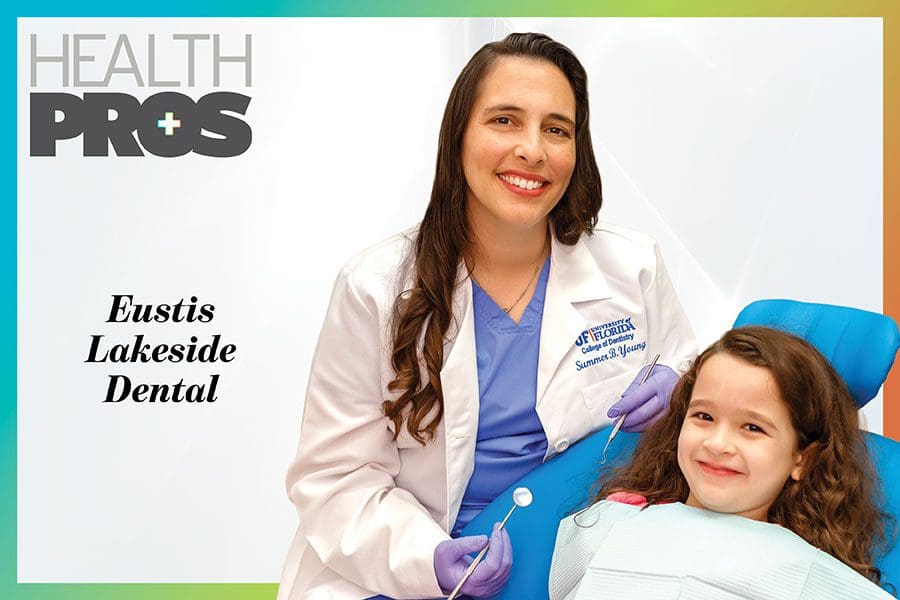 Dr. Summer Young Brings Smiles to Eustis
Dr. Summer Young is the owner and dentist at Eustis Lakeside Dental. A Florida native and graduate of the University of Florida College of Dentistry, Dr. Young practices a comprehensive approach to dental care with an emphasis on patient education and building doctor-patient relationships.
Her passion for helping others and her commitment to serving her patients and community are the reasons that she joined Dr. Wade Winker in 2020 and purchased his practice in 2021. They work so well together Dr. Winker decided to remain in the practice and work alongside Dr. Young to continue serving the Lake County community.  
When asked, "What should patients know about you?" Dr. Young replied "As a private practice owner, Eustis resident and active member of my community, my patients know they can depend on me. I have their best interest at heart. My primary goal is to provide a pleasant dental experience and quality dental care. Dr. Winker and I share the same treatment philosophies and value structure, making us the perfect team to care for our patients."
Community involvement and commitment to philanthropy are cornerstones of Dr. Young's practice. She works with multiple organizations to facilitate dental clinics, dental missions, community outreach and education opportunities. Over the past 4 years, she has personally donated 400+ hours of free dental treatment. Locally, she has been involved in many Lake County efforts, including donating school supplies, leading children's educational events and donating her time and resources to organizations like the Boys and Girls Club, Lions Club, Elks Club, Moose Lodge, Helping Hands, Life Point Church, Life's Choices and the Baptist Convention's dental mission bus.
Dr. Young's passion for service comes from her own experience. Due to difficult family circumstances, she found herself caring for her two young brothers and supporting herself as a young teen. She credits her drive to help others to her personal belief that she would not be where she is today without the help of others.  
Dr. Young is a hardworking wife and mother who enjoys karaoke, boating, biking, and fishing with her family.
Eustis Lakeside Dental is a team of dedicated dental professionals on a mission to provide high-quality dental care while creating a friendly treatment environment.
---
Eustis Lakeside Dental  
352.357.2564 / 15 W. Atwater Avenue, Eustis, FL 32726 / eustislakesidedental.com