Healthy Inspiration: Soarin', Flyin'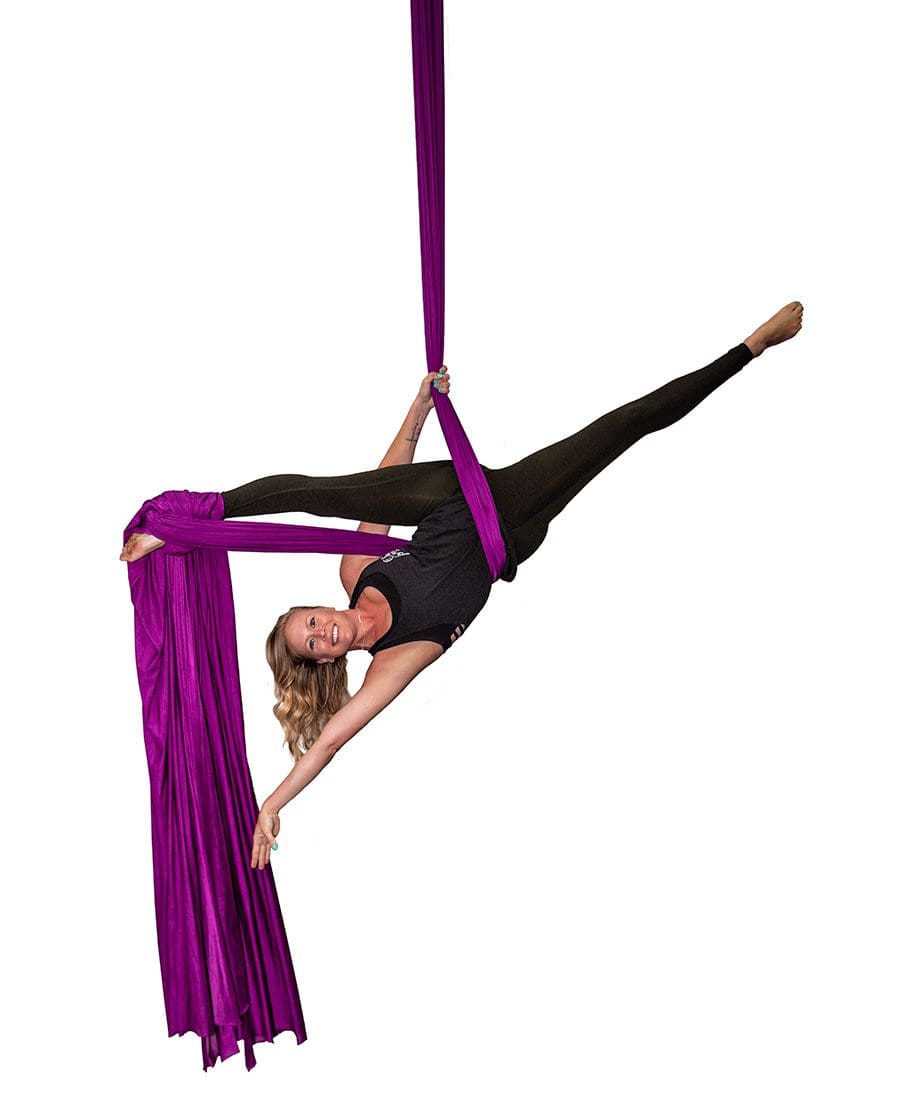 Denise Lloyd reaches new heights practicing aerial skills.
Photos: Nicole Hamel
Going on her 12th year of practicing aerial arts, Denise Lloyd is grateful to have developed her aerial skills and she's worked in many different jobs utilizing them. When she took her first aerial yoga class in her 20s, it bored her, but she decided to give aerial another try by taking a silks class and quickly "fell in love with it." Soon, she was taking three to four classes a week. 
Denise says that a career in aerial arts "just sort of fell in my lap." Back in 2012 she had a general part time job at Universal Studios when an aerial job opened up for the parade. She took the job hoping it would become a full-time position, which it did, and her career took off from there. "I started auditioning for other jobs. I worked at Pirates Dinner Adventure, a dinner show off I-drive for two years, but my dream job was to work at Blue Horizons at Seaworld," she says. Denise got the job at Seaworld her second time auditioning for it. 
It wasn't until she had her second child in 2016 that Denise decided to slow down. "I had to travel and put so much time into rehearsals, it was easier to just take a break and teach at the facility I was at," Denise says. At the time, she worked for Antigravity, an entertainment company which also has an aerial school, hence how Denise got into teaching consistently. 
When she relocated with her family to Apopka, the drive to Antigravity was too far, so Denise, who loved the idea of bringing aerial to Lake County, opened a small studio in Mount Dora. After building a clientele and developing her business for about eight months, Denise wanted to move to a larger facility where she would be able to teach aerial silks, not just yoga. She soon found a Jiu-Jitsu gym in Eustis where she ran Soar Athletics for about a year and a half before outgrowing it, then moving to her current studio in Eustis in 2020. 
As for classes, Soar Athletics offers everything from aerial silks, hoop, and hammock training. Aerial hoop is a metal circle that you can do skills on, hammock is a silk shaped like a hammock that makes it a bit easier to stay up in the air. Trapeze has recently been added to the class roster as well, and aerial yoga is offered on a private class basis. 
What's great about Soar Athletics is that there is something for everyone. Denise offers adult classes, youth classes, mixed age, private lessons, birthday parties and so on. "We try to accommodate what everyone wants to do," she says. 
A nice perk for returning students is the showcase that takes place at Trinity Evangelical Church in Eustis twice a year. "We sell tickets for family and friends to come watch their kids and nieces and nephews to perform and show what they're learning in class, and it's probably one of my favorite things to do because you see the kids' faces just light up because they're able to show off what they've learned and they're so proud of it," Denise says. 
As for health benefits, aerial is a full body workout that builds muscles, stamina, and flexibility, all while being a good cardio workout. Students range from age 5 to 50 and up, so everyone is able to participate no matter their abilities. "It's not your typical gym workout, so you're working out all these muscles you didn't even know you had, and you're having fun," Denise says. "Everyone thinks it's a lot of upper body strength but really it's all core. We teach certain positions on how to train the whole body and how to hold your body up correctly." 
Denise wants first-time students or those considering trying aerial arts to know it's not as intimidating as you think, and that you shouldn't be scared of trying. "Anyone can do it, any age, any body type, you just have to give it a try and see how it goes. You go at your own pace, your own level, everyone there is super supportive, and we are basically like a little family in our studio. Everyone gets along so nicely; all of us are very supportive of each other," she says. 
What Denise loves most about aerial other than it keeps her fit, is that it gives her an outlet to relieve any stress she's having and helps with her mental health. "If I'm having a bad day, I can just go to the studio and create my own little workout and stretch out on the silk and kind of forget everything," she says. One of the reasons she started the studio was to have a place for kids to go to have an outlet as well.
"It's such a blessing to see the personalities of these little kids come out, and such a joy to watch and see all of our coaches feel the same way. They love seeing the kids do what they do," Denise adds. 
---
1220 Huffstetler Drive, Unit 304, Eustis
soarathleticsfl.com
407.538.0077