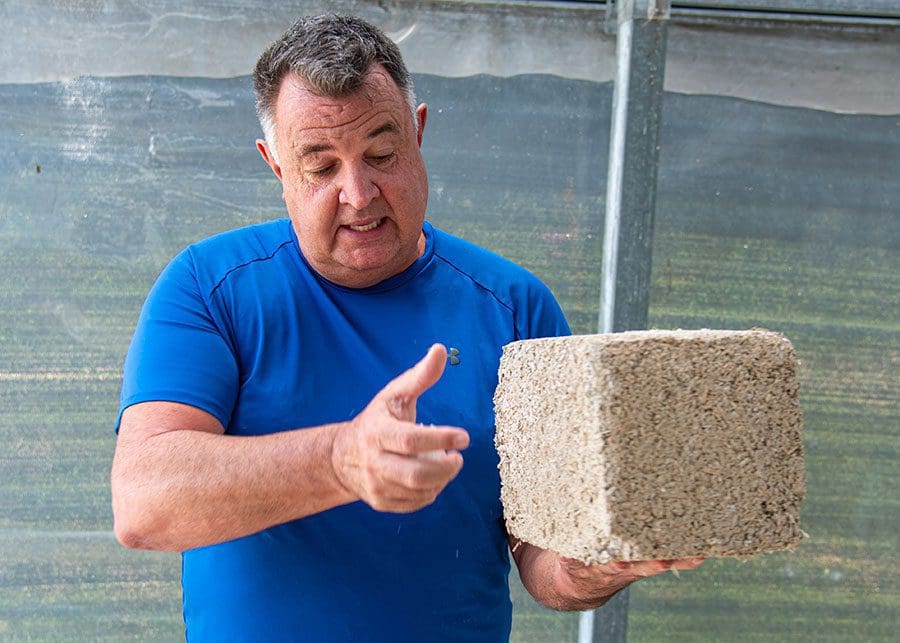 Local man perfects recipe for turning industrial hemp into a building material to replace concrete, steering the housing market in a different direction.
Photos: Nicole Hamel
In the classic story of The Three Little Pigs, the moral is that hard work pays off, a lesson learned the hard way by the first two pigs, who quickly built their homes from straw and twigs in order to have more time to play, only to have them blown down by the wolf at the end.
The third pig, who labored relentlessly for an unknown amount of time to build his house from bricks, and maybe even some concrete, missed out on playtime he'll never get back, but remained safe from the wolf, whose breath was not strong enough to topple his home.
Today, if OrganicaWorld owner Colin Farnum could re-write that story, however, the third pig would have been out having a grand old time with his brothers much sooner, and still thwarted the wolf, if only he'd known about what could very well be one of the most revolutionary home building materials out there – hempcrete. 
"If you really take a close look, hempcrete is pretty amazing, it has a lot of benefits, and it really could make a difference for a lot of people," Colin says, adding that for the housing industry, and for people looking to build more affordable homes, and with a much quicker turnaround time, hempcrete is a potential game changer. 
OrganicaWorld
When Colin founded OrganicaWorld nearly nine years ago, his focus became providing people with the freshest and most delicious food possible. To do that, he built an open-air market and farm to table restaurant, and began selling and serving produce and other ingredients grown in hydroponic green houses on site at the farm, and making a difference for other local farmers, by purchasing meat and things he doesn't grow, straight from them. 
And although he's been doing that successfully, since, there's always been more to his plan – growing hemp seeds in dedicated greenhouses, selling the seeds to local hemp farmers for cultivation, purchasing the product back in hemp form, then transforming it into hempcrete to be used in place of concrete for building affordable housing.
Until very recently however, none of it was possible.
"OrganicaWorld was started with hemp in mind, but it took me seven-and-a-half years to get our hemp license," Colin says, with a huge smile on his face because now that they have it, his plan has been set into motion. "Hemp is something I've always wanted to do, but because of government rules and regulations, it's taken longer than I ever thought it would, and I've had to continually find my way around obstacles."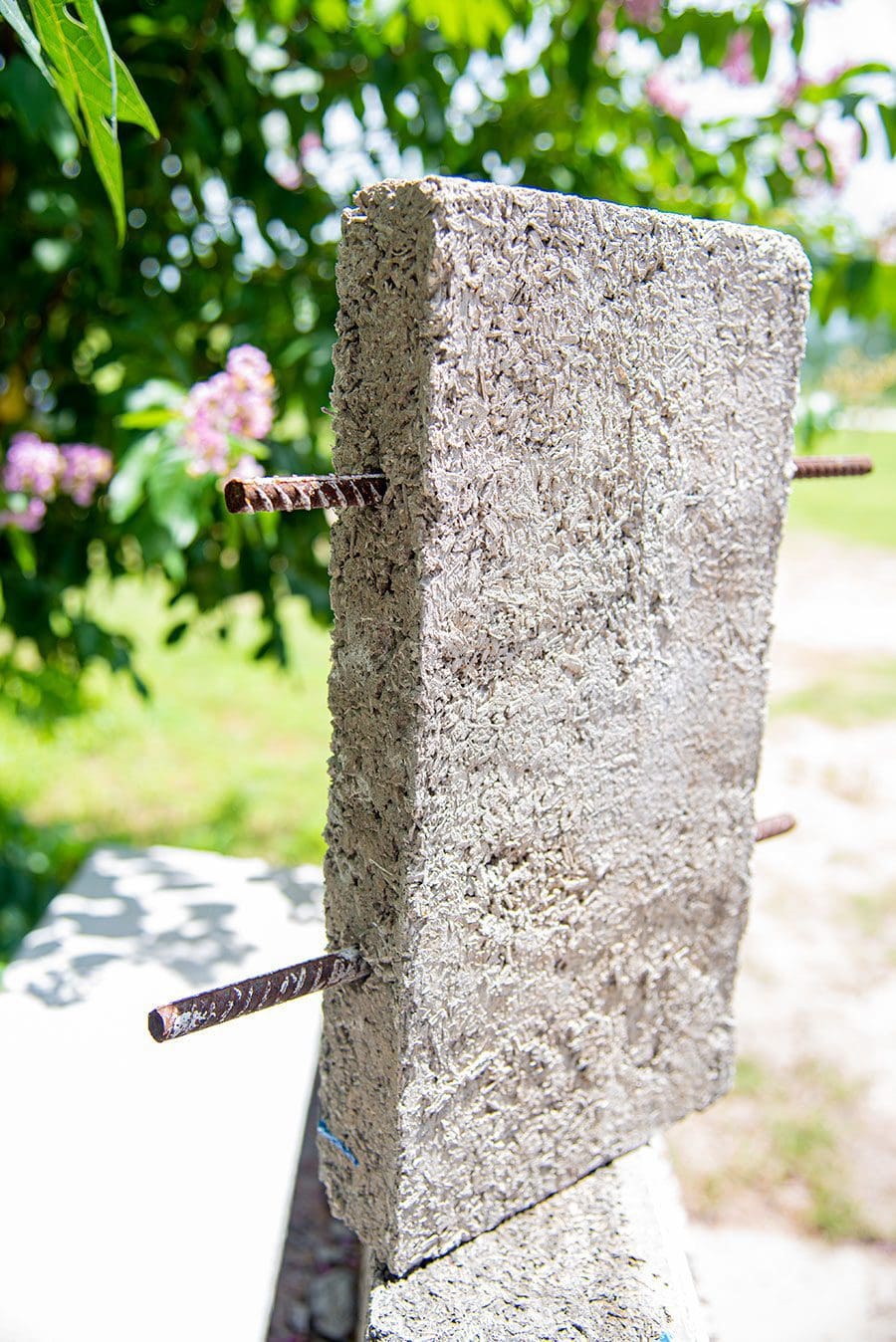 Industrial vs medical 
Colin says the license granted to OrganicaWorld is for industrial hemp, explaining that there are two main strains of hemp. The first is industrial hemp, which has zero percent Tetrahydrocannabinol, or THC, versus the marijuana plant that is hemp with THC, the main psychoactive compound in cannabis that produces the high sensation.
Colin says with the marijuana side of the equation, comes "a gazillion different medical uses," adding that although industrial hemp offers that too, the process getting there is a tad bit more complicated. 
According to the National Hemp Association's website (nationalhempassociation.org), hempcrete is produced by taking the hemp hurds – or what Colin calls chive (pronounced shiv) – that come from the center of the stalk, plus water and lime (which is powdered limestone), mixing it together in a slurry, and forming it into the wall of a building.
Over time, the chemical reactions between the water, lime and hemp will petrify the hemp and turn the lime back into stone, according to the website. 
Colin says the chive, which ends up looking like wood shavings, basically gets separated from most of the fiber in the industrial hemp plant and in its new form, can be used to produce various materials. 
He notes decades ago, people would use it to make hemp rope, which lasts a long time, but more recently, it's been used to produce hemp cotton or hemp cloth for clothing, or even shoes. 
But what if the chive could be made into a lighter, less expensive, and healthier building material for both humans and the environment, that could take the place of concrete for building houses?
Colin says it can.
"For every 33 pounds of hemp chive, we can build about one foot of a hempcrete wall. And one acre gives you a 2,600 square foot house," he says.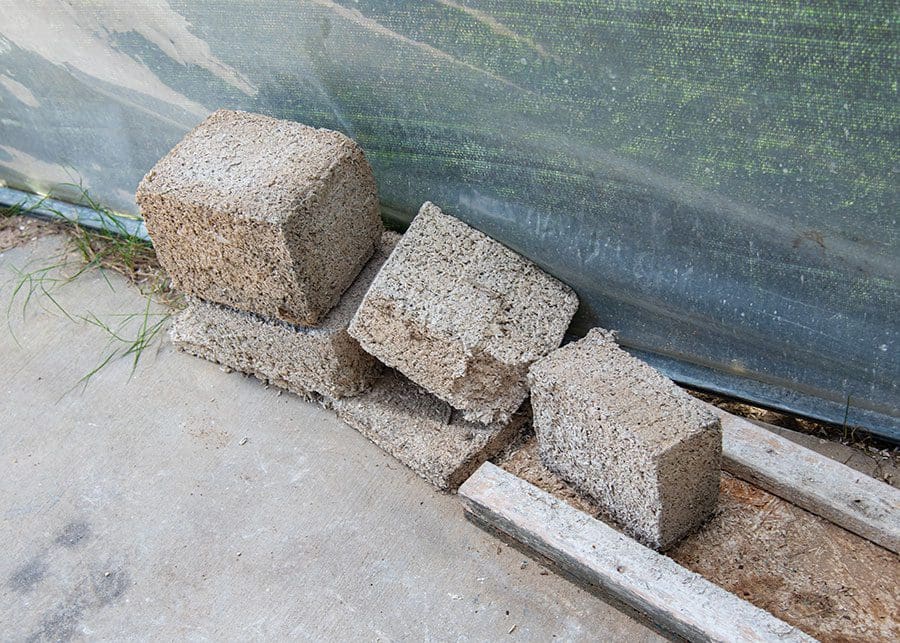 Hempcrete vs Concrete
Colin says although hempcrete is more lightweight and less dense than concrete, it is more than sufficiently strong for building the walls of a house.
According to hempcretewalls.com, some of the reasons to build with hempcrete include that is has a high insulation value, rock-like wall strength, it is long-lasting and durable, it allows for fast construction times, it's simple and economical, it is mold and pest resistant, it's easy to change or repair, it's recyclable, it's non-toxic without the concrete fumes, and has built-in humidity management properties. 
Colin reiterates those claims and says, "The advantages with a hemp wall is that it's fireproof, it's cockroach and insect proof, it's mold proof, and it fossilizes, so over time, it gets harder."
Plus, he adds, hemp's insulation factor of R4, exceeds building requirements. 
"To get this same kind of insulation value for your conventional building permit, concrete walls would have to be five inches. Our walls are 10 inches," he says. 
Colin has been spreading the word about what he is doing and has interested parties, from builders, and contractors, to home buyers, especially, those in need of more affordable housing, like single mothers, veterans, or retired couples. 
Colin says a hempcrete home would cost 30 percent less to build, as compared to the cost of a conventional home, and the costs for electricity to heat and cool it would be substantially less.
"We're talking about a house we can build, and you own your mortgage, and your electricity cost is $600 a month," he explains.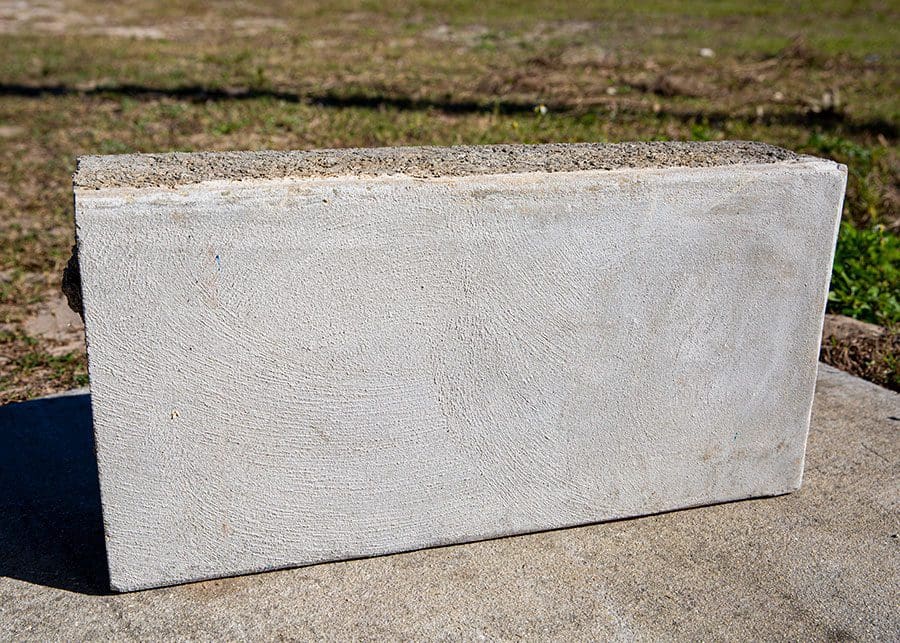 How walls are made
In the United States, Colin says homes made using hempcrete are a relatively new concept, but in France, they are prevalent.
"You'll find that in France, a lot of builders are making hemp homes. In fact, I saw this in France about 15 years ago," says Colin. "The only difference is the technique in how they are doing it. They do this thing where it's form-fitted on site, so that means they build all the forms and make the hemp walls on site."
"Ours are made in a controlled environment and to exact dimensions, then we deliver finished walls to the site that just need to be erected, something we can do in less than a day," he says.
Colin says the production plant he's constructing at OrganicaWorld, would be where they'd take the hemp plants and build prefab walls, including window and outlet cutouts, as predetermined. 
"When we deliver the walls to the construction site, all we would need to do is lift them off the truck and put them in place, so the wall is done" he says, explaining that since the wall would already have been treated with stucco, the only thing people would have to do, for the most part, is paint it and layer the inside wall with a skin coat of plaster and drywall.  
The good thing about hempcrete walls, is that they come finished," Colin says.
 Who benefits
"The purpose of this project is to get the cost of new home construction down, so whether you have an individual in need, a family, a single mother, or retirees on a fixed income, we'll just sell you the walls and you can do the rest of it on your own, or hire someone to do it for you," Colin says. "We could move them into a completed house, including electrical, for somewhere around $600 a month."
"This is going to save a fortune on heating and cooling because of the insulation factors and it's going to be a lot healthier because all the chemicals and fumes you are breathing now, from conventional building, are all really bad for you, and they will be eliminated."
For Colin, it is also going to benefit OrganicaWorld's employees, because he has broken ground on 48 eco-homes made from hemp, that will be rented to them at an affordable rate, and that will be available to look at by people interested in a hemp wall package.
In turn, Colin says the benefit to him is great too, because it will curb incidents of tardiness, absenteeism, car problems and more.
To complement the restaurant already operational at OrganicaWorld, a hemp restaurant will also be built to show potential buyers how sustainable and appealing a hemp structure can be. 
"When you sit down in our hemp restaurant, people are going to say, 'Wow, this is nice," Colin says adding: "I'm excited in that what we are doing is more of a humanitarian project. Because even though we are for profit, it's really going to help a lot of people."
On the horizon
Colin says the building of hemp homes is what can be seen as phase 1 of his planned projects. Phase 2, he says, would involve taking the chive they produce from the hemp plant to make particle board. 
Colin says he'd work on forging partnerships with companies that dominate the furniture industry, and together make a difference using hemp in that way. 
He adds particle board, when building homes, is used to make roof and floor decking, but the biggest use for particle board overall, is making furniture, which would be his primary focus, and one that would save even more trees and sustain the environment. 
For more information, visit organicaworld.com, or stop by OrganicaWorld, located at 3145 Austin Merritt Road, Groveland, to have a look for yourself. 
Originally from Nogales, Arizona, Roxanne worked in the customer service industry while writing independently for years. After moving to Florida in 1999, Roxanne eventually switched her career path to focus more on writing and went on to become an award-winning reporter for The Daily Commercial/South Lake Press newspapers for 16 years prior to coming on board with Akers Media as a staff writer in July 2020 – her dream job come true.
Share This Story!