Historic Fruitland Park Red Road CR-468 Being Repaved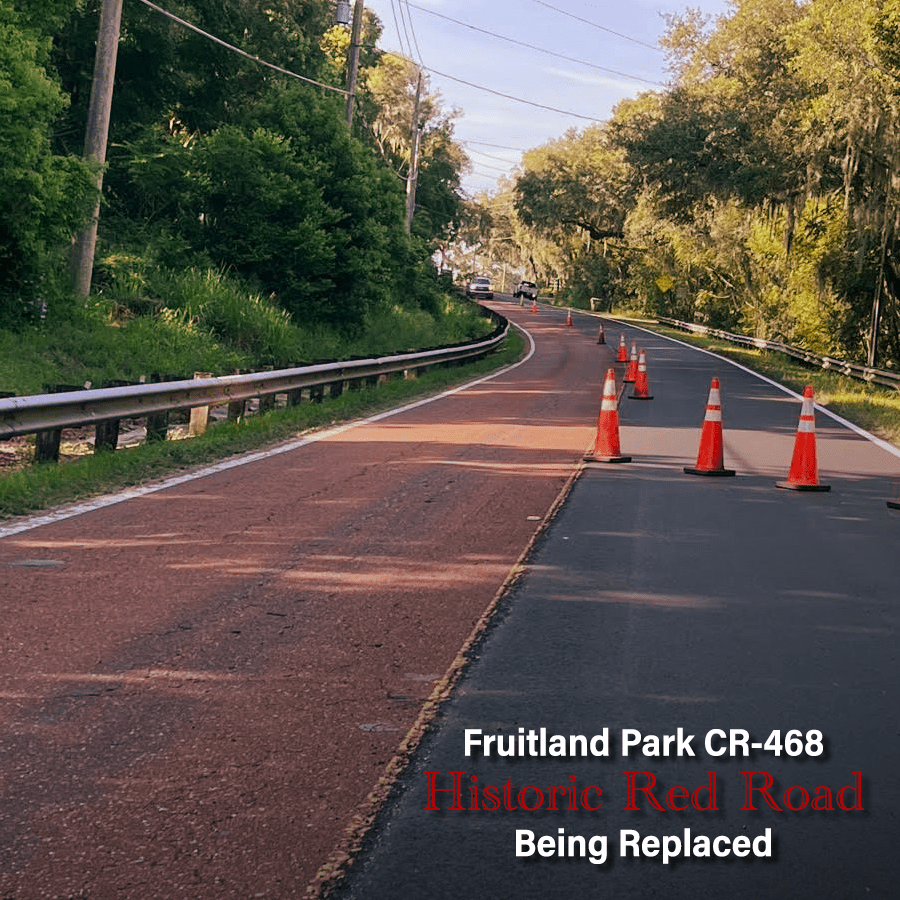 Shocking! That is just one of the words to describe what motorists saw driving on 468 today in Fruitland Park. The historical Red Road of Fruitland Park that runs from Josephine Ave and West Berckman St. and ends right before Myrtle Lake Ave is being dug up and replaced with an asphalt surface.
The Red Road was once part of a larger road and told a history of the Town of Fruitland Park long before the city grew into what it has today. Back in the mid 1900s supplies to this area of the country were limited. It was difficult to get Concrete to the area and construction crews had challenging times navigating the once many dirt roads that were part of the area.
The road has served its purpose over the many years it has been in service. Millions upon millions of vehicles have passed over this very stretch of road. The road can be used as a sort of by-pass of 441 to get directly down to SR 44. The more use the road received in recent years, the more cracks and potholes started to open up.
As of the last 3 years notable attempts to patch the Red Asphalt were made but more would open leading to sometimes hazardous conditions at times. The road was at the end of its service life and the once difficult area to get construction materials to, has blossomed into one of Central Florida's most booming locations for growth.
The new road will of course be asphalt. As are most roads these days, asphalt is easy to make, rides smooth and has a long shelf life when sealed over every few years. The road is in the process of being dug up and new asphalt is being laid down. The project is scheduled to last a few weeks.
Gone though will be this very unique portion of Fruitland Park History. You may still see remnants of the much larger section of Red Road that was paved over many years ago in some driveways along the route that stick out red from underneath the older paved over sections, but this part of Florida history will soon be a memory.
The new road will of course be smoother, safer and look like every other road going in. But the uniqueness of this particular section of Fruitland Park will forever be gone. There are a handful of other red roads left in this area but not many. Especially not any that are heavily traveled like 468.
The Southbound lane is now but a memory and the Northbound lane will soon meet it's end. We have reached out to the Town of Fruitland Park, for comment and when we hear more on the project we will pass along that information.
Kyle Coppola was born in Newton, Massachusetts and received his Bachelor of Fine Arts in Communications from Curry College in 2016. After traveling to Florida on a family vacation, he decided he could not get enough of the warm weather and made the move from snowy Massachusetts to central Florida 8 years ago.
For the last decade Kyle has gained valuable experience in social media content creation, marketing and sales, writing, video production, sports announcing and even broadcasting for local radio stations, such as FM 102.9 in The Villages and FM 91.5 in Massachusetts. Every year he volunteers at The Villages Charter High School as a play-by-play sports announcer for the football games as well as a public address announcer for the basketball games, including the annual Battle at The Villages Tournament.
Outside the office Kyle is a husband and father to two beautiful girls along with their cat. In his spare time he likes to spend time with his family, travel, play golf and swim. He is also a huge sports junkie and even bigger motorsports fan and loves to attend racing events when he can.
Share This Story!