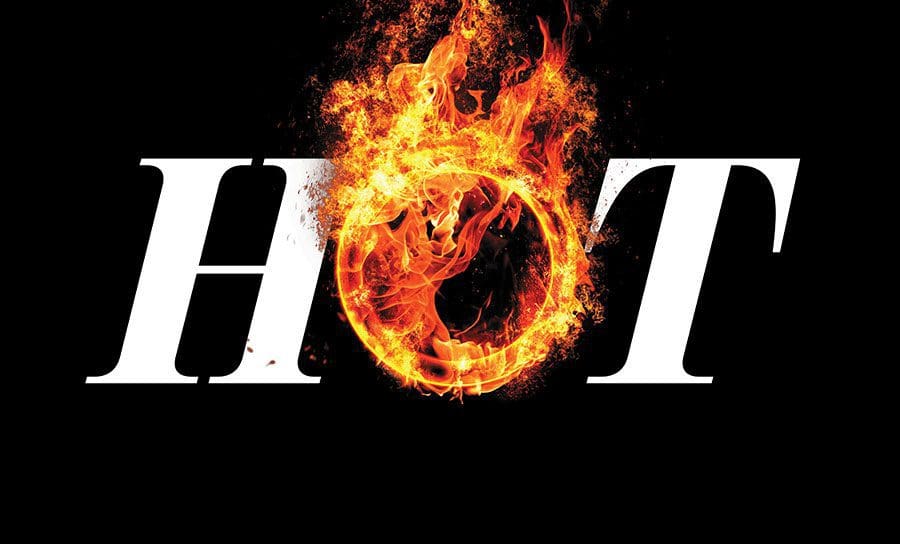 Style's annual Hot List is packing some serious heat.
Story: Victoria Schlabig, Theresa Campbell, Roxanne Brown and James Combs
When it comes to making summer sizzle, Lake and Sumter Style is giving Mother Nature a run for her money. 
We're turning up the heat a few degrees with our annual Hot List, a compilation of everything that's hot in Lake and Sumter counties.
And we promise you … this will be one of our hottest reads ever.
---
RECLAIMING FURNITURE 
Refurbishing old and used furniture has always been a creative outlet for many, and during the last year many people have picked up the hobby. Fran Flaherty of Tavares has been thrifting and repurposing all sorts of furniture and materials for years, and has some tips. 
She finds most of her items at Goodwill, OfferUp, yard sales, flea markets, and her favorite, estate sales. She has found practically-new pieces of furniture such as end tables and bed frames for a steal, and has flipped them, oftentimes by simply adding a fresh coat of paint, and maybe some new hardware or upholstery. You can also find items on Facebook marketplace, and in some of the numerous thrift stores in Lake County. 
With wood materials she thrifted, Fran paneled the wall on her mobile home which was originally an exterior window, hiding that the living room was an add-on to the original home. Another unique creation of hers is a chandelier she converted using outdoor LED light bulbs to an outdoor bird feeder, hanging it on a tree in her backyard. 
Sometimes, with just a little paint or stain, or new hardware or cushioning, you can flip old furniture and items to fit modern trends and resell them to a new loving home. 
---
HOTHEADS
The Hot Issue would be incomplete without asking this question: What makes you angry? Several people were generous enough to respond.
"I don't like it when people are ignorant to the fact that every single person you come across has had a different human experience than themselves. There isn't a one-size-fits-all solution."
—Sarah Tremblay, Leesburg
"People collecting unemployment who don't need to collect it. I work my butt off to keep my restaurant going while they're sitting at home collecting free money. People who take advantage of things make me the maddest."
—Ellen Bruce, Leesburg
"I get mad when people speed down Main Street. I saw one person driving around 60-70 miles per hour passing people. It's ridiculous."
—Michael Huey, Leesburg
"I hate stupid drivers, people who do not know how to drive or make turns. I hate businesses that do not know how to treat customers. I hate liars, and I hate things that don't work like they are supposed to."
–—Donna Barrett, Tavares
---
STICKING TO THEIR GUNS 

Between the coronavirus pandemic and civil unrest, it's not surprising that 2020 saw the highest number of concealed weapons applications in Florida. As of May 31, Lake County ranks 13th among Florida's 67 counties in the number of people who have concealed weapons permits, according to the Florida Department of Agriculture and Consumer Services Division of Licensing. In Lake County, 57,707 people have a concealed permit, compared to 11,631 in Sumter County. 
Shawn Sullivan is a certified firearms instructor who conducts concealed weapon classes in Clermont. In 2020, his classes were held on Zoom.
"We had a couple hundred students last year," Shawn says. "Since the coronavirus, interest has been way up."
---
TIKTOK FRENZY
Since its inception, TikTok, a well-known social media app, soared in popularity during the coronavirus pandemic and continues attracting users who create short 15 second to 1-minute videos – and viewers who watch them – from all across the globe.
Businesses, individuals and other organizations use the platform to spread video information on any topic of interest, including their own offerings and viewers use it as a resource for anything from make-up ideas, beauty tips, life hacks and recipes to serious advice or funny skits on topics ranging from relationships, kids and politics to Zen techniques and exercise. 
In Lake County, Mount Dora's own WAVE – Asian Bistro & Sushi, has jumped on board with the app's concept and began making videos showcasing their unique and beautiful sushi designs. With that, WAVE's page has garnered more than five-million hits. 
Views on their individual videos start at hundreds and in some cases, top half-a-million, but one thing is for certain; WAVE has people from all over the world commenting on, sharing and salivating over their beautiful works of sushi art.
"During one of the most stressful events that directly affected most restaurants, TikTok has given us an opportunity to reach out to people from all over the world. We love showcasing our unique sushi creations to our audience and have obtained a very diverse customer following over the course of this last year, says Jonathan McKinney, WAVE's owner.  "Guests will also take out their cell phones and create their own TikTok videos with our food, so it's amazing to see it come full circle."
To view the restaurant's page on TikTok, visit @wavemountdora. You can also follow them by visiting @WAVEMountDora on Facebook and Instagram. 
---
ON STAGE
Following an intermission brought on by the coronavirus pandemic and subsequent statewide mandated closures, the Clermont Performing Arts Center, Lake County's largest performance hall located at 3700 S. Highway 27, reopened its doors with a 2021-2022 season jampacked with live stage shows including familiar favorites, as well as new and exciting shows made for the entire family.
According to the venue's website, its staff "is working diligently to maintain the safety of every guest and will take every precaution to ensure the show goes on," so when considering a show, watch for special rules or conditions that may apply.
Upcoming shows:
Modern Gentlemen: 8 p.m. , Oct. 23, 2021
Steve Solomon's My Mother's Italian, My Father's Jewish! I'm in therapy: 8 p.m., Nov. 5, 2021
Dale K, almost evil comedy hypnotist: 7 p.m., Nov. 17, 2021
Hotel California: 7 p.m., Nov. 19, 2021
Florida Philharmonia presents Home for the Holidays: 7 p.m., Dec. 11, 2021
Naturally 7: 7:30 p.m., Feb. 26, 2022
Buy your tickets at ClermontPAC.com or by calling 352.394.4800.
*Shows and dates are subject to change.
---
A NEW WAY TO ROCK THE BOAT
There's an old joke in the boating industry. Boat, they say, is an acronym for Break Out Another Thousand.
Fortunately, a new trend has emerged that is friendlier on a boater's wallet because it eliminates unwanted maintenance and repair costs.  
Instead of purchasing their own vessel, boaters are becoming members of boat clubs like Adventure Boat Share in Leesburg. They pay a one-time initiation fee and monthly dues. From there, all club members have to do to enjoy a day on the water is make a reservation and show up at one of the company's three locations: Venetian Cove Marina, Lake Griffin, and Crystal River.
"I love getting people out on the water," says Michael Dolan, owner of Adventure Boat Share. "We cover all the expenses—insurance, dock fees, and cleaning. The only thing we don't cover is fuel."
The company's fleet includes everything from bass boats and sailboats to deck boats and bow riders. Members can boat from sunrise to sunset.
---
HOT HAIR
The return of lots of old hair styles has come back for 2021. The "wolf cut" is a modern version of "the shag," which was popularized in the late 1990s/early 2020s. The style entails lots of layers and texture, creating a more voluminous, messy look. The 1960s are back as well: think of Farrah Fawcett's and Bridget Bardot's Curtain Bangs, says Amanda Grace of Lather Beauty Salon in Leesburg. 
Balayage remains popular after many years. "A 'balayage,' which is French for 'painting with light' is a color technique that embraces a rooty-look with soft 'sun kissed' blended highlights directed toward the face," Amanda says. It is the perfect style for those who prefer a low-maintenance, natural look. 
Warm tones are making a comeback after ashy cool tones have been very popular in recent years. Rosy reds, coppers, caramels, and golden blondes are trending this year. Also, bold, face-framing colors surrounding the face are a newer trend. A pop of blonde or a "fashion" color concentrated around the face gives a unique look to what could be a simple cut.
---
DINING TRENDS
In 2020, people used to dining out at restaurants, had no choice but to visit fast food drive-throughs or place online orders for curbside pick-up and delivery from their favorite places.
And while 2021 has seen people flocking back to inside dining rooms, many customers are still opting to take the food and eat at home, at nearby parks, in their offices or elsewhere.
In Leesburg, a resource called "Leesburg Eats," originally started by the Leesburg Partnership as a service to gather the menus of local restaurants and digitally house them in one place to make it easier for business people looking for lunch options and to save their desks from clutter, is still available. 
According to Leesburg Partnership officials, the website enjoyed an uptick of users during the pandemic that has continued.
Those interested in using the service can visit leesburgeats.com. Restaurants interested in having their menus included, should call 352.365.0053 to inquire about joining and what's involved in doing so.
---
VACATION RENTALS
Now that most COVID restrictions and travel bans have been lifted after a long year, people are eager to plan their next vacation. Still, the pandemic changed the way many people will travel in the near future. People continue to enjoy outdoor trips, visiting natural getaways and camping or glamping settings over extravagant all-inclusive resort stays. 
In the past few years, airbnbs were popularized, giving the option of renting entire homes or apartments in locations all over the world. This remains a trend, as it allows travelers to stay close to their own group, and away from strangers. Domestic travel is popular this year, as many countries still have strict requirements for visitors. Also, "workcations" have become a thing, because companies have decided to continue a work-from-home status. Employees bring their work with them to a cabin-in-the-woods type getaway, or even a condo near the beach. 
After a year of financial hardship for many, people still want their vacation, so frugality is key when planning. Though airbnbs have perks, many are finding that with rising cleaning and other fees, a hotel is a better option, if money is a concern. After all, unless you find yourself with a bad sunburn, you probably won't be spending a lot of time in your room anyhow. 
---
NAIL BITERS
Throughout the years nail trends have changed, whether in popular nail shape, colors, designs, and otherwise. While dip powder nails gained traction for a while, many people are choosing to return to acrylic nails, and are asking for creative and colorful designs.
Daniela Libreros of Howey-in-the-Hills is a nail tech experienced in intricate designs, and says what's popular now is abstract art and line work. Whether different shades of one color, or multicolor, Daniela often finds herself painting precise shapes on her clients' nails. Coffin shape remains popular, but almond nails have been getting popular during the last few months as well.
Medium and short length almond nails are often paired with the abstract designs Daniela mentioned, but painted tips are also becoming a fad. Whether on coffin or almond shaped nails, many people are asking their nail techs for a "French tip" look, but with a more eye-catching tip, and a neutral color on their nail beds. To see more of Daniela's work or to book an appointment, visit her Instagram @heavenlysets.bydani.
---
RIDIN' IN STYLE
Tricked-out golf cars are all the rage in The Villages. They can be customized to reflect an owner's personality. Among the golf carts you're likely to see include:
A golf cart decorated with colors and paraphernalia of an owner's favorite team.
A golf cart representing someone's former profession, such as a miniature fire truck or an old Army jeep
A golf cart that is a scaled-down version of someone's favorite automobile, like a Chevrolet Corvette or a Ford 1929 Model A.
---
NEW BUSINESSES
These are some of the newest places in Lake and Sumter that opened their doors in 2020/2021 according to local officials: 
Best Smiles Orthodontics – Mount Dora
Black Bear Kitchen – Montverde
BTW Crafted Concoctions – Tavares
Butcher Block – Groveland
Community Collision — Leesburg
DiversiTech – Leesburg
Foxtail Coffee Co.– Clermont & Eustis locations
Funky Monkey – Mount Dora
HandleBar – Mount Dora
Immunity Health Spa – Lady Lake
Impact Rage Room – Leesburg
Jonesy's Escape by Coffee Shop of Horrors – Tavares
Just Love Coffee Café – Clermont
Kroger/Ocado (distribution center) – Groveland
Lulu Candles – Eustis
Mammoth Oak Brewing Co. – Leesburg
Montrose Market (a variety of vendors under one roof) – Clermont
Mystic Ice Cream – Leesburg
OMG Juice – Clermont
Once Upon a Creation Co. – Clermont
Orange Blossom Candies & Cream – Montverde
Peach Valley – Mount Dora
Pepe's Cantina – Clermont
Prominent Fox—Leesburg
Pure Nutrition – Clermont
RJ's Dirty Laundry – Mount Dora
Southern on 8th – Clermont
Sunshine Book Co. – Clermont
The Central Florida Hope Center – Clermont
The Downtown Exchange (a variety of vendors under one roof) — Clermont
The StretchLab – Clermont
The Tannerie – Mount Dora
Tray's Cookout – Leesburg
Twisted Sugar – Clermont
Water Gypsy Coffee Co. – Leesburg
---




HOTTEST FASHIONS
When temperatures are sizzling outside, Prominent Fox Boutique in Leesburg and Em'z on Fifth in Mount Dora carry fashions in lightweight fabrics that are ideal for Florida's tropical climate. "You can look good and stay cool," says Clara Schneider, owner of Em'z on Fifth. 
5 hot styles at Prominent Fox:
Ombre acid wash shorts
Cami dress with ruffled hem
Cold shoulder tops
High-rise button denim shorts
Rompers

 
5 hot styles at Em'z on Fifth:
Lace-up ankle pants
Off the shoulder tops
Gauze cold shoulder tops and dresses

 

Glitzy tees
Crinkle fabric tops
---
POLITICALLY ENGAGED
Despite the pandemic, Americans voted in record numbers in last year's presidential election. Lake Countians also flocked to the voting booth. There were 212,505 ballots cast, and turnout reached 80.28 percent, according to figures from the Lake County Supervisor of Election office.
Part of that was due to a high-stakes election. It also stemmed from the surge in new Lake County voters during the past four years. In 2016, there were 222,390 registered voters in Lake. That number swelled to 264,700 registered voters in 2020.
 "I'm very pleased," says Alan Hays, supervisor of elections. "I want every person who is eligible to vote to be registered, take the time to be informed on the candidates and issues, and then exercise their right to vote."
 Here's a breakdown of active registered voters from numbers provided on the Lake County Supervisor of Election website in early June.
Republican | 118,093
Democrat | 79,622
No Party Affiliation | 70,479
Other | 3,915
---
LAKE AND SUMTER ECONOMIES
The median household income in Lake County (according to datausa.io based on 2018 Census Tract averages) is $52,096. 
The economy of Lake County employs 144k people. The largest industries in Lake County are Retail Trade (19,694 people), Health Care & Social Assistance (19,457 people), and Construction (13,526 people), and the highest paying industries are Utilities ($51,636), Finance & Insurance ($51,096), and Information ($50,755).
For Sumter County, the median household income, (according to datausa.io based on 2018 Census Tract averages) is $55,228. 
The economy of Sumter County employs 25.4k people. The largest industries in Sumter County are Retail Trade (4,109 people), Health Care & Social Assistance (3,533 people), and Construction (1,841 people), and the highest paying industries are Utilities ($58,750), Mining, Quarrying, & Oil & Gas Extraction ($53,125), and Information ($53,036).
Statewide, males in Florida have an average income that is 1.34 times higher than the average income of females, which is $46,953. The income inequality in Florida (measured using the Gini index) is 0.473, which is lower than the national average.