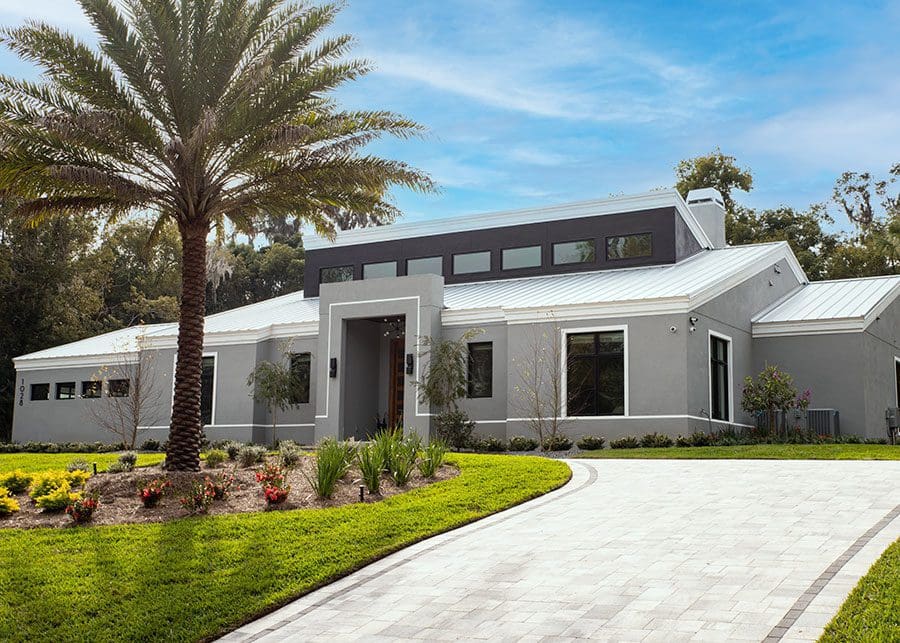 New developments sprouting up as Lake and Sumter draws buyers from afar eager for nice quality of life in the Sunshine State.
Photos courtesy of  Nicole Hamel, Rachel Steele, Don Wiley, and Toll Brothers.
The coronavirus pandemic has played a vital role in the local housing boom as more families around the country are able to work remotely, so they seek to live a more affordable lifestyle in Florida, where the sun often shines, the weather is warm, and there's no state taxes.
Many developers, builders, and local government officials in Lake and Sumter County are responding to the need for housing as they roll out the welcome mat and prepare for increased growth.
Currently, hundreds of new residential developments are in the works in the area, with the city of Leesburg having 51 named projects, all set to provide a total of 25,214 housing units. 
"I'm not sure I have a good answer for why all the development other than economic and geographic reasons," Leesburg City Manager Al Minner says, adding it appears to be Leesburg's turn to manage growth issues as more people seek to call this area home. The more tranquil, nature environment of the area and living away from the hustle and bustle of metropolitan cities appeals to some newcomers. 
"People are coming from all over," says Kara Wisely, a real estate agent with Berkshire Hathaway Realty in Mount Dora, who has worked with buyers moving from California, New York, South Florida, and even as far away as Switzerland, where one family was happy to buy horse property in Lake County.
"Because of the pandemic, you see a lot of families are conscious of family time," says Kara. "They want some time and space with their family and to still be able to work from home."
Out-of-state buyers also have told her they appreciate the more affordable cost of housing here and the lower taxes. 
According to the latest U.S. Census data, Lake County's population is 383,956. Elevate Lake, Lake County's Office of Economic Development, expects the county will experience more growth in the decades ahead, predicting the population will be 450,300 in 2030 and 510,300 in 2040.
Sumter's current population is 139,822 (with 80 percent of that being The Villages), and Florida's Bureau of Economic and Business Research projects Sumter to have 190,000 residents in 2030, and nearly 224,000 in 2040.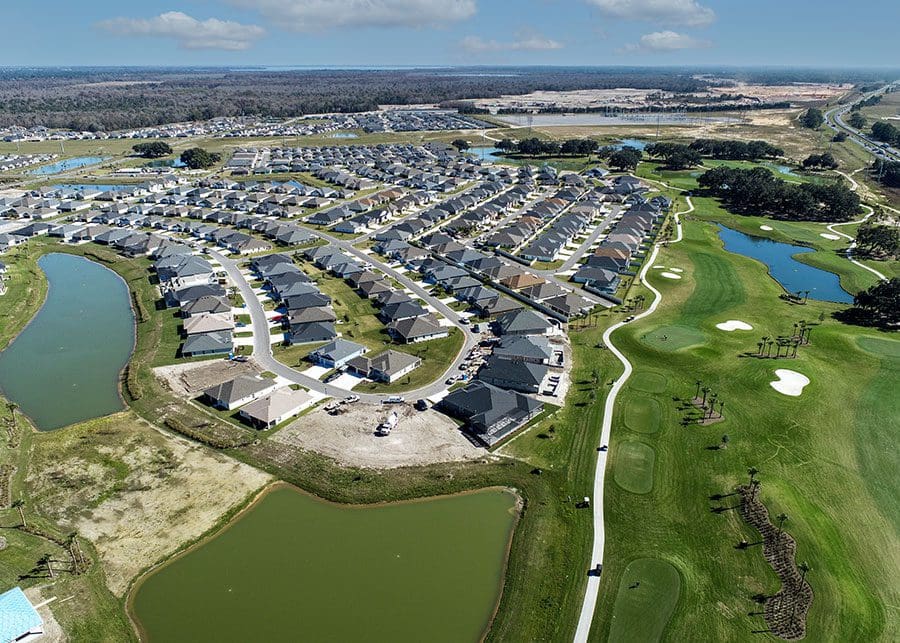 New housing developments
Local officials in smaller municipalities are preparing for increased growth, too, including Groveland, which has 12 projects that will provide nearly 3,300 homes. 
Groveland's current residential developments are Belleview at Estates at Cherry Lake, with 131 homes; Preserve at Sunrise, 439 homes; Trinity Lakes, 1,153 homes; Silver Eagle Reserve, 23 homes; Arborwood, 110 homes; Wilson Estates, 87 homes; Cypress Oaks, 405 homes, along with the proposed developments of The Village at Cherry Lake, 418 homes; Cypress Bluff, 386 homes; Preserve at Lake David, 76 homes; Parkside at Estates at Cherry Lake, 70 homes; and Milestone Apartments, 120 units. 
"I believe the draw in Groveland is that it still provides affordable housing options, proximity to a major metropolitan area, a positive future trajectory and an unbelievably unique community with charm and natural vistas," says Groveland City Manager Michael Hein, adding Groveland is embracing its brand as the "City with Natural Charm." 
He says Groveland has produced a master parks plan, completely revised its development code to foster walkable communities, and has revised its future land use to dedicate over 50 percent of its land mass to remain undisturbed with an open space to foster a sense of decompression and connection with nature. 
"We're also the first city in Florida seeking to become a 'Dark Skies' certified community so that our residents can see the stars at night and witness lightning bugs and other natural experiences that aren't available in many other places," says Michael. 
Corey DeVogel, planning technician for the City of Minneola says there are seven residential developments in the works in Minneola, which will provide over 1,000 homes. 
"The way I see it the growth has spread out from Orlando to Clermont," says Corey, adding it has now "spilled over to Groveland and Minneola." 
Mascotte is growing, too, with subdivisions like Gardens at Lake Jackson Ridge, built by KB Home Orlando, LLC., which features 212 single-family homes. A second phase of 100 homes is in the works, says Camille Leachman, sales counselor for KB Home.
"The building is continuing," says Camille. "People love this community for the larger lot sizes, they're about an acre, and they love the affordability. We are just outside Clermont, so that 15-minute drive can be a difference of $50,000 to $100,000 (savings), and a majority of the folks want to be away from the hustle and bustle. We are surrounded by farms so it's a little quiet. It's close enough and yet it's away at the same time." 
She says the homes range in size of 1,541 to 3,016 square foot, with a starting price point of around $325,000. 
KB has an in-house lender, says Camille, adding the average mortgage is $1,800 to $2,000 a month on three-bedroom, two bath home with a two-car garage. 
"And because we have the larger lots here, you can go with three car garages, and that's definitely a pull for a lot of people," says Camille. 
 Branded as "Nature's Hometown," with about 4,000 people, Umatilla is preparing for a new subdivision, Magnolia Pointe, to be developed by DR Horton in the area south of County Road 450A, according to Umatilla Mayor Kent Adcock. 
Kent says the 439 units of workforce housing is expected to have a price point of high $200,000 to mid $300,000, and the project is undergoing preliminary plan approval with a build out anticipated by 2025. 
"We found that were some in the Umatilla community that were apprehensive of us approving it, but it was approved years ago, and we just resurrected what was already approved," says the mayor. "Umatilla is a smaller community of people who moved there because they like the rural environment and we collectively wrestled with the increased growth."
Off of Radio Road, behind Lake Square in Leesburg, is a small development of 50 homesites to be called Seasons at Silver Basin, which will be built by Richmond American Homes. The community will feature six different floor plans, the smallest being a three-bedroom home of 1,600 square feet, and all the way up to six bedrooms at 2,800 square feet, according to Shaleena Lott, sales associate at Seasons at Silver Basin. 
She says the price point of the homes start at $290,000 and goes up to $350,000, and soon after the community started its presales, 10 homes were sold.
"A lot of people are still working from home because of the pandemic, so they are looking for space that they can work comfortably, where the kids can have space, and not get on each other's nerves," says Shaleena. "People are shopping for homes now more than ever before."
Richmond American Homes also is building 97 homes at Seasons at Park Hill, and 48 homes at Seasons at Hillside in Leesburg, with standard features of stainless-steel appliances, premium hardwood cabinets with 36-inch uppers, an enclosed summer patio, barn doors, and special amenities of RV/boat garages.
Park Square Homes has several building projects in Lake County, including Las Colinas at Mission Inn Resort & Club, in Howey-in-the-Hills. 
The company announced it will complete the 20 remaining homesites in the current phase of Las Colinas, where the square footage ranges from 1,987 to 3,957, and they will break ground on a new phase this year of 272 homesites at Las Colinas, with anticipated sales in 2023. Four different product lines will be available in the new phase, including paired villas and single-family homes. 
"Park Square Homes, just like Mission Inn, is a family-owned and operated business. We are delighted to have a partnership and shared vision for the future growth of Mission Inn Resort & Club. This is a storied community, a Central Florida treasure, and we look forward to continuing its legacy as a destination to live, play and enjoy," says Laurie Tarver, vice president of sales and marketing for Park Square Homes. 
 "The future of Mission Inn real estate is in excellent hands with Park Square Homes, and we are very pleased with our shared vision for Las Colinas," Bud Beucher, president and general manager of the Mission Inn Resort & Club, said in a news release. "The company's plans for the community have exceeded all of our expectations." 
Park Square Homes has several land acquisitions in Lake County, and the company announced it plans to build over 1,500 single family homes and townhomes in the next five to six years.
The builder recently closed on 156 acres in Fruitland Park, off U.S. Highway 27 and Dr. Martin Luther King Blvd., which will become the Arbor Park community of 509 single-family homesites, designed to be an affordable alternative for empty nesters and retirees, as well as people that work in and around The Villages seeking a shorter commute. Amenities planned for Arbor Park include a resort-style clubhouse with catering kitchen, pool, playgrounds, dog park and walking trails. 
"We anticipate very strong interest for Arbor Park given our unique floorplans and the community's prime Lake County location," says Laurie. "Single-family housing is in high demand, and we are pleased to bring our exceptional designs and outstanding customer service to another beautiful community in Lake County." 
Land development of Arbor Park is slated to begin in the spring of 2022, with sales anticipated to begin in early 2023. 
Currently, Park Square Homes is building Woodbury in Mascotte, a community of 78 single-family homes starting from the low $300,000, with six different one- and two-story floorplans ranging from 1,301 to 1,900 square foot.
They're also building Summerbrooke in Mount Dora, which will be 165 single-family homes starting from the mid $300,000. The community offers eight of Park Square's most popular floorplans, ranging from 1,525 to 3,075 square foot, and the builder has opened a new phase of this community for new home sales in 2022.  Summerbrooke also has luxury neighborhood amenities such a newly decorated clubhouse with a pool, expansive recreation areas and gathering spaces. 
Bella Collina in Montverde is an exclusive lakefront and country one- and two-story, single-family luxury estate homes in a private, gated community surrounded by 1,900 acres of picturesque lakes and hills. 
Toll Brothers are among the builders in this gated community, constructing $1.2 million homes of coastal, Palm Beach, Mediterranean exteriors, all which range from 4,238 to over 7,000 square feet. 
The homes offer an array of included features, such as two-story foyers and great rooms, double staircases, and more, according to Nicola McLean, marketing specialist of Toll Brothers, who noted buyers can select from hundreds of options including wine rooms, multi-gen suites, and an abundance of outdoor living options.
 "When the pandemic hit, I had four buyers from Seattle and California tech companies who all came to Bella Collina," says Matt Wheatley, broker with Wheatley Realty Group in Clermont, adding the buyers were young and happy by the idea of working remotely in a beautiful, spacious home with golf course views over the tiny apartments they had out west. 
Matt says the buyers didn't balk at spending $10,000 a year in taxes. "They said, 'that's cheap because ours is $20,000 (out west).'" 
Tavares is another area that is booming with seven new residential developments in the works, including: 
Avalon Park Tavares, a 1,000 unit planned development that proposes a mixed-use of single-family, multi-family, and commercial properties behind AdventHealth Waterman across the street from Tavares's newest School Pinecrest Academy.
Elmwood, featuring 115 single-family homes under construction south of the YMCA along David Walker Road.
Seaport Village will be 146 single-family homes located north of Slim Haywood Avenue and west of State Road 19.
Leela Reserve is 69 single-family homes located south of Slim Haywood Avenue west of State Road 19.
Lakeside Forest is 134 single-family homes located west of State Road 19 just north of the Howey Bridge.
Lake Harris Reserve is 45 single-family homes located off Woodlea Road west of Captain Haynes Road.
Greenbrier at Baytree will feature 92 single-family homes located off Dead River Road at Baytree Blvd.
Mark O'Keefe, public communications director for Tavares, says people are drawn to town for the attraction of seaplanes "and the quality of life and cost of living." He adds Tavares is business-friendly with access to quality healthcare with AdventHealth Waterman Hospital and a large medical park, and has responsive and progressive government services, natural amenities of the surrounding lakes, six schools, and the Tavares Waterfront Entertainment District which is golf-cart accessible. 
Being golf-cart accessible is one of the big attractions of The Villages, the largest master-planned 55-plus community in the world. The Villages continues to grow and has numerous developments in the works. 
 "It is an amazing process watching The Villages grow," says Villager Don Wiley, who serves on The Villages' District 10 Board of Supervisors of the Community Development District. "Based on what we know they have acquired; we are looking at another 20 to 25 years of building." 
Don says the current generation of the developer, the Morse family, are building neighborhoods with a lot more greenspace. And while the bulk of The Villages growth has been in Sumter County, soon Lake County and the Leesburg area will benefit from The Villages' expansion plans. 
The Villages' economics incentives package for a $100 million mixed-used district was approved by Lake County officials, and the district will reportedly be located on about 435 acres at the intersection of Florida's Turnpike and County Road 470. Some of the commercial space is projected to be used for a healthcare-focused multi-use complex, anchored by a UF Health regional hospital.
 The Villages is also at work on an all-new community—Middleton by The Villages—which will offer a variety of housing, shopping, dining, and recreation opportunities, specifically designed to meet the needs of the families and business partners who work, serve, and care for residents of The Villages community. 
The Villages says on its website "that it makes perfect sense to expand our school and housing options for all the employees who support our community." 
Middleton will feature single-family homes, apartments, townhouses, even brownstone-type of housing options, all in a variety of styles and price ranges. The website noted the planning teams are working with the renowned architectural firm, SchenkelShultz to expand The Villages Charter School by building a second K-8 campus as well as an expanded state-of-the-art high school and athletic center.
Middleton is projected to come to fruition in 2023. 
Originally from Anderson, Ind., Theresa worked for The Herald-Bulletin for many years. After experiencing a winter with 53 inches of snow, her late husband asked her to get a job in Florida, and they headed south. Well known in the area, Theresa worked with The Daily Sun and The Daily Commercial prior to joining Akers.
Share This Story!