In The Kitchen: Mediterranean Twist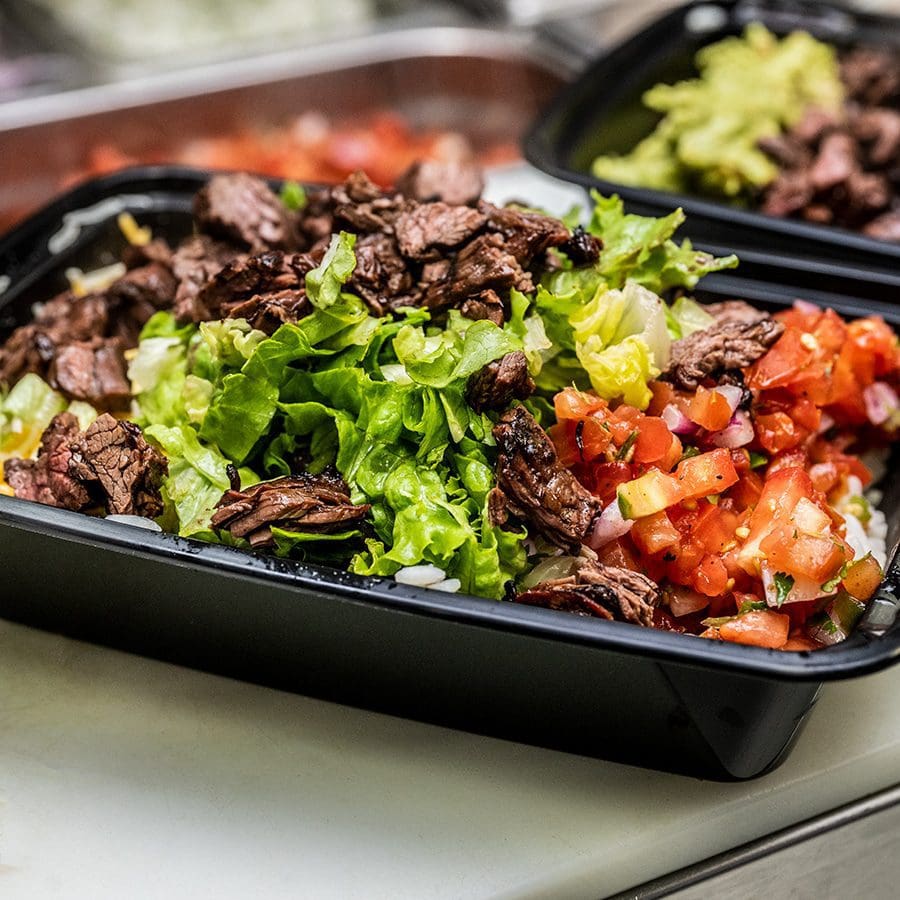 From food truck to franchise, Clermont's Over The Top Pita serves fresh, simple and delicious eats inspired by unique family recipes and flavor profiles.
The Angelidis family has come a long way since first introducing their Over The Top Pita food truck in 2013. 
That's because seven years ago, they opened and still proudly operate a popular restaurant of the same name – located in the Citrus Village Shopping Center in Clermont, just doors down from Publix – run primarily by Johnny and his daughter, Cassie, with help from Johnny's wife, Kelley, son Alex, and the rest of their "amazing staff."
 "We named it 'Over The Top Pita' because we go above and beyond with everything we do, whether in flavor or service," Cassie says. "We always wanted to be more than just a normal restaurant. We want people to walk away feeling like we did everything we could possibly do and more."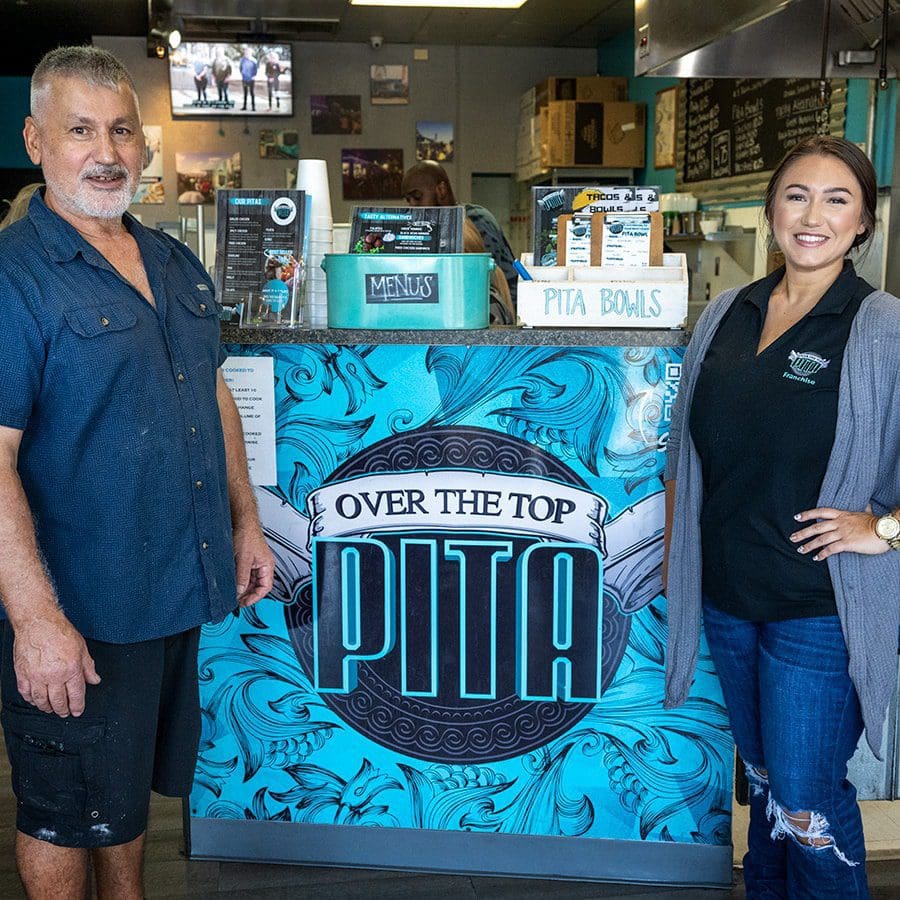 Love of food runs in the family 
Johnny's love of food dates back to his childhood in Greece, his native country, but he didn't intend to be a restauranter when he came to the States. He moved to Houston with his godfather to go to school and ended up staying to run a restaurant with him. 
"I came here just to go to school and never left," Johnny says. "When I moved to Florida, I actually began working for an air-conditioning business, but our family decided to open a food truck together."
Cassie was attending school for event management and working as a character performer at Disney when she and her dad decided to pursue their dream of operating a food truck.
"When we started, we still had our regular jobs," Cassie says. "We traveled around Central Florida with our food truck to all the local events and festivals. We just kept growing, so we finally quit our jobs and decided to do food full-time." 
Two years later, they secured their dine-in location in Clermont, and in June 2022 celebrated their seventh anniversary at that very venue.
Freshness sets them apart
The secret to their success? Cassie believes that their food is exceptional because everything is made fresh and from scratch. In fact, a sign at the ordering counter informs customers that they can expect to wait 10 to 15 minutes because everything is made to order. 
"I think our food is something you can't get anywhere else," Cassie says. "We cook it fresh, and we put a Mediterranean spin on everything. 'Fresh and simple' is our motto." 
"We named it 'Over The Top Pita' because we go above and beyond with everything we do, whether in flavor or service."
—Cassie Angelidis
A fusion menu 
Although every menu item deliciously exudes a Mediterranean twist, Over The Top Pita offers a fusion of many different cuisines, such as Tex-Mex and southern comfort fare. 
One of the most popular items is the lamb and beef gyro, slow-cooked on a spit (a rotisserie or skewer) and topped with homemade tzatziki sauce, sliced tomato, onion, and a few french fries for garnish – a tradition in Johnny's Grecian hometown.
Other pita options include pork tenderloin souvlaki, grilled chicken, fish, fried chicken, falafel, spicy chicken, fajita style, and Philly cheesesteak, another one of their more popular choices.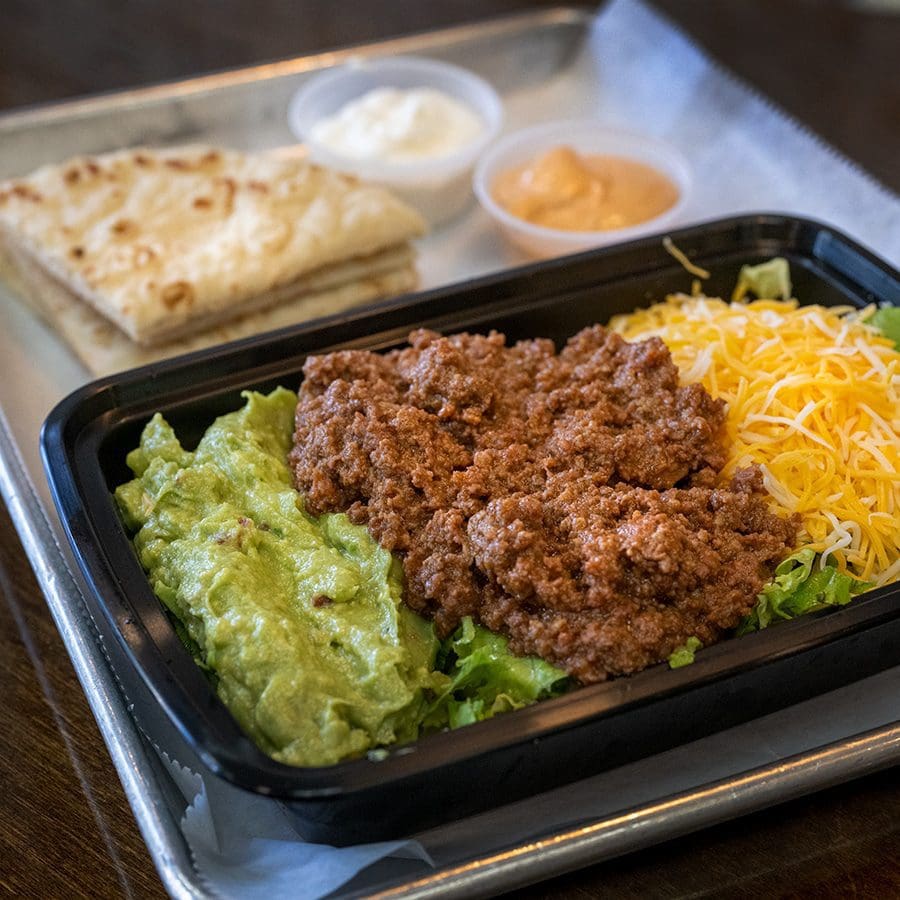 Pita bowls have been consistently growing in popularity as well. Over The Top Pita offers chicken, taco beef, steak, falafel, and gyro meat atop rice, black beans, lettuce, cheese, pico de gallo, with roasted salsa and pitas slices on the side.
The menu also features ½-pound and 1-pound Angus beef burgers, as well as their signature smash burger with house-made chipotle aioli. 
Taco options include the "chop it like it's hot" lime cilantro marinaded chicken with homemade chimichurri aioli, "cod father" fried fish, fresh ground beef, and sizzling skillet steak. 
Kids even get a treat with tasty kid meals of chicken tenders, chicken or cheese quesadilla, or falafels and fries. 
Over The Top Pita's signature Greek hummus and black bean hummus options are made fresh daily.
Looking to expand
In 2022, the family decided to expand their options and are now franchising their family recipes for more people to enjoy. 
"After years of successful operation, we want to franchise our business and make Over the Top Pita a national sensation," Cassie says. 
---
A few Over The Top recipes
Signature Hummus and Pita Chips
---
Over The Top Pita
240 Citrus Tower Blvd., Suite B, Clermont, FL  
Hours: 11 a.m. to 8 p.m.
Mon-Sat, closed Sunday (hours subject to change)
352.708.6588
overthetoppita.com
info@overthetoppita.com
---
Originally from the small town of Berryville, Arkansas, Cindy has become a multimedia specialist in journalism, photography, videography and video editing.
She has a B.S. in Communications from the University of Central Arkansas and is a correspondent for The Daily Commercial, LakeFront TV and Beacon College's PBS talk show, "A World of Difference," where she received an Anthem Award and Telly Award.
When she isn't working, Cindy spends time with her husband, Ryan, and son, David, traveling and taking photos of landscapes and wildlife.
Share This Story!