In the Kitchen: 'Slice of Americana'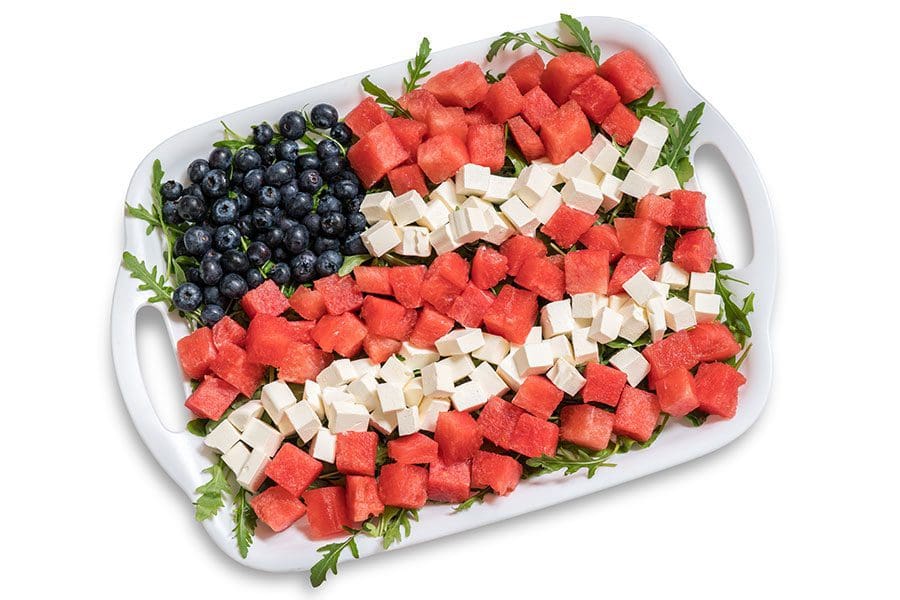 Leesburg Watermelon Festival was popular summertime attraction for three decades.
Savoring refreshing, chilled slices of juicy watermelon is a great way to stay hydrated and cool on a hot summer day, and it's no wonder in tropical regions around the world, people have been known to eat watermelon to prevent heat stroke while working in sweltering hot temperatures.
That was the case in Leesburg from 1930 to 1963, where this luscious fruit was the star attraction at the annual Leesburg Watermelon Festival, which drew tens of thousands of residents and visitors to Florida. 
The Watermelon Festival was billed as "a slice of Americana." 
"It was popular statewide and even nationwide; people would come from all over," says Richard Horsley, a volunteer at Leesburg Historical Museum, noting the festival featured a variety of fun activities, including parades, watermelon eating contests, baseball games, and beauty pageants.
Watermelon growers also got into the spirit of the festival by competing in a contest to see who grew heaviest watermelon. The winner was awarded a huge gold watermelon-shaped trophy to take home. 
G. W. Franklin, a Leesburg melon and produce buyer, reportedly shipped the first load of watermelons out of Florida on June 4, 1894. The city was declared Florida's watermelon capital by the USDA in 1926. 
The first Leesburg Watermelon Festival was hosted on June 26, 1930 as an answer to farmers' over-abundant crops of watermelons. 
"After they had shipped all of the watermelons out nationwide, they still had an abundance and so they said, 'Let's have a festival,'" says Richard, adding the festival grew to become a highly anticipated attraction. 
History buffs and watermelon lovers may enjoy seeing the large glass display case of Watermelon Festival memorabilia and glossy black-and-white photos of the festival through the years at the Leesburg Historical Museum at 111 S. 6th St., Leesburg. It is open 10 a.m. to 3 p.m. Tuesday to Friday.
In one published newspaper photo from 1948, Carolyn Merrell, then 16, of Leesburg, was all smiles as she defeated 15 other contestants in a watermelon eating contest. Also, at the same festival, R.E.  Goddard, of Linden, grew the largest watermelon on exhibit on the festival grounds; the melon weighed 73 pounds. The massive gold trophy R.E. and other farmers won for having the largest watermelon is now housed at the Leesburg Historical Museum. 
"Some of my fondest memories as a child were made at the annual Watermelon Festival," Tom Grizzard, the founder of ERA Grizzard Real Estate, once stated in a report on Leesburg's history. "I can vividly remember the beauty contest was held on a flatbed trailer in Venetian Gardens. I thought that they had to be the most beautiful girls in the world…I was only 10 years old." 


Several Watermelon Festival photos at the museum show beauty pageant girls in their bathing suits riding in parade floats down Main Street in Leesburg. Other photos show festivalgoers savoring their watermelon-based treats. 
Richard says the popular festival ended when it became difficult to grow large crops of watermelon. 
"They couldn't cultivate any because the watermelon took so much out of the soil, like tobacco does," he says. "They (organizers) decided there was no longer enough watermelons to have a festival." 
Additionally, Richard notes that during the same time period, there was the theory that watermelons were derogatory to African Americans. 
Ellen Ficklen, author of "Watermelon," wrote of the racial stereotype: When black slaves brought seeds with them from Africa, the fruit may have been one of the very few pleasures that slaves were allowed during harsh lives.
Richard adds that watermelon growers eventually headed south when there were not enough watermelons to give away for free at the Leesburg festival. It ended in 1963. 
Lori Johnson, family and consumer science agent with UF/IFAS Extension Lake County, hails watermelon as a tasty, nutritious treat packed with vitamins and minerals. 
"I love watermelon because it is packed with nutrition, cool and refreshing eaten alone or paired with other ingredients," she says. "They can be used in salads, drinks, appetizers, and even made into ice cubes."
Lori provided the following watermelon recipes for Style readers to enjoy. 
---
Extra! Extra!
Local watermelon history: 
June 4, 1894: G. W. Franklin, a Leesburg melon and produce buyer, shipped the first load of watermelons out of Florida.  
June 4, 1926: It was announced that Leesburg had been formally designated as Florida's "Watermelon Capital" by the USDA, which had established a branch office in the city.  
June 26, 1930: Leesburg's first Watermelon Festival.  
July 2, 1943: The official close of Leesburg's watermelon season and the highest melon prices in recorded history.






Leesburg Watermelon Festival photos are courtesy of floridamemory.com
Source: Leesburg Historical Museum
---
Watermelon Salsa
Ingredients:
2 cups seedless watermelon, finely chopped
1/4 cup cucumber, finely chopped
1/4 cup red onion, finely chopped
1/4 cup sweet red pepper, finely chopped
1/4 cup fresh cilantro, minced
1 tablespoon fresh basil, minced
1 tablespoon fresh mint, minced

 

2 tablespoons honey
1 teaspoon lime juice
1 jalapeno pepper, seeded and minced (optional)

 
Directions:
Combine watermelon, cucumber, onion, peppers, and herbs. Drizzle with lime juice and honey; gently toss to coat. 
Source: Taste of Home
---
Watermelon, Lime, Ginger Popsicles 
Ingredients: 
5 cups seedless watermelon, chopped
1/3 cup sugar
1/3 cup fresh lime juice
2 teaspoons grated fresh ginger
Directions: 
Puree the watermelon, sugar, lime juice and ginger in a blender until smooth. Pour the mixture into ten 3-ounce or eight 4-ounce popsicle molds. Insert popsicle sticks and freeze until firm. 
Source: Real Simple
---
Watermelon Pizza
Ingredients:
Watermelon wedges, at least an inch thick
Fresh arugula

 

Caramelized onions
Blueberries
Feta cheese
Balsamic glaze
Directions:
Grill watermelon on pre-heated grill on high for 2-3 minutes each side. Chill before adding toppings. Amounts of toppings will vary with the size of watermelon. Layer with arugula, onions, blueberries, and feta cheese. Drizzle balsamic glaze on top. The glaze can be store bought or made by heating balsamic vinegar with a small amount of brown sugar. To caramelize onions, add a small amount of oil to a medium size pan over medium heat. Add onions when oil is simmering, occasionally stirring and cook until light brown. A small amount of salt or sugar can be added for browning. 
Source: Recipe created by Lori Johnson