Jenkins Genesis of Leesburg Construction Coming Along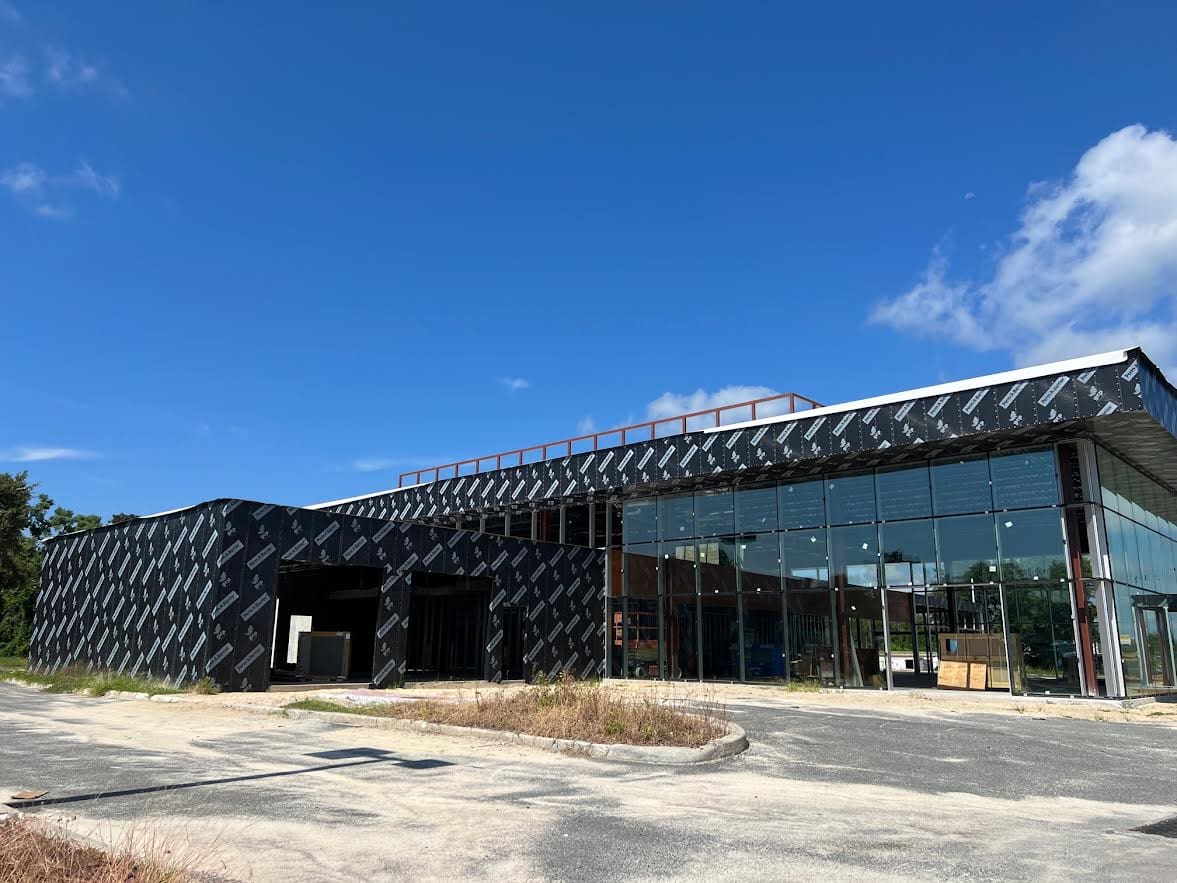 Jenkins Automotive Group who owns Genesis of Leesburg will be moving into a new location. The current location which is located at 9145 US Highway 441 will be moving about a half mile East near the Lake Square Mall. The brand new building is coming along and it certainly has a modern feel to it.
The front of the building has much of the glass installed but still has a ways to go. The new grand entrance to Jenkins Genesis of Leesburg will let natural light shine into the building and the showroom will look better than ever. Natural light beaming off show cars in a showroom can be a good selling point. The glass is also a very modern feature that older buildings in the area don't take advantage of.
The current building has windows but not nearly the modern design of the new one. The building is currently very square and is a product of the early to mid 2000s styled design. This new location will be much more luxurious and offer customers a better overall experience.
While glass work continues  installation, there is still much to do around the building. This includes getting electrical and plumbing installed. There are still sections with dirt and other areas that will continue to be worked on in the coming months.
Once this building is opened it will be stunning. We absolutely love the glass front door look of the facility. Eventually the HVAC will be installed as well. There is still much to do and the building is still months away from completion. But good to see progress being made on the building.
Kyle Coppola was born in Newton, Massachusetts and received his Bachelor of Fine Arts in Communications from Curry College in 2016. After traveling to Florida on a family vacation, he decided he could not get enough of the warm weather and made the move from snowy Massachusetts to central Florida 8 years ago.
For the last decade Kyle has gained valuable experience in social media content creation, marketing and sales, writing, video production, sports announcing and even broadcasting for local radio stations, such as FM 102.9 in The Villages and FM 91.5 in Massachusetts. Every year he volunteers at The Villages Charter High School as a play-by-play sports announcer for the football games as well as a public address announcer for the basketball games, including the annual Battle at The Villages Tournament.
Outside the office Kyle is a husband and father to two beautiful girls along with their cat. In his spare time he likes to spend time with his family, travel, play golf and swim. He is also a huge sports junkie and even bigger motorsports fan and loves to attend racing events when he can.
Share This Story!