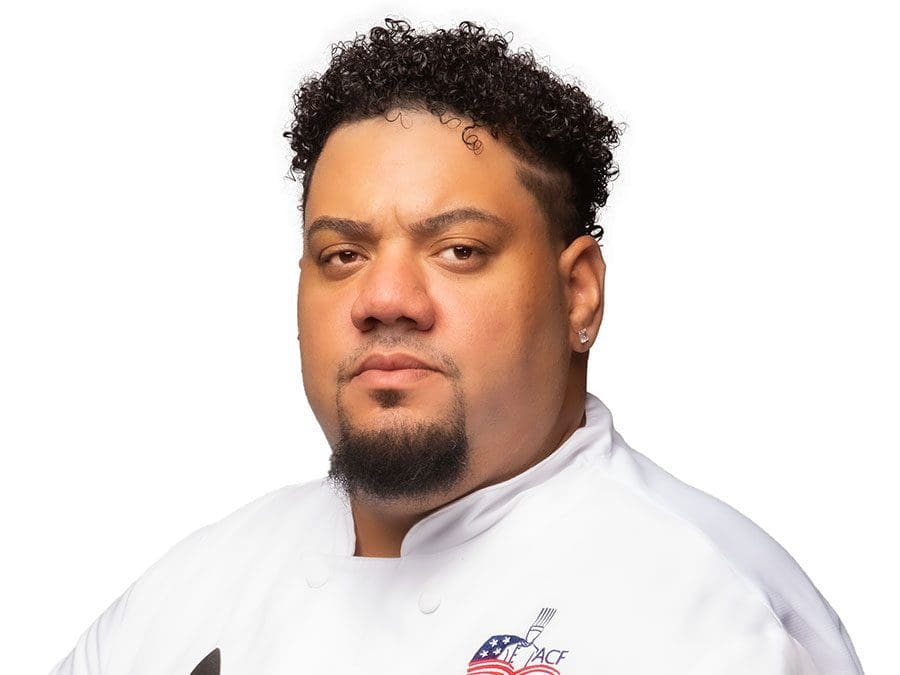 Joel Padilla goes above and beyond to help aspiring chefs.
Chef Joel Padilla has a secret ingredient. His is one that goes beyond creating imaginative, palate-pleasing dishes. 
Instead, he loves cooking up ways to excite youth about culinary arts. And he does that by showing them love, bolstering their cooking skills, and sharing life lessons. 
Joel is chief executive officer of Platinum Chef, a personal chef and catering company, and is president of the American Culinary Federation's Gulf to Lakes Chefs and Cooks Association chapter. 
Joel has become a familiar face at Leesburg High School, where he mentors and inspires students in the school's culinary program. 
"I have kids in school, so I see where the gaps are," he says. "I just wondered how I could help."
The answer came when John Bell, Leesburg High School's culinary instructor, invited Joel to attend the ACF's monthly meetings held at the school. The meetings attract culinary students from various Lake County high schools. 
It wasn't long before Joel became a big hit. Students appreciate his gratitude and sheer humility, his sense of caring, and his old-school, no-nonsense approach. 
"They see me more as a big brother," he says. "I don't talk to them like they are children; I talk to them like they are part of my kitchen staff."
Joel enthusiastically shares fun stories with them, like the time he worked alongside famous chefs such as Carla Hall and Bobby Flay. He also makes himself relatable by talking about bad decisions he made in life. 
"I let students know you have to go through bad so you can live and enjoy the good," Joel says. "Even through dark times God guides you and you come out fine." 
Outside of the school, Joel encourages students to actively participate in the community. He and his students served 6,000 meals to Leesburg's homeless population. At the Education Foundation of Lake County's "Stepping Out for Education" event – modeled after "Dancing With The Stars" –  they served nearly 10,000 appetizers in two days.
Joel is also owner of the Leesburg Night Market, held downtown on the third Friday of every month. He sets up a chef's table where students can cook their own food and hand out samples to attendees. 
"Since moving to Leesburg more than four years ago, I have fallen in love with it," he says. "Leesburg has such an impressive past and unique story to it. It's like you're watching a Netflix movie and can't wait until the next season comes out to see how it progresses and what happens. I want these students to feel the same pride for Leesburg so that they'll enjoy a career here and make it a better place to live." 
Akers Media Group's James Combs has been a staff writer for several local publications since August 2000. He has had the privilege of interviewing some of Lake County's many fascinating residents—from innovative business owners to heroic war veterans—and bringing their stories to life. A resident of Lake County since 1986, James recently embarked on a journey to lead a healthier lifestyle. He has lost 60 pounds and walks nearly five miles a day. In his spare time, he enjoys target shooting, skeet shooting and watching his beloved Kentucky Wildcats!
Share This Story!