Joining Hands In Food Ministry In Leesburg Making A Difference
In a heartwarming collaboration, Gloria Dei Lutheran Church and First Presbyterian Church in Leesburg have partnered with one another to create Joining Hands in Food Ministry. The group is a certified 501(c)(3) non-profit and an authorized partner agency of Second Harvest Food Bank of Central Florida, and are making significant strides under the leadership of Chief Operating Officer Richard Cassem, a seasoned former U.S. Military veteran with a knack for organization. The ministry, dedicated to providing free food to those in need, operates every second Friday of the month, offering a week's worth of provisions to struggling families.
My wife and I were personally driving by Gloria Dei Lutheran Church on my way to drop my daughter off this morning and when I saw this massive group of cars, I just had to stop and see what it was all about. When I arrived, it was like watching the interior of the Ford Motor Factory in Michigan with the precision going on.
Under a well-coordinated assembly line operation, families receive tailored assistance: 1-2 person households get 2 bags, 3-4 people receive 4 bags, 5-6 people are provided 6 bags, and families with 7-8 or more individuals receive 8 or more bags of food. The operation, run with military precision, ensures efficient distribution and quick turnaround to the many families in need. In fact when the group started they did 70,000lbs worth of food in 2015. Those numbers have skyrocketed to over 133,000lbs in 2022. Those numbers could reach well over 140,000lbs in 2023.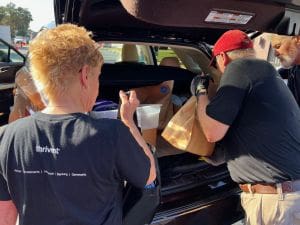 The collaboration extends beyond Gloria Dei Lutheran Church, with neighboring First Presbyterian Church joining forces. This partnership exemplifies solidarity, as First Presbyterian opens its doors to transfer food whenever Gloria Dei faces shortages. This morning, we caught Richard Cassem en route to First Presbyterian, illustrating the seamless support system between the two churches.
As the holiday season approaches, November and December mark the busiest months for the food ministry. The demand for assistance surges during this period, emphasizing the importance of community support.
Upon arrival, recipients must provide the necessary information to prove financial need and meet monthly income criteria. Volunteers, reminiscent of a NASCAR pit crew, swiftly ensure that each car receives the right number of bags, concluding the entire process in an impressive 15 to 20 seconds. It is one of the most amazing parts about the entire process. Everyone has a job and everyone knows what to do. It is incredible precision and all of them are volunteers.
Bob Glockler, the president overseeing the operation, manages logistics alongside Richard, guaranteeing a smoothly run initiative. Financial company Thrivent contributes both bags and volunteer efforts, while additional support comes from Farm Share in Homestead, Florida. Farm Share leverages its purchasing power and farmer network to extend the impact of every dollar, providing nutritious food donations across the state. Second Harvest Food Bank, a key ally, plays a vital role in addressing unmet needs in Central Florida.
Joining Hands in Food Ministry reflects a broader spirit of community engagement, emphasizing the importance of collective efforts to empower and transform lives. If you know of a family in need, ensure they are aware of this dedicated group working tirelessly to make a positive difference.
As the community continues to grow more and more families will be in need of financial assistance. For so many this offers a beacon of hope. Even if the supplies only last a week or could be stretched to two weeks if rationed, it is a huge help. We were blown away by the amount of support that we saw and we look foward to the December food drive coming up the second Friday of next month.
Visit their facebook page for more information  – Joining Hands in Food Ministry
Kyle Coppola was born in Newton, Massachusetts and received his Bachelor of Fine Arts in Communications from Curry College in 2016. After traveling to Florida on a family vacation, he decided he could not get enough of the warm weather and made the move from snowy Massachusetts to central Florida 8 years ago.
For the last decade Kyle has gained valuable experience in social media content creation, marketing and sales, writing, video production, sports announcing and even broadcasting for local radio stations, such as FM 102.9 in The Villages and FM 91.5 in Massachusetts. Every year he volunteers at The Villages Charter High School as a play-by-play sports announcer for the football games as well as a public address announcer for the basketball games, including the annual Battle at The Villages Tournament.
Outside the office Kyle is a husband and father to two beautiful girls along with their cat. In his spare time he likes to spend time with his family, travel, play golf and swim. He is also a huge sports junkie and even bigger motorsports fan and loves to attend racing events when he can.
Share This Story!