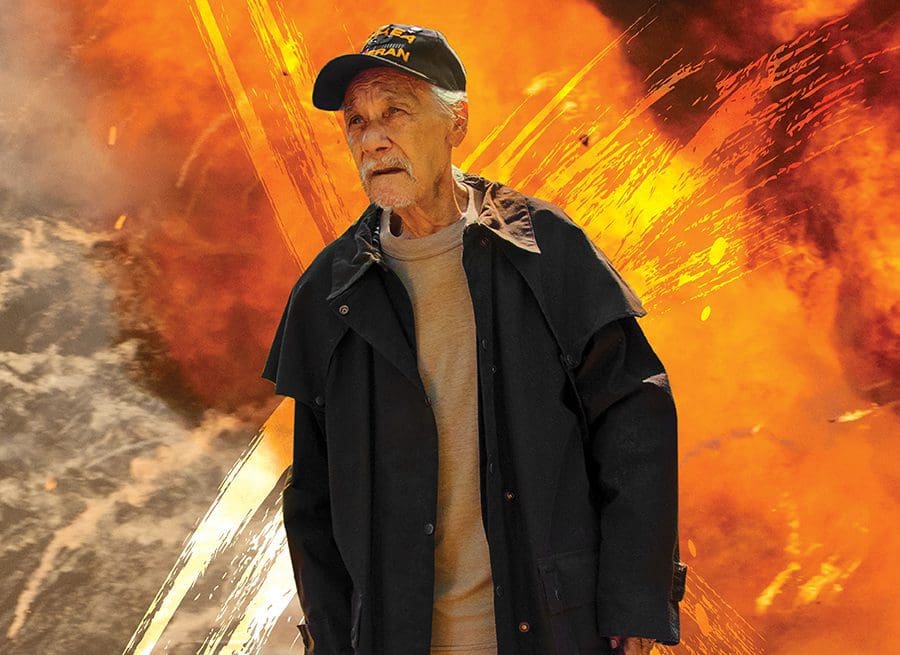 At the top of his game
Mention the name Kim Kahana, Sr. to movie industry insiders and they'll likely respond with awe and excitement. 
That's because Kim, one of Hollywood's most sought after and gutsiest stuntmen of all time, is still going strong after more than 70 years in the business and appearing in more than 300 movies and television series.
At age 93, Kim considers his current role one of the most rewarding of his career. 
"At this age of mine, I don't need the money. I need to teach somebody who really wants to learn something," adds Kim, who with his lovely wife Sandra, run Kahana's Stunt and Film School on 100 acres in the deep woods of Groveland, where they live. 
Overall, Kim, born and raised in Hawaii, has lived a tremendous life even though he dropped out of school after third grade before mastering reading.
As a U.S. Army paratrooper during the Korean War, he was captured, shot, and left for dead, but survived because the bullet hit a penny in his pocket. 
After leaving the service, Kim, a fire dancer, martial arts grandmaster, and entertainer, turned to the movie industry—riding and falling off a horse for one of his first gigs—after discovering stunt work paid much more than being an extra. 
Kim, who was trained by stunt-business greats like Johnny Eppers, worked alongside dozens and dozens of the biggest and most iconic names in Hollywood: John Wayne, Clint Eastwood, Elvis Presley, Chuck Norris, James Garner, Lee Meriwether, and Sylvester Stallone, to name a few.
Kim focused on perfecting daring stunts, as well directing, producing, and acting in many classic movies and TV shows. Most notably, he doubled for Charles Bronson for 30 years.
In 1968, he landed the role of 'Chongo' on the TV show Danger Island even though he couldn't read the script. When handed a script at the audition, instead of trying to sound out the words, Kim tossed the script into the air, jumped onto a table, did a back flip onto the floor, rolled to his feet and began doing bird calls. He then walked out. He was hired the next day. Smart casting people. Kim still receives mail from fans of the show.
After retiring to Florida 35 years ago, Kim gave in to requests and began training potential stuntpeople from all over the world.
This year, a documentary about his life began filming on-site. It is scheduled to debut next year.
Meanwhile, Kim remains humble and grateful.
"The motion picture business is one of the greatest things I know, and it's taught me so much about people, about life and everything else," Kim says. "The business has also given me a very good life, and it's paved the way for everything I ever wanted."
Originally from Nogales, Arizona, Roxanne worked in the customer service industry while writing independently for years. After moving to Florida in 1999, Roxanne eventually switched her career path to focus more on writing and went on to become an award-winning reporter for The Daily Commercial/South Lake Press newspapers for 16 years prior to coming on board with Akers Media as a staff writer in July 2020 – her dream job come true.
Share This Story!