LAKE COUNTY CLEAR THE SHELTERS ADOPTION CAMPAIGN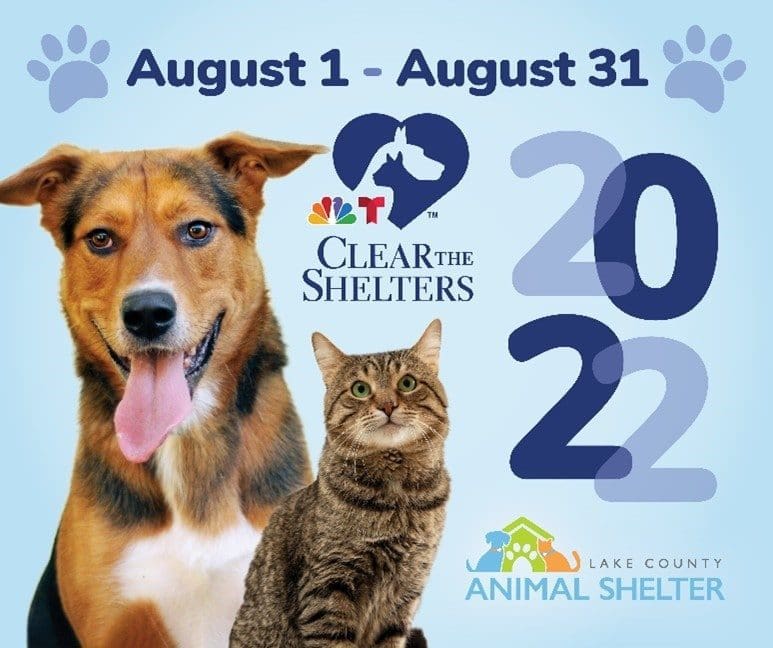 The Lake County Animal Shelter is teaming up with NBCUniversal Local to participate in the Clear the Shelters™ 2022 pet adoption campaign that will take place Aug. 1 – Aug. 31. This partnership features fee-waived pet adoptions throughout the campaign and will take place at the Lake County Animal Shelter, located at 12280 County Road 448 in Tavares.
Residents and visitors who are interested in our wonderful pets are encouraged to make an appointment online by visiting https://bit.ly/3sbgAzO. Walk-ins are also welcome. All adoptions include spay or neuter services, initial vaccinations, microchip, personalized ID tag and a lifetime of love.
"We have so many great pets waiting for homes," said Whitney Boylston, director of the Lake County Animal Shelter. "We are always excited to participate in this national adoption campaign. Last year we celebrated 428 adoptions during the event and look forward to finding loving homes for as many homeless pets as possible this year."
The Lake County Animal Shelter experienced a 17% increase in year-to-date admissions over the last year, a trend being felt by animal shelters everywhere. The shelter has celebrated over 3,500 positive outcomes so far this year. By participating in the Clear the Shelters™ adoption campaign the shelter hopes to continue the momentum of positive outcomes throughout the summer, which is the busiest time of the year. Residents who are not in a position to adopt can help by spreading the word, fostering, or donating supplies from the shelter's Amazon wish list: https://a.co/jbQHcAlBy.
For more information about Lake County Animal Shelter, visit https://bit.ly/ShelterAdoptions to see available pets and follow the shelter on social media on Facebook or Twitter.