Lake County's WQBQ: Building Relationships One Business at a Time
When you talk to James Floyd, the first thing you can expect is a firm handshake and direct eye contact. That's just who he is. He and his wife, Patty, have a remarkable story about how they came to own and operate Lake County's last English-speaking AM radio station. Of course, there's WVLG in The Villages, but that station is located in Sumter County.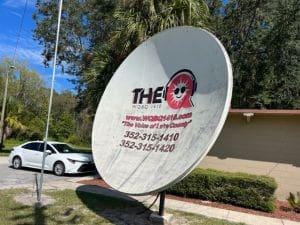 WQBQ has existed in some form since 1957, but its first official broadcast wasn't until 1962 on WBIL 1410 AM. That's when the block building housing the current radio station was constructed. At that time, it was among a few AM radio stations in Central Florida, but it was considered a significant asset for Lake County to have its own station.
Fast forward to 2023, and throughout the county, tuning into an AM station in a car mostly yields static. However, listeners can still pick up one station: 1410 WQBQ, which continues to operate on that side of the radio dial, along with its newer FM channel, 95.1 FM, acquired a few years ago. The station operated as WQBQ from 1986 to 2009 before briefly switching to WRHB, then reverting to WQBQ in 2010, the name it has retained since.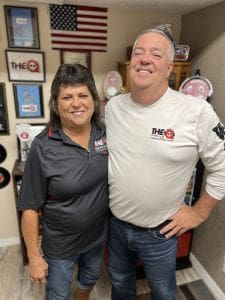 James Floyd of WQBQ met his wife, Patty, in high school, and they dated for some time before going their separate ways. Each had two children from different marriages, but by the mid-1990s, both were single again. They reconnected at church one day, rekindling a romance that has now lasted 28 years of marriage. Together, they have four children and seven grandchildren, ages 7 to 19.
James has always harbored a love for radio. An opportunity to purchase his first station arose in January of this year when WQBQ was put on the market. For James, it was an irresistible offer, prompting him to leap into an ownership role.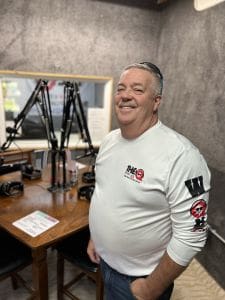 James had leased the station since 2015, but the new ownership role gave him sole control. "Never in my life did I ever think I would own a radio station, but here I am," James said. The station has undergone quite a journey in the past few months, including in August of last year when it was struck by lightning.
The station's transmitter took a direct hit, destroying it within a second of the lightning strike. The damage was so severe that it put WQBQ in a difficult situation. The team had to determine how to keep their channel on the air while finding a replacement transmitter.
It took nearly 18 weeks to find a replacement transmitter, which was one of the most trying times of James' radio career. He thanks AM790 WLBE, which helped by carrying their signal, serving as a lifeboat for a time. Radio stations, especially AM stations, are like family, and it was heartening to see WLBE assist in this manner.
WLBE has transitioned to all-Spanish broadcasting in recent years, leaving WQBQ as the last remaining English-speaking radio station in Lake County. It's a title that James does not take lightly. "We are here to provide local businesses with a voice, and this station is very important to Lake County because it is the last AM English-speaking station still broadcasting on the AM dial specifically in Lake County," he said.
Eventually, WQBQ acquired a new transmitter, which allows for redundancy. The new transmitter can sustain a hit and still function while switching to a backup, a capability the old transmitter lacked. This improvement has been significant. "I personally worked for WVLG a few years ago and can attest that when a transmitter is hit, the amount of energy that flows through the station is enormous," James added. Each station has a type of copper wire leading directly into the ground to protect equipment.
While other owners may see only dollar signs in radio, James Floyd sees much more with WQBQ. "The heartbeat of every radio station is mom-and-pop businesses. I want to be a voice for small business, and that is what we try to convey," he said. One of James' mottos is "Building Relationships One Business at a Time." This station might not be the top station in the area, but it satisfies a niche audience, and there are plenty of people who listen.
At times, the station becomes inundated with calls, especially when it gives away gift cards or money during the holiday season. The station also serves as the broadcast home for many Lake County Friday night football teams.
The station airs Leesburg, Eustis, and Tavares football games. Floyd encourages other schools to participate, as he can stream the games on the station's website in addition to broadcasting them over the airwaves. The station also collaborates with veterans, allowing them to share their stories, and plays gospel music from noon Saturday to midnight Sunday.
For James and Patty Floyd, this journey has been thrilling yet demanding. "I don't do it for the money — though money helps us stay on the air — but to build relationships and support all the local businesses that help us help them. It's a win-win for everyone involved," James says.
James envisions exciting developments for the station, including broadcasting more football games and further contributing to the Lake County community. We encourage Lake County residents to keep supporting WQBQ, our hometown radio station. Best of luck to James and Patty; we wish them nothing but continued success!
Kyle Coppola was born in Newton, Massachusetts and received his Bachelor of Fine Arts in Communications from Curry College in 2016. After traveling to Florida on a family vacation, he decided he could not get enough of the warm weather and made the move from snowy Massachusetts to central Florida 8 years ago.
For the last decade Kyle has gained valuable experience in social media content creation, marketing and sales, writing, video production, sports announcing and even broadcasting for local radio stations, such as FM 102.9 in The Villages and FM 91.5 in Massachusetts. Every year he volunteers at The Villages Charter High School as a play-by-play sports announcer for the football games as well as a public address announcer for the basketball games, including the annual Battle at The Villages Tournament.
Outside the office Kyle is a husband and father to two beautiful girls along with their cat. In his spare time he likes to spend time with his family, travel, play golf and swim. He is also a huge sports junkie and even bigger motorsports fan and loves to attend racing events when he can.
Share This Story!