Lake Sumter State College Makes History with the Induction of its Seventh—and First Female—President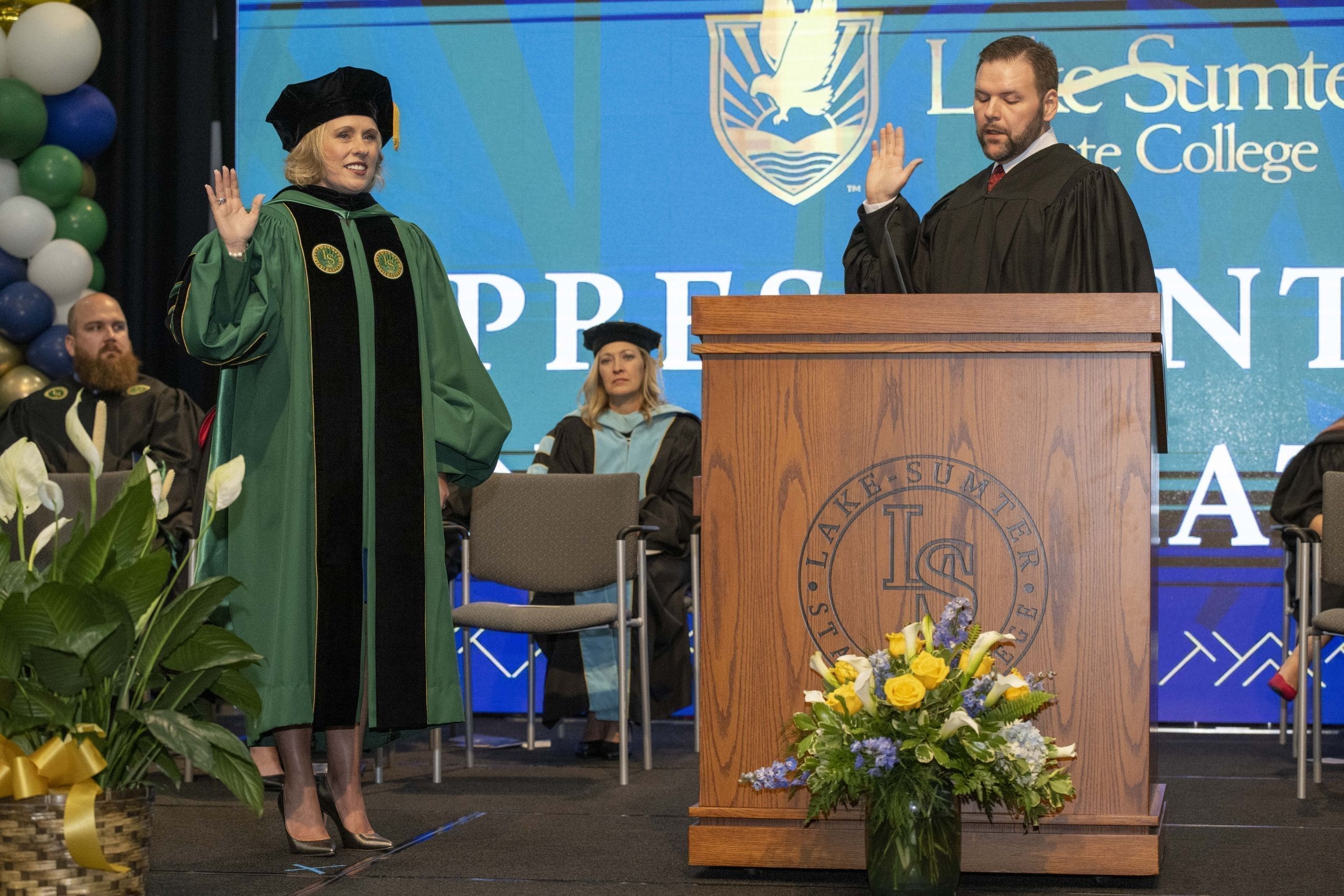 Lake Sumter State College Makes History with the Induction of its Seventh—and First Female—President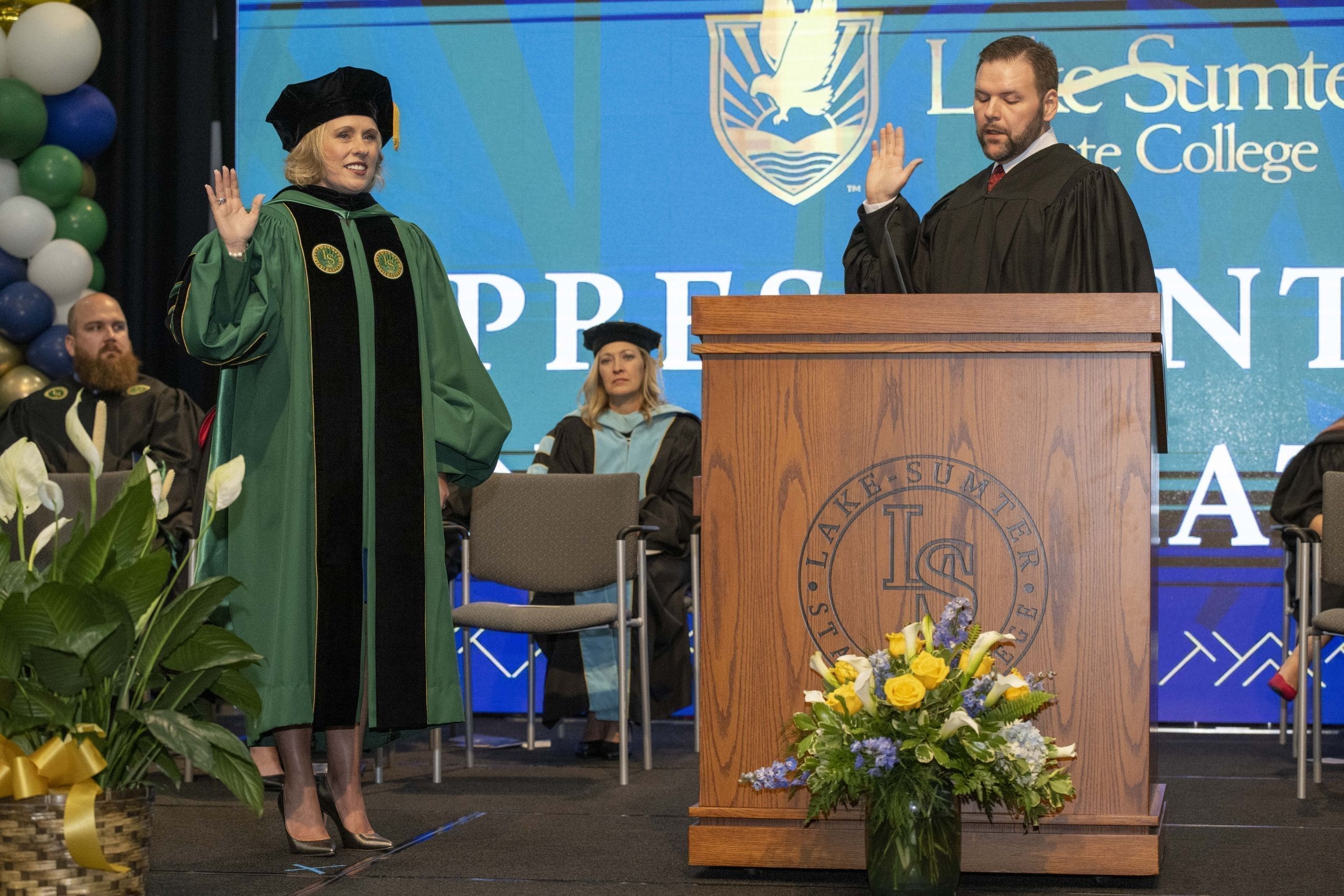 Story: Roxanne Brown // Photos: Cindy Peterson 
Leesburg — Amid its 60-year anniversary, Lake Sumter State College (LSSC) made history Tuesday with the inauguration of Dr. Heather Bigard, its seventh—and first-ever female—president sworn in to lead the institution. 
The ceremony, attended by Dr. Bigard's family, dozens of community leaders and partners, college faculty, staff, and board members, included the administration of the oath of office over Dr. Bigard by Honorable Judge Jason Nimeth.  
The morning then culminated with Board Chair Brett Jones presenting her with the presidential medallion, symbolizing Dr. Bigard's responsibility and authority as LSSC's newest leader. 
"As I stand before you today, excited and humbled to serve as your 7th president, I am filled with a deep sense of gratitude and responsibility," Dr. Bigard says. "Gratitude because I consider the opportunity to serve as president to be an honor to walk in the footsteps of the founders and presidents that have come before me and have left a legacy of service and excellence."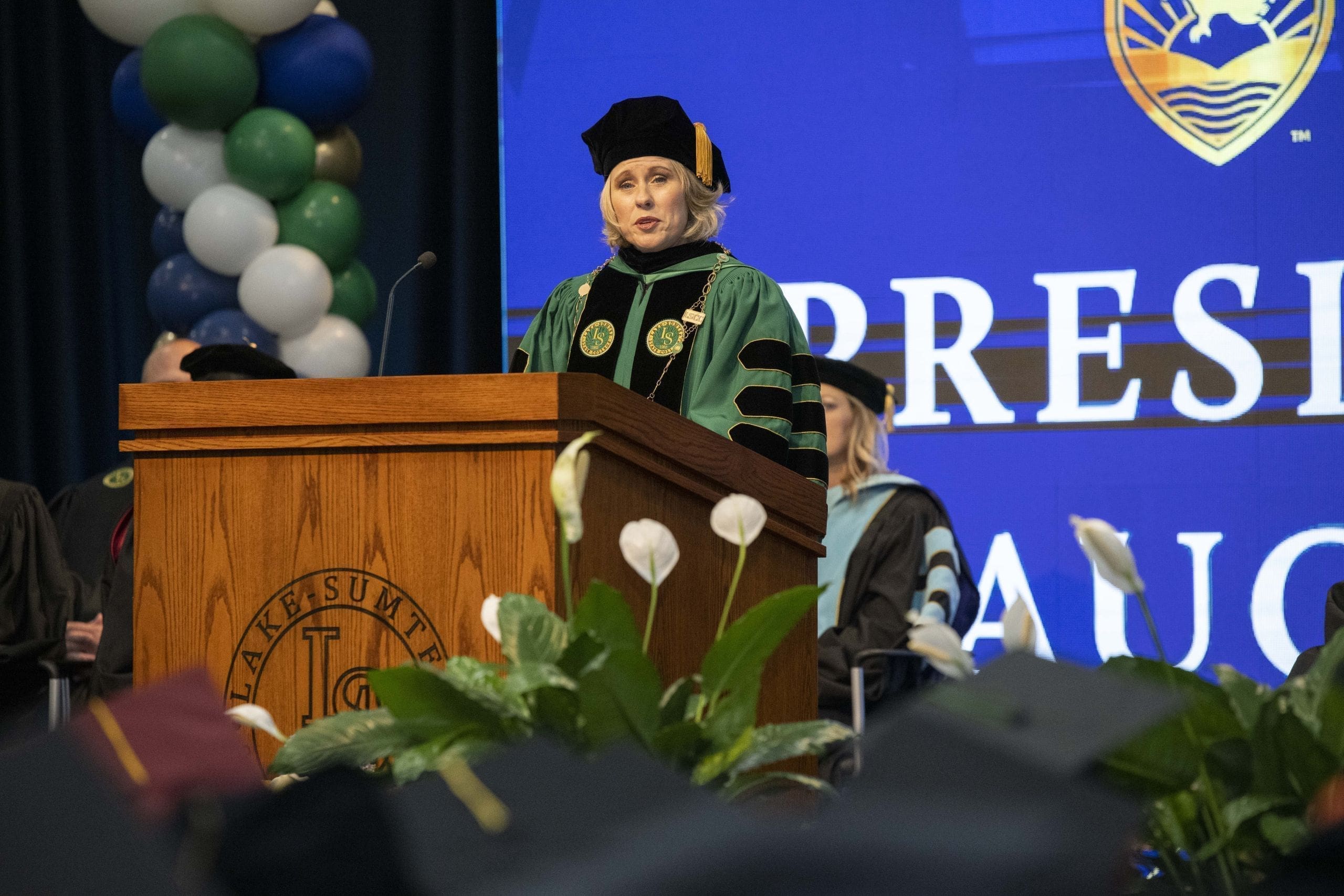 Dr. Bigard went on to cite her first-hand understanding of the realities students face when enrolling in college, being that she is a first-generation college student, who overcame barriers to access, affordability, and social acceptance by working on campus to help fund her undergraduate education. 
She also noted what an honor it is to be the first female president to serve among the 25 percent of other women that lead the nation's colleges and universities. 
"I look forward to continuing to work with you to transform lives and futures throughout our community," she concluded. 
Though Dr. Bigard took the helm at the start of the 2022/2023 school year, Tuesday's ceremony cemented her commitment to lead LSSC into the future with goals of taking it to the next level.  
With that said, numerous speakers during the ceremony expressed amazement at what Dr. Bigard has already been able to accomplish in that timeframe, vowed their support and loyalty, and relayed their excitement about what the future of LSSC holds under her leadership. 
Amber Karlins, assistant professor of English, speaking on behalf of the college faculty, was one of the first to speak and express her faith in Dr. Bigard. Amber explained how Dr. Bigard made a huge impression after one conversation by asking Amber to tell her one thing that would make her job easier, then fulfilling her wish of getting Wi-Fi and a printer into her department. 
"I had spent four years without the basic things that I needed to do my job. And she fixed it in two days, and it felt like actual magic. I came back to that story over and over because that was the moment that she cemented herself to me as a leader who gets things done," Amber says.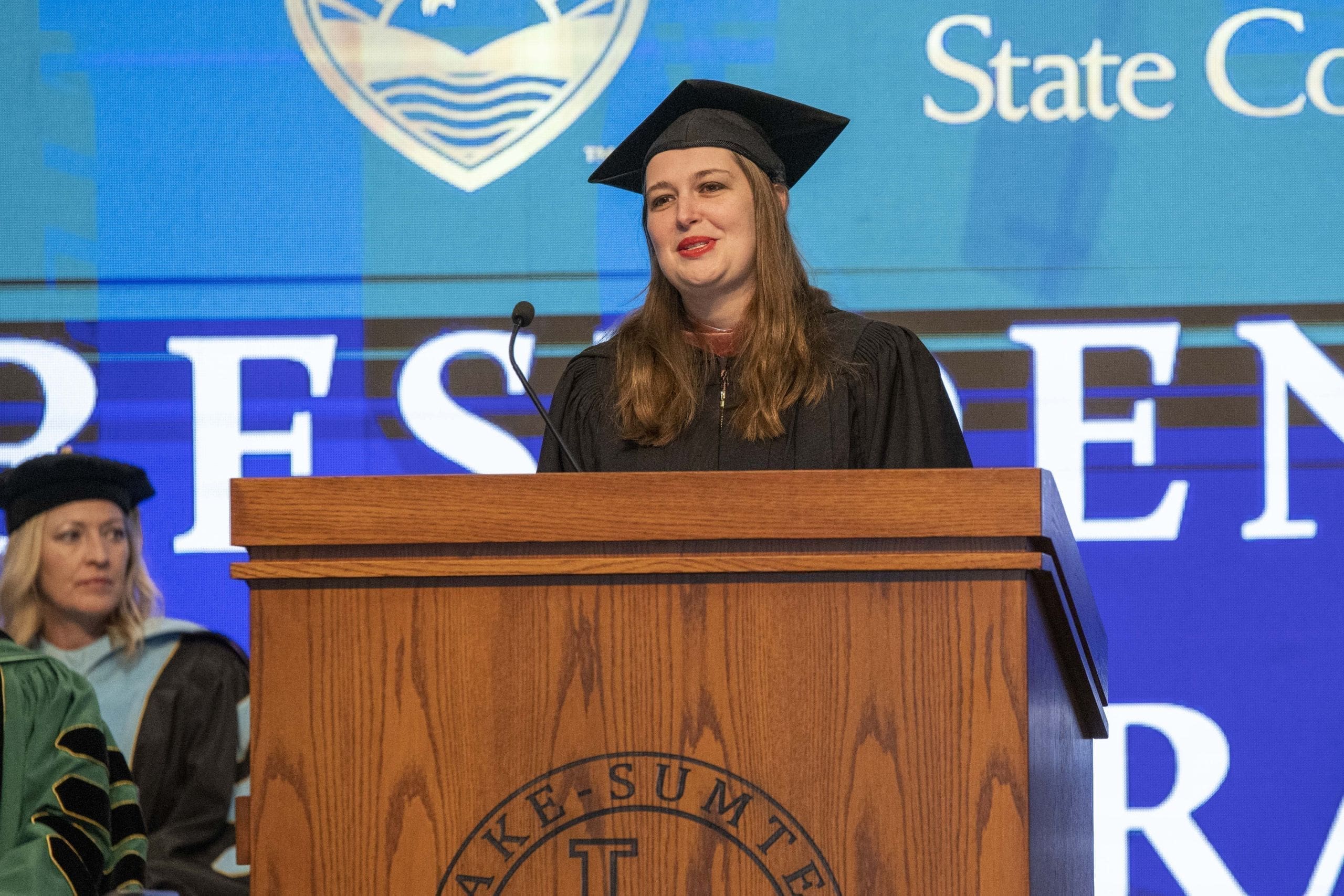 Former President Charles Mojock, who also spoke at the ceremony, told how the entire board was not only impressed by Dr. Bigard's experience, but by her ability to inspire and motivate others. 
He says the board, after interviewing Dr. Bigard, felt she was the most qualified candidate to tackle the role of president, but also the one with the most heart for it. 
"Dr. Bigard certainly possesses the knowledge, the skills, the abilities to be a very successful and effective president, but she also embodies the character and the values that will inspire people to follow her as a leader," Dr. Mojock says. "They'll trust her, because she trusts them, they'll listen to her because she listens to them, they'll always give their best, because she always gives her best, and as the first woman, finally, to lead this institution, she will be a role model for younger women, and older women as well, who aspire to greater heights."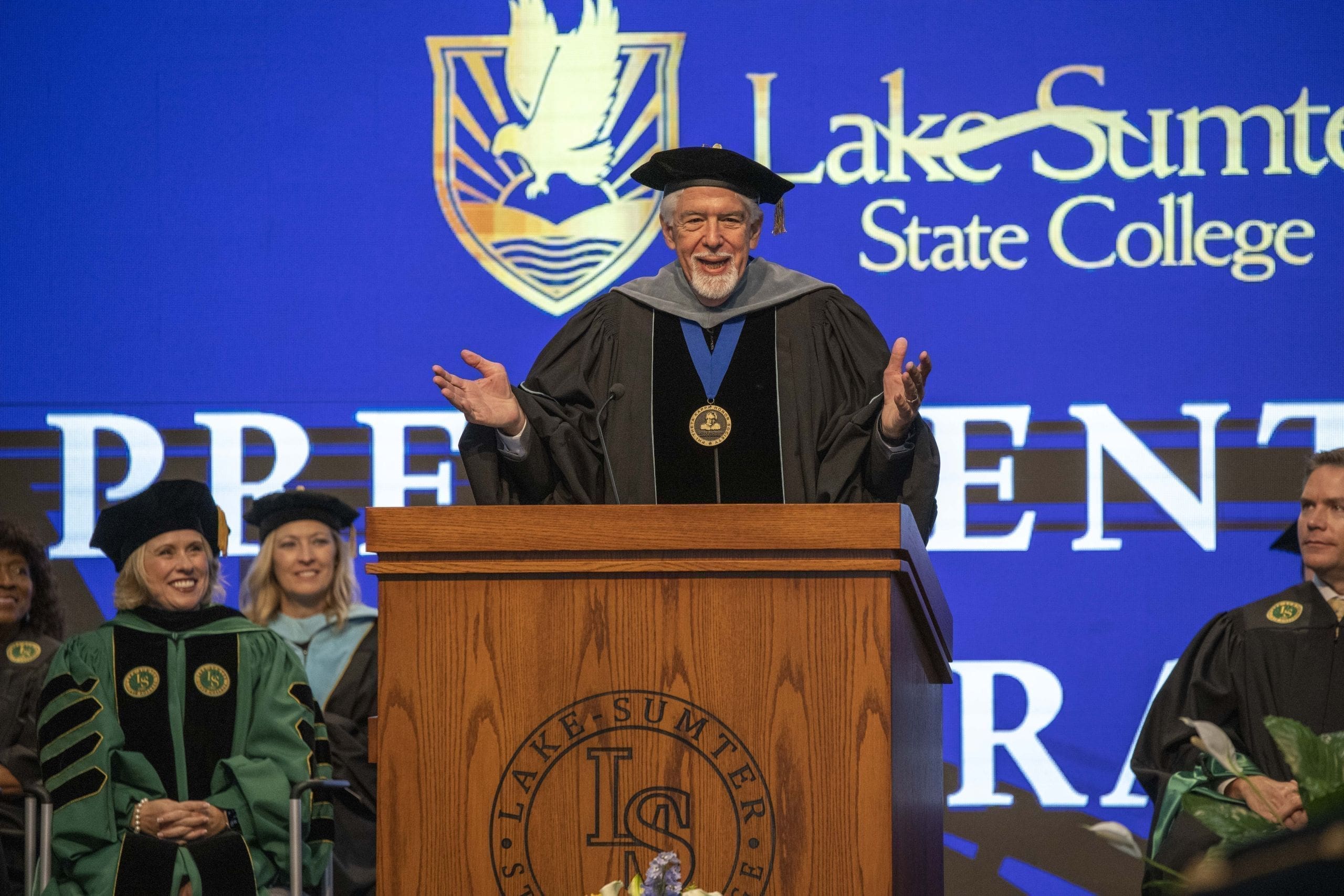 "I foresee a very bright future for President Bigard and our Lake Sumter State College as she leads the institution in its continuing evolution and commitment to innovation and excellence in higher education," he adds, sharing that the college's mission today remains the same as when it was first started in 1962. Enrollment however, has grown from 137 day students and 225 evening students (at $8 per credit hour), to thousands of students with so much more ahead of them to look forward to with future opportunities and new programs Dr. Bigard has already begun instituting. 
Chancellor of the Florida College System Kathy Hebda, the last to speak, says Dr. Bigard's appointment marks a new beginning for LSSC. With that, she tells how Dr. Bigard has been 'all in' since day one and that her inauguration represents a new era.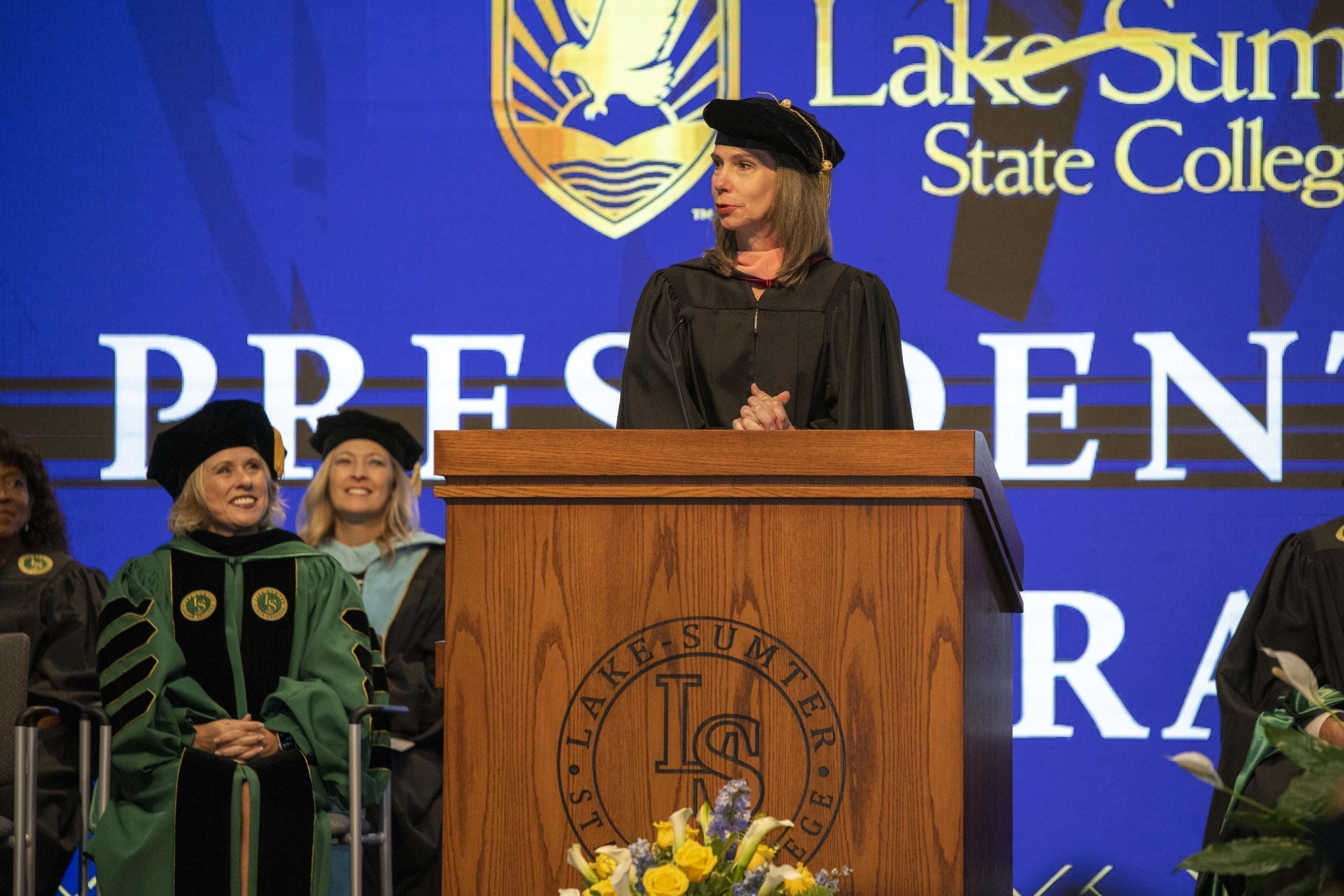 "Today does mark a great day in the history of Lake Sumter State College, it is a new era, and new beginnings, new Wi-Fi, a new printer, we're on the road," Chancellor Hebda says, adding that after Dr. Bigard's service in various roles for LSSC, including interim president, she's excited to see her at the helm. "Upon her appointment, these were the words that she said: 'These next few years will be a transformational time in education for Florida and in this country, and I believe that LSSC is well positioned to embrace the future, to provide economic impact and opportunities to the communities we serve.'" 
"With words like these, I believe that her unique perspective and her vision that has been so often talked about yesterday and today, for this institution, will serve both as the foundation and the driving force for continued success."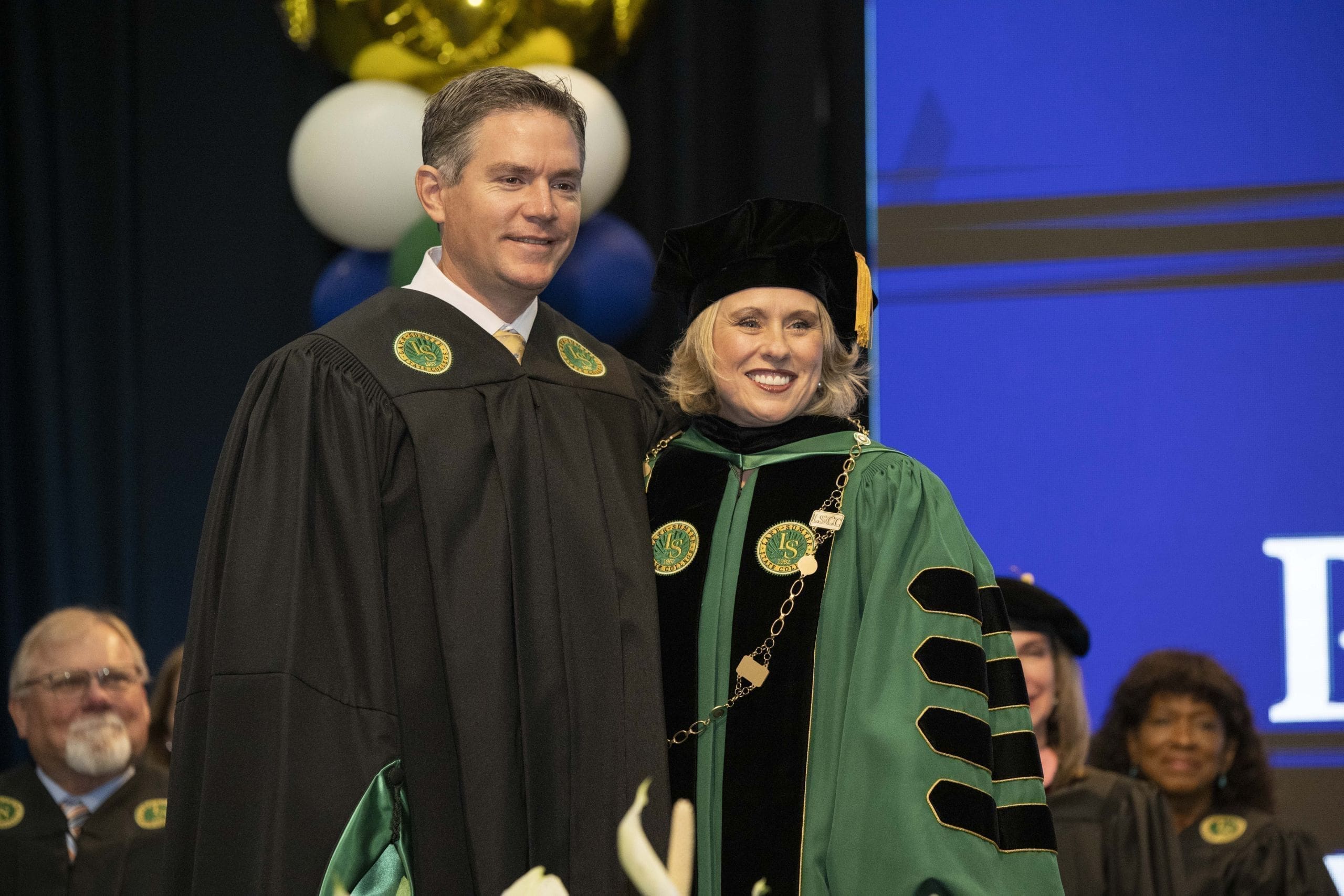 Originally from Nogales, Arizona, Roxanne worked in the customer service industry while writing independently for years. After moving to Florida in 1999, Roxanne eventually switched her career path to focus more on writing and went on to become an award-winning reporter for The Daily Commercial/South Lake Press newspapers for 16 years prior to coming on board with Akers Media as a staff writer in July 2020 – her dream job come true.
Share This Story!