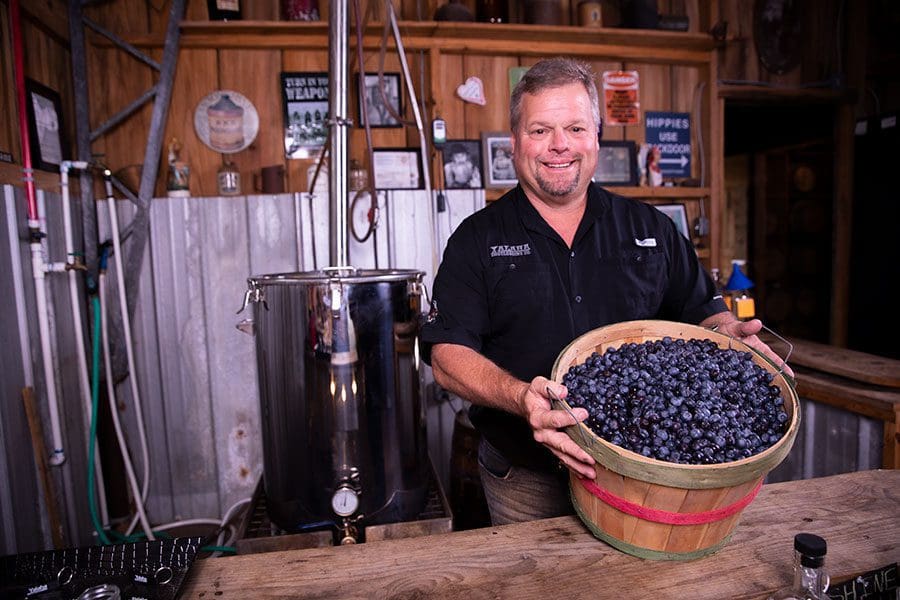 Yalaha Bootlegging Co. is making moonshine—legally.
A building made from Southern heart pine and resembling an old-time general store has become one of Yalaha's most popular destinations. Hanging from the ceiling are nail kegs converted into lighting fixtures, and shelves are stocked with barbecue sauce, sweet potatoes and real baby alligator heads that are a hit among children. 
But what keeps visitors coming back is the scent of fermenting mash and the bottles of homemade moonshine that come in a variety of flavors. 
Yes, that moonshine. The one that conjures up images of mountain men dressed in overalls jumping into their beat-up trucks and driving deep into the woods of the Appalachian Mountains to an illegal distillery. The location was top secret because they chose not to pay taxes on their products. 
People like Doug McCormack have helped the moonshine industry emerge from the backwoods and make a comeback in legal fashion. He and his wife, Amanda, are owners of Yalaha Bootlegging Co. Using only one 50-gallon still, Doug proudly describes his company as the "second-smallest distillery in Florida." For the record, he's unsure which distillery is the smallest. 
Size hasn't impeded Central Floridians from flocking to the distillery in large numbers. Moonshine's renegade reputation is alluring to customers who want to taste tradition and indulge in slightly naughty adventure without breaking any laws. 
"Many people are surprised to find out that it's now legal," Doug says. 
They're also surprised to learn how Doug's moonshine differs from traditional moonshine, which was typically made from corn grain. The idea for his concoction was born several years ago when his u-pick blueberry business, Blue Bayou Farms, began struggling. 
"It's hard to make money being a small blueberry grower," he says. "I would see hundreds of blueberries on the ground that went to waste, and the sight would just crush me. You have to be able to adapt, especially when you're in agriculture."
Doug adapted and carved out a niche by becoming Florida's first distillery that uses organic blueberries to make 100-proof moonshine. Since then, he has created other moonshine flavors such as Southern pecan, peach, watermelon, apple and cranberry. Most of the fruit is purchased from farms in Plant City. 
"When you use top-quality ingredients, you're going to end up with a better finished product," Doug says. 
Consumers typically purchase the moonshine as a gift or for hosting parties. Much like wine, the brands of moonshine are diverse. For instance, because the Southern Pecan tastes similar to bourbon, many people enjoy it with an after-dinner cigar. They blend another brand, the Original Moonshine, with margarita mix to craft a rum margarita and enjoy it on a sunny day. 
A distillery license makes Doug's operation legal and keeps him from having to look over his shoulder. But he has to be careful about sharing the intricate details of the moonshine-making process. 
"It's federally illegal to tell someone how to make moonshine," he says. "Also, I've won several awards, so I don't want my competitors to know how I'm doing it."
But here's how the basic process works. Doug ferments organic blueberries from his farm with yeast, sugar and water to create a mash. The mash becomes alcoholic and is distilled for eight hours. Then it's stored inside a 10-gallon barrel and ages for six months. 
"Nothing is bottled until I approve of it," he says. "I strive hard to provide a quality product and I think that's why a lot of regulars who come here say it's the best moonshine they've ever had."
Judges at renowned spirits competitions have been equally impressed with the quality. Yalaha Bootlegging Original Moonshine received a silver medal in 2017 at the American Distillery Institute's annual competition. In 2018, the same brand won a gold medal at the Great American International Spirits Competition. One year later in the same competition, his Apple Smack received a gold medal.
Of course, moonshine isn't the only sought-after product at Yalaha Bootlegging Co. Customers can purchase homemade jams and jellies made by Doug's mother, Glenda McCormack, and the ever-popular pies carefully crafted by his sister-in-law, Sandi McCormack.
"Everybody loves our pies," says Lauren Beard, a lifelong Yalaha resident who serves as bookkeeper of Yalaha Bootlegging Co. "Just last Saturday, we sold 60 of them."
Live music is offered from noon-3pm each Saturday. Customers are welcome to sample the moonshine and pick blueberries in season, which typically starts in April.
While browsing through the store, it's hard to miss black-and-white photographs of Doug's great-grandfathers—one in Apopka and one in Alabama—who also were moonshiners. 
"Moonshining has been in my family for 150 years," he says. "I'm the first one to do it legally." 
---
 Yalaha Bootlegging Co.   8222 County Road 48 // 352.324.4069 // yalahabootleggingco.com.
---
Akers Media Group's James Combs has been a staff writer for several local publications since August 2000. He has had the privilege of interviewing some of Lake County's many fascinating residents—from innovative business owners to heroic war veterans—and bringing their stories to life. A resident of Lake County since 1986, James recently embarked on a journey to lead a healthier lifestyle. He has lost 60 pounds and walks nearly five miles a day. In his spare time, he enjoys target shooting, skeet shooting and watching his beloved Kentucky Wildcats!
Share This Story!