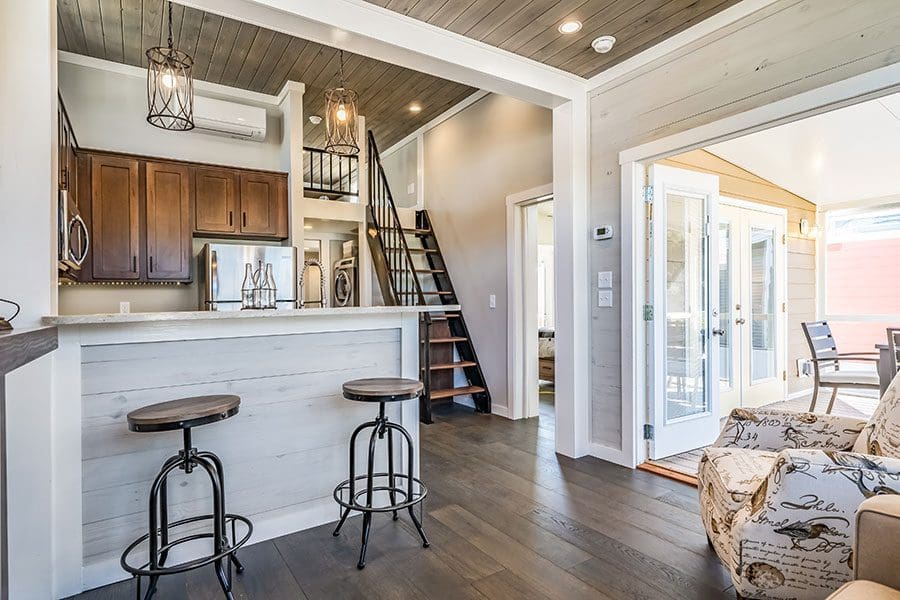 Lakeshore by Simple Life allows residents to embrace downsizing in beautiful cottage homes with great amenities.
PAID PROMOTIONAL FEATURE
A new concept in simplified, lower-cost living has come to the Lake and Sumter County area, just a mile from The Villages®. Located in the heart of the most coveted location in Central Florida, Lakeshore is an innovative housing choice that allows downsizing, without sacrificing the comforts of home and luxurious amenities.
As an all-inclusive community, Lakeshore offers an intimate gathering of cottage homes along the shore of tranquil Lake Andrew, with exclusive access to private amenities and events. Located just outside The Villages® in Oxford, Florida, Lakeshore is a connected community of cottage homes embraced by those seeking a permanent residence, second home, or vacation property, at a significantly lower cost than traditional real estate.
New homeowners at Lakeshore choose from a selection of 1 and 2-bedroom cottage homes from 499 to 1,100 square feet that are fully customizable including space for full-sized gourmet kitchen appliances, stackable washer and dryer, and in some cases an additional 100 square foot loft. A smaller home means less to maintain and more time to live. Lounge in the lakeside open-air pavilion on beautiful Lake Andrew or take in nature and quiet moments at countless places throughout the community.
Lakeshore is the first Florida offering from Simple Life, a company believing new homebuyers can focus on the 'value of lifestyle,' instead of the 'cost of living.'
Simple Life creates and operates cottage home communities throughout the Southeastern US with private amenities for people who value living life over maintaining things. Over 40 homesites are currently reserved or purchased at Lakeshore with many residents already happily in place. Simple Life also has one sold-out cottage home community in North Carolina, a second North Carolina community underway, and is in the early stages of development on its fourth community in Punta Gorda, Florida with projected home presales beginning in 2022.
"Simple Life's culture emphasizes residential experiences, and not necessarily a collection of responsibilities and possessions," says Simple Life founder and CEO Mike McCann. "The best life is lived simply, at a lower cost and with fewer burdens in a community of neighbors who become friends. This is a pillar of our philosophy for Simple Life where neighbors are encouraged to step outside and connect with others, and to live a healthier life in a home with a smaller footprint and less to maintain."
Lakeshore's efficient design results in more experiences and less cost. The secret to offering a better lifestyle at a lower cost is Simple Life's unique approach to community building. The cottage homes at Lakeshore exist on a single tract of land and residents lease the land under the home they own. No cost of land in the purchase of your home creates immediate savings and eliminates the significant ongoing costs and hassles of property ownership.
Lakeshore's single community land approach also allows buying all services in bulk and passing the quality and savings along to the homeowner. Keeping it simple, all home-operating costs traditionally paid separately are streamlined into one convenient monthly payment. Owners never worry about paying for water, sewer, trash and recycling, premium cable, hi-speed internet, tree care, lawn care, fertilizing, irrigation, or use of the pool or fitness facility. Lakeshore residents enjoy one affordable monthly fee, allowing for less maintenance and more life. The predictable monthly costs and all-inclusive maintenance create a savings of time and money.
"For most Lakeshore homeowners, the savings on real estate taxes together with HOA and CDD fees on a traditional home far exceed the Lakeshore land lease," said Josh Summers, CEO of the Lake Sumter Realtors Association. "There are no HOA fees, CDD fees, DDA fees, assessments, or community improvement costs. Everyone enjoys the peace of mind of knowing those big-surprise bills are a thing of the past."
"The sense of community that we have is amazing. I like the freedom it gives us, and the amenities are incredible," said homeowner Linda Gosselin. "The fitness center is a huge thing for me to have classes in because I am a fitness fanatic. The area is beautiful, we built a deck on the back of the house, because we can see the farmland out there, so just being able to be across the lake and the farmland and to see all of that nature is breathtaking."
Lakeshore by Simple Life is professionally managed by a dedicated staff, all leaders in the hospitality industry. They believe life is about experiences and not things. Lakeshore is a community where "the best life is lived simply," a community with lower costs, fewer burdens, and where neighbors become friends.
---
352.561.8114 / 3488 E County Road 466, Oxford / simple-life.com