Local Talent: Iconic Creations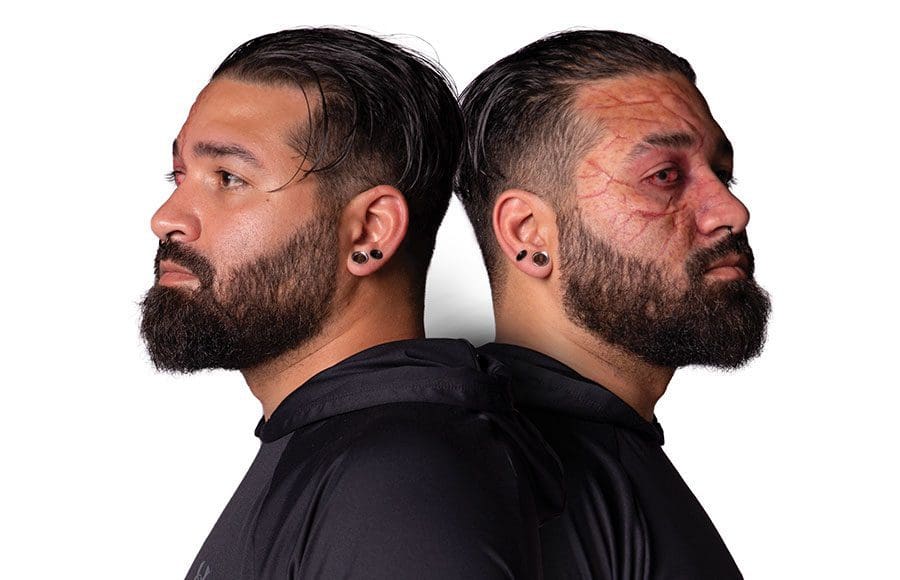 Ruben Vazquez uses his art skills to create the perfect smile.
Photos: Nicole Hamel
Around 2015, Ruben Vasquez was watching Face Off, a special effects makeup reality competition show, and thought he too, might be interested in makeup. 
He applied for and attended the Tom Savini's Special Make-Up Effects Program in Pennsylvania and has been working on his sculpting ever since.
At the special effects school, one learns about things like beauty makeup, set building, sculpting, airbrush, body painting, prop making, character makeup, hairstyling, prosthetic application, and more. It is one of the only makeup schools where students simultaneously earn an associate's degree in business, which is why Ruben chose to attend. 
Ruben, who recently moved to Lake County from Brooklyn after traveling back and forth since 2005, says he finds sculpting and doing other creative things "very cathartic."
"Coming from a messed-up childhood and dealing with depression and anxiety, sculpting or being creative has been my go-to escape, and it brings order to the chaos if that makes sense," he says. 
In Central Florida, the types of work available for people with Ruben's skill usually involves prosthetic makeup, prop work, and other behind the scenes tasks at theme parks and wax museums. Ruben has worked on short films and haunted attractions making props and doing special effects makeup. Looks he has created for these jobs include zombies, creepy clowns, and old-age makeup. Besides Face Off, Ruben is inspired by Steve Wang, a Taiwan-born American make-up artist and filmmaker, and his sister Frances, who died tragically at the age of 30 in June.
"I have to give my biggest thank you to my best friend and sister Frances. She was my guiding light in the darkness when I needed it most and my biggest cheerleader towards my artwork," Ruben says. "She pushed me to be a better person. I wouldn't be who or where I am today without my baby sister. She has always been my guardian angel."
Some of Ruben's first solo creations were replicas of creatures Wang built for Guyver, a cult film he directed. 
At the Tom Savini school, students begin with an assignment to use clay to "mimic" something like their hand or eye. Students also study anatomy, which Ruben says helped him get a good feel for how the human body is formed and what goes into creating textures.
This knowledge and experience is especially helpful to Ruben in his current day job as a dental lab technician, where he enjoys the sculpting process and creating beautiful new smiles for patients via dentures. Now, he is trying to perfect the art of making dentures, taking something many people consider "gross," and making it more of an art form. 
You can find Ruben's work on his personal Instagram @bklyn88, and his dental work @i.c.teeth.