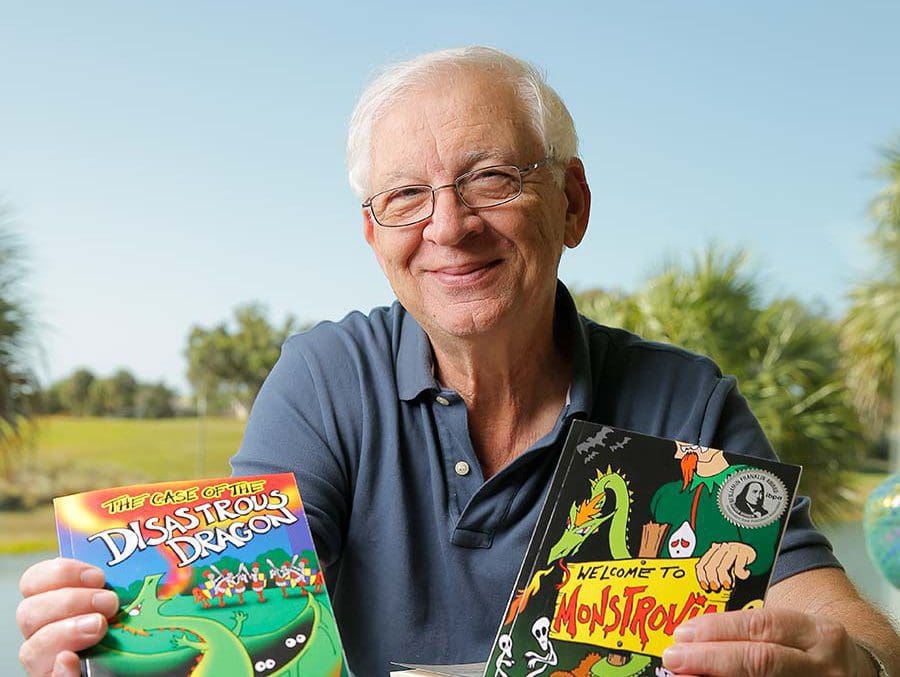 Story: Leigh Neely
He began writing plays to find new ways to help his sixth-grade students remember what they were learning. Now he's an award-winning children's books author.
Vital Stats
Lives in the Village of Virginia Trace
Moved to The Villages in 2002 from Central Islip, Long Island, New York
Previously taught sixth grade
Married to Linda 35 years July 4th
Has two sons and two grandchildren
Loves to golf, read, and help other writers
Something most people don't know: He met his wife at a disco
How did you begin writing?
One year I taught science, and I was the worst teacher. I didn't like the textbook, so I did experiments to compensate. I realized that science was about solving mysteries. So I wrote short mysteries to help my students understand science better. That's where "The Rockhound Science Mysteries" were born.
What was your first book?
Someone from Newsday (Long Island newspaper) wanted my kids to enter a race to raise money for starving children in Ethiopia. I said no, and decided we'd do a Research-a-Thon. I gave each child 10 articles from Newsday and asked them to get ideas for solving the hunger problem in Ethiopia. They could get 10 cents a question. We raised $500. After that, Newsday asked me to write a book about the Statue of Liberty, which meant a great deal to me because my parents were immigrants. I was thrilled when they had it in the gift shop on Ellis Island, and it raised thousands of dollars for the museum.
Do you miss being with students?
Actually, I interact with former students every day. I have 900 of them who are friends on my Facebook page. A lot of them are teachers now. I love hearing about their lives and seeing what they're doing now. Before Facebook came along, when a kid left your class, you never knew what happened to them.
What was the greatest moment in your life?
The birth of my sons.
What is your passion?
I collect autographed books. I have more than 450, including a leather-bound copy of "Surviving at the Top" signed by Donald Trump that I got for $2.29.
What are your award-winning books?
"Welcome to Monstrovia," Benjamin Franklin Book Awards, Readers Favorite Awards, and Florida Writers Association; "The Case of the Disastrous Dragon," Top Ten Children's Book P&E Reader Poll; "The Rockhound Science Mysteries," Teachers Choice Award (Learning Magazine).
Leigh Neely began her writing career with a weekly newspaper in the Florida panhandle, where she not only did the writing, but delivered the papers to the post office and dispensers. She has been writing ever since for a variety of newspapers and magazines from New Jersey to Leesburg. With her writing partner, Jan Powell, Leigh has published two novels as Neely Powell.
Share This Story!