MDCA Baseball Pitcher Ethan Priest Commits to Air Force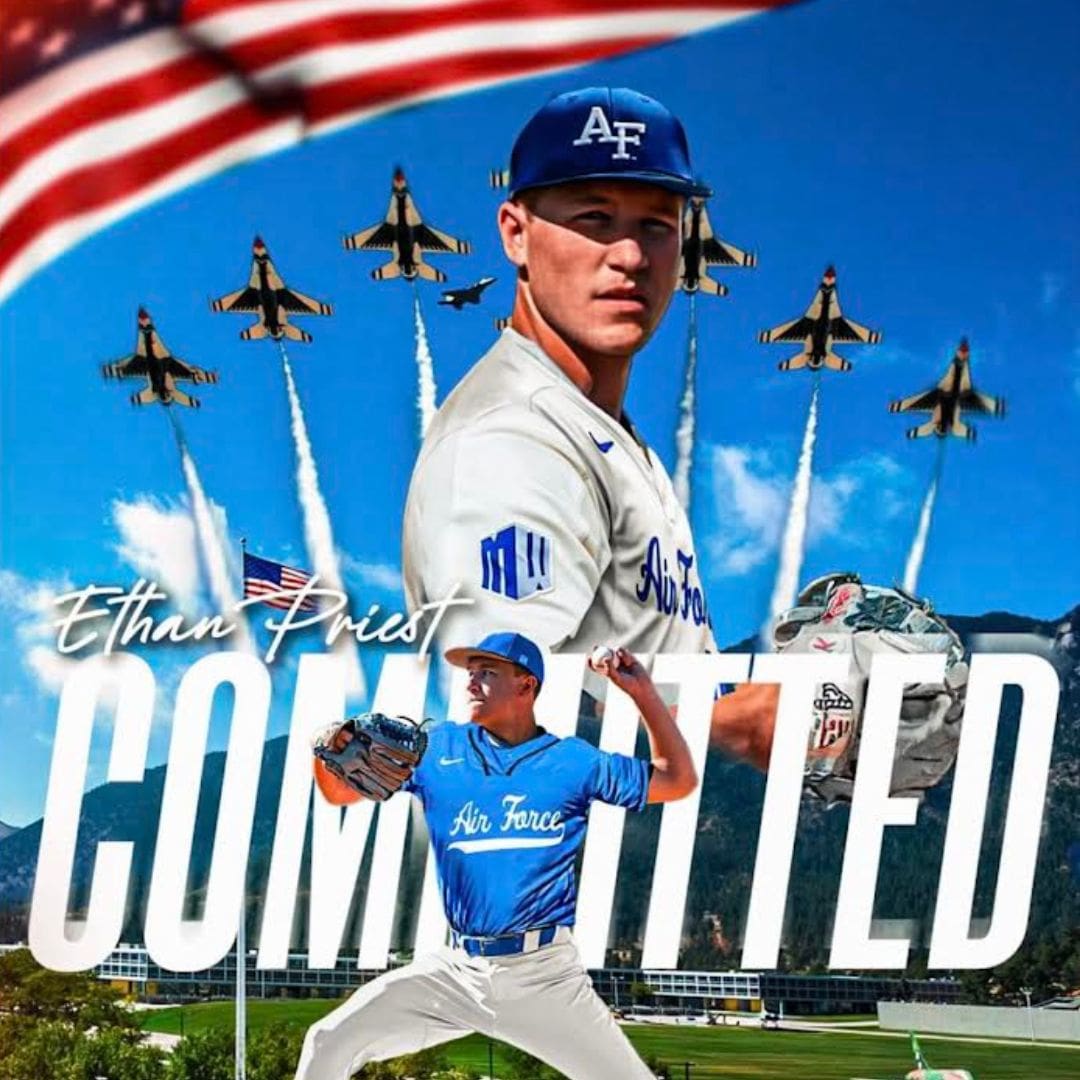 Ethan Priest, the brother of Collin Priest who is headed to play baseball at Michigan next year, is following in his brother's footsteps. Ethan Priest has committed to play division 1 baseball for the Air Force Academy! Priest announced his decision in a tweet this past week. Ethan was quoted as saying "For God. For my Country. To continue my Academics. For the love of the Game. Committed."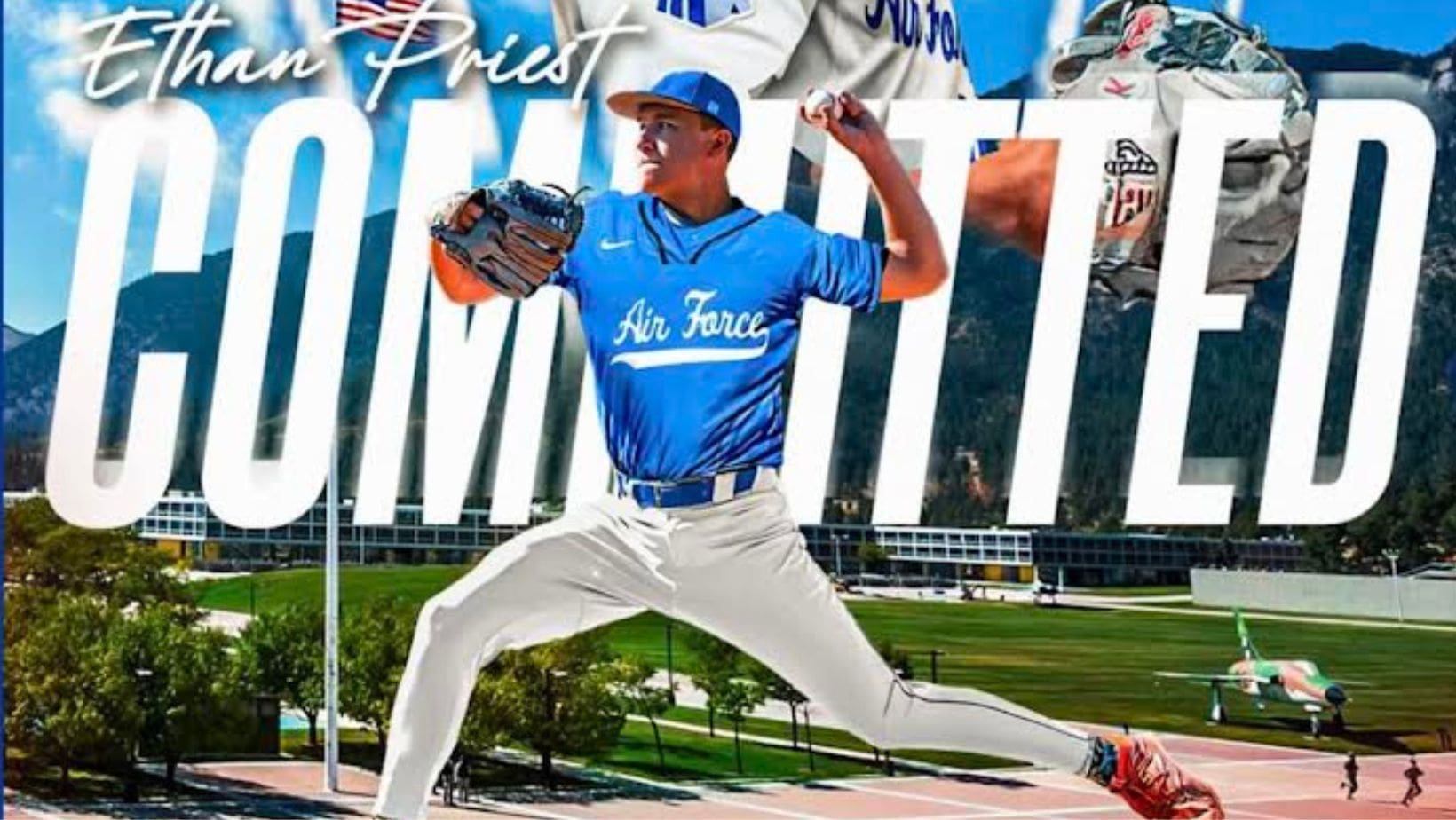 Ethan Priest is not just a good baseball player, he is an outstanding scholar. Ethan Priest is ranked number 1 in his class with a 4.6 GPA. Did we mention that Priest is only a Junior this year? You heard that right! Ethan Priest is just a Junior and when scouts got a glimpse of this guy, they thought he was perfect for our armed forces and to continue his academic and playing career.
Ethan Priest is a Left Handed Pitcher. Priest pitches at 85mph and that has accelerated 4mph over the last few years. His class average is 74mph so Priest is way ahead of the game. In fact for MDCA last year Priest appeared in 10 games and had a 2.57 ERA. That was the lowest on the team as far as games played. Priest was second on the team in strikeouts with 34.
Priest only let up 12 earned runs the entire year having faced 154 batters during that time. Those were incredible numbers for a Sophomore. He also only let up 28 while pitching nearly 33 innings during the season. Safe to say that Ethan Priest caught the eyes of many schools. But one in particular is the Air Force.
I talked to MDCA Athletic Director Megan Zeigelhofer and she told me that "The armed forces have started to recruit MDCA heavily over the last 4 years." The Air Force Academy is going to be getting one of Lake County, Florida's finest athletes and scholars. Ethan uses his smarts to his advantage on the field and off of it.
Like his brother Collin Priest, Ethan will have the chance to play Division 1 sports at the highest level. This continues a trend of MDCA athletes continuing to go to Division 1 programs over the past few years. But the school sends athletes to a wide variety of colleges including FCS programs, NCAA Division 2, Division 3 and NAIA programs.
We are so excited to watch Ethan Priest continue to develop in 2024 and beyond. We want to send our congratulations to the entire Priest family as well as Ethans friends, teammates, coaches and Mount Dora Christian Academy. What exciting times for this program!
Photos Provided By:
MDCA
Twitter
Kyle Coppola was born in Newton, Massachusetts and received his Bachelor of Fine Arts in Communications from Curry College in 2016. After traveling to Florida on a family vacation, he decided he could not get enough of the warm weather and made the move from snowy Massachusetts to central Florida 8 years ago.
For the last decade Kyle has gained valuable experience in social media content creation, marketing and sales, writing, video production, sports announcing and even broadcasting for local radio stations, such as FM 102.9 in The Villages and FM 91.5 in Massachusetts. Every year he volunteers at The Villages Charter High School as a play-by-play sports announcer for the football games as well as a public address announcer for the basketball games, including the annual Battle at The Villages Tournament.
Outside the office Kyle is a husband and father to two beautiful girls along with their cat. In his spare time he likes to spend time with his family, travel, play golf and swim. He is also a huge sports junkie and even bigger motorsports fan and loves to attend racing events when he can.
Share This Story!