Meet a Villager: A hero's tale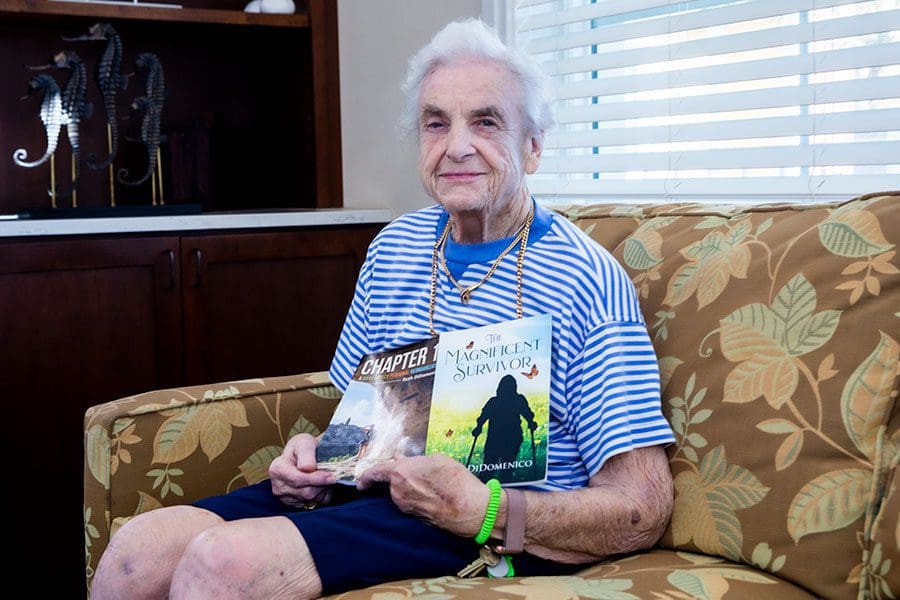 Villager wrote tribute to a philanthropist and avid supporter of veterans.
Photo: Nicole Hamel
The spunky woman stands 4-foot tall and uses two crutches for mobility. Somehow, her indomitable spirit outshines her disability. She radiates positivity. Her smile lights up the room. She commands attention. 
She certainly caught the attention of Ruth DiDomenico, who first met her in the fall of 2019 at a fundraising event for female veterans to make an Honor Flight trip to the nation's capital for free. 
"I asked my friends, 'Who is that person?'" Ruth said. 
The answer: Marie Bogondoff, a polio survivor who is short in stature but big in heart. She is founder of the all-volunteer organization Villagers for Veterans, which has raised money for severely injured troops and other veteran-related programs. 
"When I heard about her amazing story, I became obsessed," Ruth says. "I felt compelled to write a book about Marie. She has a never-quit attitude, and I am so grateful she helped us raise $100,000 for our Honor Flight trip." 
Ruth, a Villages resident and U.S. Army veteran, accomplished the mission. Her book, "The Magnificent Survivor," was published in 2021 and takes readers on a journey through Marie's struggles with polio and how the illness shaped her character, defined her path, and fueled her philanthropic spirt.
In addition, the book shares endearing stories of how Marie helped injured veterans. Through her organization, Marie has raised money to provide service dogs and mobility equipment. She has also donated food and clothing to homeless veterans residing in the Ocala National Forest and has introduced equine therapy to veterans suffering from post-traumatic stress disorder (PTSD). 
"I feel this book will benefit Marie because when people become familiar with her work, she will have a much easier time raising funds for veterans," Ruth says. 
The book's title was derived from "The Magnificent Obsession," written by Lloyd C. Douglas in 1929. In that book, the main character, Robert Merrick, changed his lifestyle of personal pleasure to that of an anonymous philanthropist. 
Ruth read "The Magnificent Obsession" in her early 20s. 
"I felt Marie's story is similar to Robert's story," Ruth says. "They come from different backgrounds, but both have discovered that the secret to being happy is living a purpose-driven life." 
This is the second book authored by Ruth, who served as a physical therapist in the U.S. Army during the Korean War. Her first book, "Chapter 11: A Bankruptcy Personal Reorganization," shares how she repurposed her life after losing Dan, her husband of 62 years.