Meet a Villager: Ann Pelle, Captain of the Villages Twirlers and Drum Corps
Meet a Villager: Ann Pelle, Captain of the Villages Twirlers and Drum Corps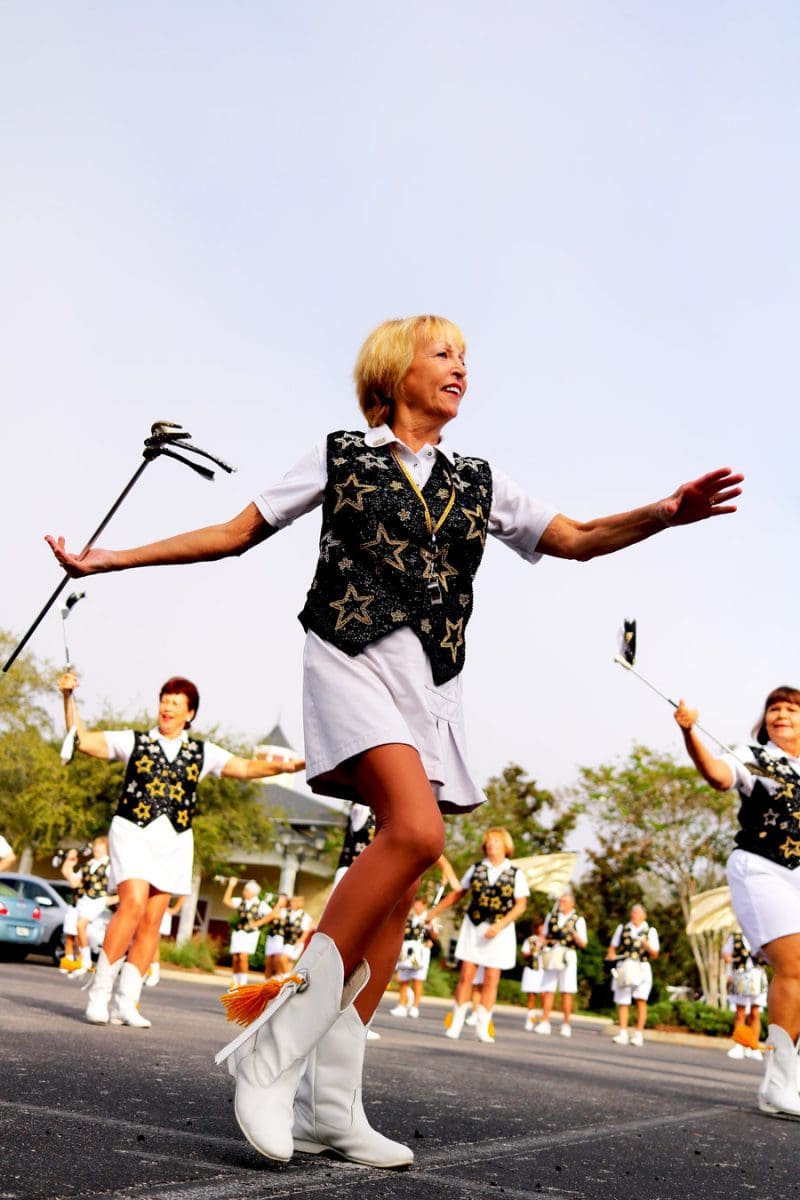 ---
By Tom Kubala
---
Vital Stats 
+ Married to Mike for 27 years
+ Came The Villages in August 2002
+ Village of Briar Meadow resident
+ Century 21 Realtor for 17 years
+ Children: Sean and Amy.
+ Grandchildren: Madison, Kayla, and Conner.
+ Doggy: Trixi
+ Enjoys watching Washington Redskins football
---
Why baton twirling? When I was 10 years old, I visited a cousin who had a baton. I picked it up, began twirling, and was hooked. I continued twirling until I was 16. Driving a car became more important.
Began again? In 2003. I took a twirling course at TVLLC. Judy Marshall was the instructor for nine of us, and we formed a twirling club. Now we have the Twirlers and Drum Corps with more than 100 members. Judy is still a cherished member.
What do you like most? Performing with my friends. We feed off the energy of the crowd. It is a wonderful feeling to be appreciated by the audience.
How often do you perform? We do about 55 events each year, both in and outside The Villages. We travel. If someone calls me to perform for a special occasion, I try to fit it in our schedule. We are a very busy group.
Major performances? At an Orlando Magic game, the Gator Bowl, and the Citrus Bowl—being invited back for the 7th time!
Who does choreography? I do. My father and I spent hours together watching musicals when I was a young girl.
Do you get paid? No. We do have fundraisers, like our pancake breakfast coming Feb. 18, 2017, at Hacienda Hills Country Club Restaurant, and occasional yard sales. These help cover the cost of the buses to get to events.
Other community activities? I love serving as an usher at St. Timothy Catholic Church for the 11 a.m. Mass on Sunday mornings.
Phrases that accurately describe you? I am friendly and I am driven to succeed.
What is your motto? Be happy for what you have. For me, I really love what I do.
Do you have any hobbies or collections? I love traveling and I am an avid cruiser. I LOVE blinged-out party dresses. On cruises, I look forward to the formal dinners where I can show them off!
Greatest accomplishments? My children, my grandchildren, and my team. As I tell my granddaughters, "No matter how God made you, always do you best."