Meet a Villager: Betty Eich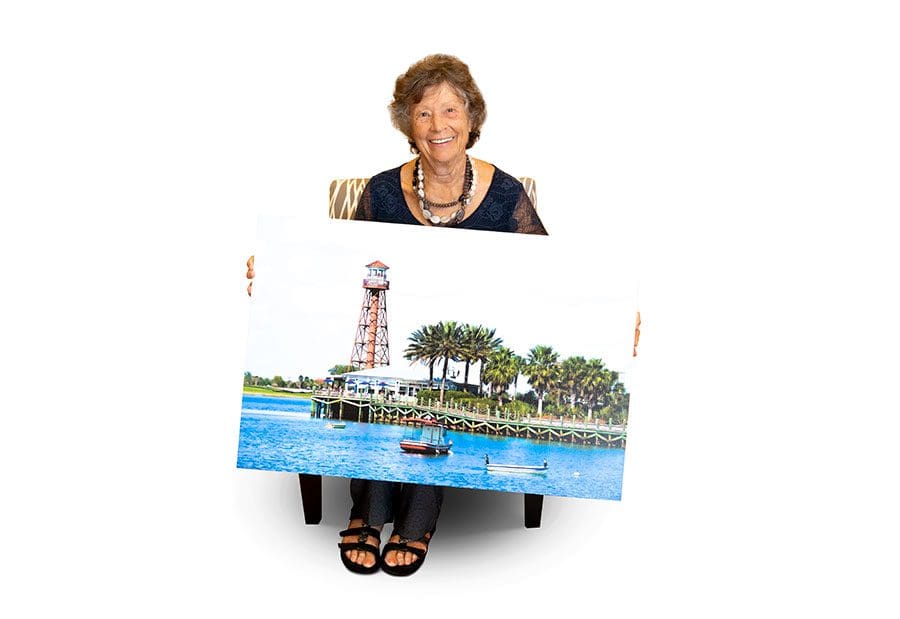 Photography of globetrotting former teacher reveals educated eye.
Photos: Nicole Hamel
Vital Stats
Oldest of seven children.
Born and raised in German-speaking household in Freistadt, Wisconsin.
Former teacher and school administrator.
Lives in Village of La Reynalda.
---
Who are you? I am a photographer. I love taking photos, post-processing my photos and showing my photos to others. I am also a traveler and speaker. I enjoy sharing our stories (my husband, Ed, and I) and my photos. In my personal life, I am a wife, mother, grandmother of 13 and great-grandmother of 3 – with another one on the way!
Absolute favorite photo? This is a question like "who is your favorite child?" However, the photo that first comes to my mind is one that I took of two lions. Ed and I were on a morning safari in Africa, bumping along in our open vehicle, scanning the landscape for animals. Suddenly, I saw a lion's head pop up over the dry grass. I had my camera ready; I focused; and I got the shot. Suddenly another lion popped up right behind the first! One lion looked to the right; the other to the left. I got another quick shot before both ducked down again. And, fortunately, that shot had both lions in sharp focus.
When did your interest in photography begin? I was passionate about teaching. I knew that, after I retired, I would have to find something new to be passionate about. I took an evening class, "Getting to Know Your Camera," at a local high school. I was fascinated to learn about aperture and shutter speed and ISO and lenses. It was a new world for me.
As a teacher, were you more Mr. Kotter (Welcome Back, Kotter) or James Keating (Dead Poet's Society)? I was a Mr. Kotter-type of teacher. I loved the classroom and the students. I have taught all grades and levels from preschool to graduate school except for grades K, 1, 2 and 3. High school students are my favorite, however. In a high school English classroom, students learn as much about themselves as they do about literature and writing.
Tell us about your husband? Ed is a musician who plays trumpet and French horn in three of The Villages' bands. He teaches stained glass at The Villages' Woodshop. He enjoys kayaking, fishing, and golfing. Both of us love to travel. He will say that his job is carrying my camera gear, and he does that. But our travel is really a partnership; we share the experiences, impressions, and joy wherever we go.










Gary Corsair began writing professionally while attending high school in Greentown, Indiana. He's spent most of the past 46 years in writing, reporting, editing and producing roles for newspapers, magazines, TV, and radio. He's served as publisher and editor of three newspapers, TV news director, and executive producer of two documentaries about The Groveland Four. Gary's earned more than 65 awards for journalism excellence.
Share This Story!