Meet a Villager: Coloring his world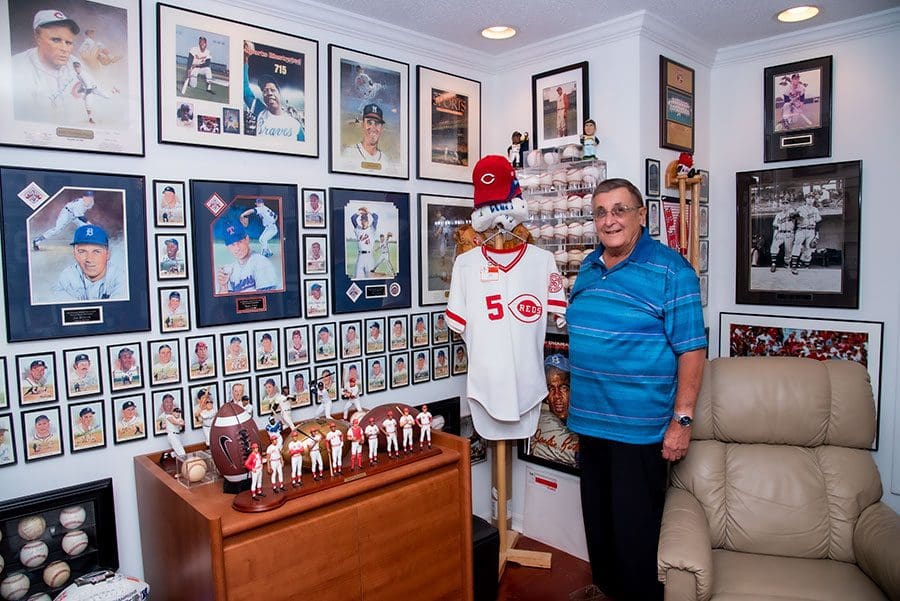 Longtime sports fan delights in sketching, giving away his portraits of athletes.
Photos: Nicole Hamel
Rich Sobieray, 81, lights up as he reminisces in the "memory room" of his villa home, filled with a wide array of sports memorabilia, including his most-prized sports item—the No. 5 Cincinnati Reds' jersey he wore on the mound in a Reds fantasy camp game. 
"We were at a Cincinnati Reds game in Cincinnati for my birthday on July 20, 1985, and my daughter Robyn asked me, 'If you had your wish for anything that you could have in this world for your birthday, what would it be?'" Rich replied: "I'd want to play one inning at third base down there." 
He didn't know the Reds were preparing to hold their first fantasy camp, where fans could play ball with former pros for a week in a setting like spring training. 
"I didn't know anything about it until I got a call on Christmas Eve from Joe Nuxhall, who was the announcer and a former pitcher for the Reds, and he said, 'Get your glove oiled, get your spikes clean. You're coming to fantasy camp.'"
Rich, a Villages resident for 21 years, went to camp in 1986 and liked it so much that he returned in 1990. "They treat you like you're a prized rookie the whole time," he says. 
His collection includes much more than a Reds' jersey.
"Everything has a meaning; it's not just collecting," says the retired Indianapolis, Indiana architect, who draws colored pencil portraits of baseball greats in his favorite room, where the walls are covered with watercolor portraits of hall of fame baseball players painted by Dick Perez, whose artwork appeared on Donruss baseball cards. 
"Perez came here, and he liked my Mickey Mantle," says Rich, who gave Perez the sketch of the famous New York Yankees player. 
"I don't keep them; I give them away," the Villager says of his artwork. "There is a guy here in The Villages, Sam McDowell, who pitched for the Cleveland Indians, and I did his portrait and asked if he wanted it. Yeah, he wanted it. His best friend is Joe West, who is an umpire in the National League, and he has been an umpire for a long time. I did a little research and found out Joe is a John Wayne fan, so I did a portrait of him and John Wayne looking at each other. They're both patriotic guys, so I put a soldier in (the middle). Joe came up here and he wanted the picture. He's a good guy." 




Rich also treasures the friendships he's forged in The Villages. 
"You can be out playing golf with a guy who was a Supreme Court justice in Baltimore, and you don't know that, and he doesn't want to tell you that because he doesn't care anymore. Or he could be a plumber," says Rich. "The people here are unpretentious."