Meet a Villager: John 'Jack' Roberts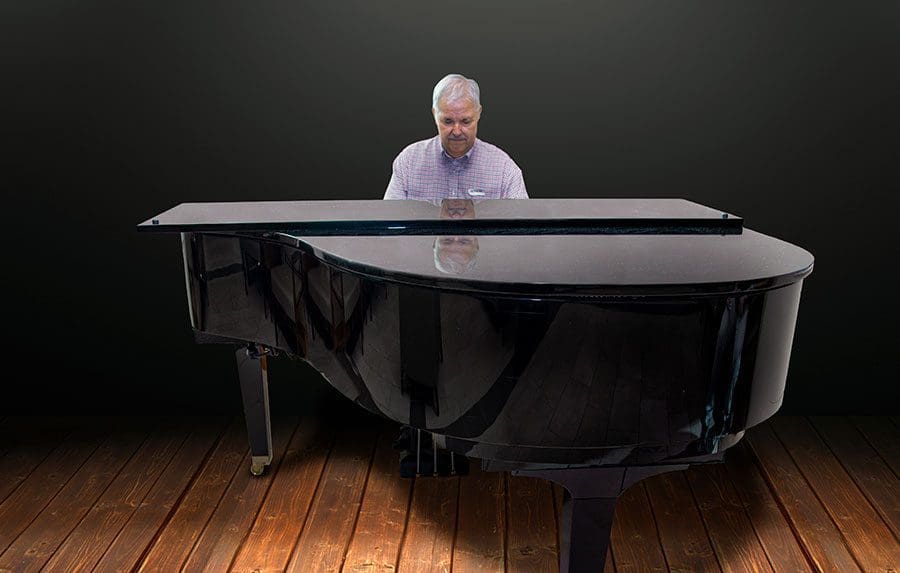 Retired principal enjoys playing Broadway show tunes on grand piano at Villages hospital.
Photo: Nicole Hamel
Vital Stats
Resides in Village of Hacienda South, moved to Villages in 2016.

Owns a second home in Olmsted Falls, Ohio.
Born in Philadelphia and raised in Delanco, New Jersey.
Married 25 years to wife Deborah.
Has three children, four grandchildren: two boys, two girls.
Received master's degree in education from Kent State University in 1973.
Devoted 41 years to teaching and administration.
Retired in 1999 as principal at Valley Forge High School, Olmsted Falls, Ohio.
Directed and or produced 100+ plays.
Involved in Greenbrier Theatre in Parma Heights, Ohio from 1974-'86 as youth theater director, business manager, and managing director.

Wrote and composed original musical "Hello World" in 1970.
Coached students who became professional actors, including Alan Ruck ("Ferris Bueller's Day Off") and Michelle Federer (original Broadway cast of "Wicked").
---
Playing the grand piano at The Villages Regional Hospital: I have been playing at the hospital since we moved here. I currently play four hours a week on Wednesdays and Saturdays from 10 a.m. to noon.
Why I do this: I like to be able to give back to the community. No one really wants to be in the hospital. So, I try to brighten their day by playing music. I do take requests. I like to play Broadway show tunes for people. I play from memory because I have directed many of the shows that I play.
Most requested songs: "Moon River" and "Phantom of the Opera."
People would be surprised to know: I considered myself to be shy. Although, when I am playing the piano, I tend to reach out to people.
My current passion: I just finished my first book, which is a guide to becoming a high school principal. I had started it years ago, but during the pandemic I actually finished it and it's currently in post-production with Morgan James Publishing. My book is written for people who are considering going into administration for a career.
What I enjoyed and least enjoyed as a principal: My favorite part of being a principal was commencement and prom. My least favorite memory was attending a student's funeral. I am very happy to be retired from school, especially during the pandemic. They are asking people to do the impossible. I do not believe that there is very much learning going on in the distance model.
My favorite activities: I enjoy watching old classic movies and I have two favorites: "Goodbye Mr. Chips" and "Lost Horizon."
Since directing and being involved in 100 plays: I met Alan Ruck as a high school sophomore when he auditioned for a play "Now is The Time for All Good Men" at Parma High School. He was in three musicals for me and the last one was "Oliver," in which he played Fagin. Alan went on to star in "Ferris Bueller's Day Off" as Cameron, the rich kid who wore the Detroit Red Wings jersey. We have stayed in touch all of these years and remain great friends. Michelle Federer, one of our orphans in the play "Annie," went to Broadway and was in the original cast of "Wicked." She played the girl in the wheelchair, and Cory Mach has been in several national touring companies. I believe he will one day win a Tony Award.
My guilty pleasure: Chocolate.
My motto: Live one day at a time.
Originally from Anderson, Ind., Theresa worked for The Herald-Bulletin for many years. After experiencing a winter with 53 inches of snow, her late husband asked her to get a job in Florida, and they headed south. Well known in the area, Theresa worked with The Daily Sun and The Daily Commercial prior to joining Akers.
Share This Story!