Meet a Villager: Lamar and Colleen Young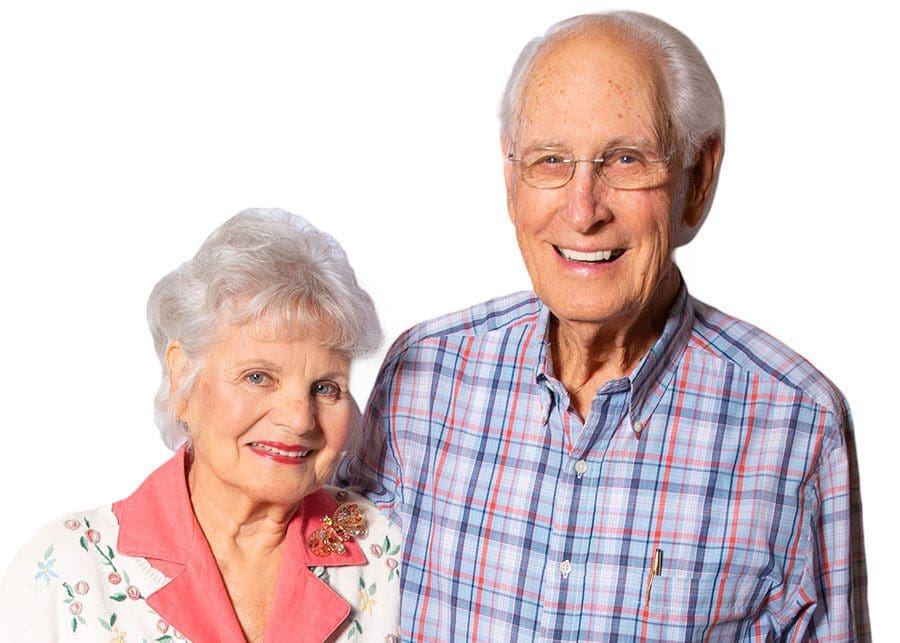 Married 65 years, Villagers Lamar and Colleen Young say this is the best time of their lives.
Photo: Nicole Hamel
Sixty-five years of marriage has allowed Villagers Lamar and Colleen Young to live in six states, yet The Villages is the lovebirds' most favorite place of all, and where they are enjoying life to the fullest.
"We both want to go to heaven, and this is heaven on earth," says Lamar. "It's a beautiful place to live." 
The Villages has been their home since 2002. The Youngs moved from Kansas City, eager for a warmer climate. They had known of the area since they had come to Florida for many years. Colleen's parents retired in Ocala, and Lamar's relatives live in Winter Garden. 
The Youngs keep active in The Villages by going to their neighborhood swimming pool four times a week on summer nights, and Lamar also keeps busy managing softball. "It's fun to watch his team play and cheer," says Colleen.
Lamar also sings with Village Voices, and is in Brothers in Song, a men's glee club, where he sings baritone. "And I'm a listener," adds Colleen.
She accompanies Lamar on other activities, including The Villages Butterfly Club, where Lamar is also a member.  Lamar maintains the Fred Funk Butterfly Garden, a demonstrations garden at the Lady Lake Seventh-day Adventist Church, where a bench was recently dedicated to Lamar and Colleen by the club. 
"The first time I saw her, I thought to myself, 'I'm going to marry her,'" says Lamar, recalling he was smitten by Colleen's beauty, and she was impressed that he was "a real gentleman." They began dating in 1955, and most of their dates were on roller skates. 
They were married June 9, 1957, when Lamar had just turned 20 some 12 days earlier, and Colleen was close to turning 19. Lamar sang "Bless This House" when his bride walked down the aisle. 
The Youngs fondly recall their 50th anniversary at the Savannah Center in The Villages, where family and friends from all over the country came for the occasion. "That will last us the rest of our lives," says Colleen. 
"We've had our ups and down," Coleen says, adding that "love and stick-to-itiveness" is what made their marriage work while they raised two children and relocated to six different states throughout Lamar's work in hospital administration. "We liked having a home with laughter, smiles, and prayers through all the trials." 
They are active at Lady Lake Seventh-day Adventist Church, where Colleen sends out cards and letters, and Lamar serves as an elder. 
"It's been a good life," says Lamar, noting he has one special wish. "My BIG bucket list item is that I want to sing a duet with Jesus." 
Originally from Anderson, Ind., Theresa worked for The Herald-Bulletin for many years. After experiencing a winter with 53 inches of snow, her late husband asked her to get a job in Florida, and they headed south. Well known in the area, Theresa worked with The Daily Sun and The Daily Commercial prior to joining Akers.
Share This Story!