Micki Blackburn Nagel inducted into the Lake County Women's Hall of Fame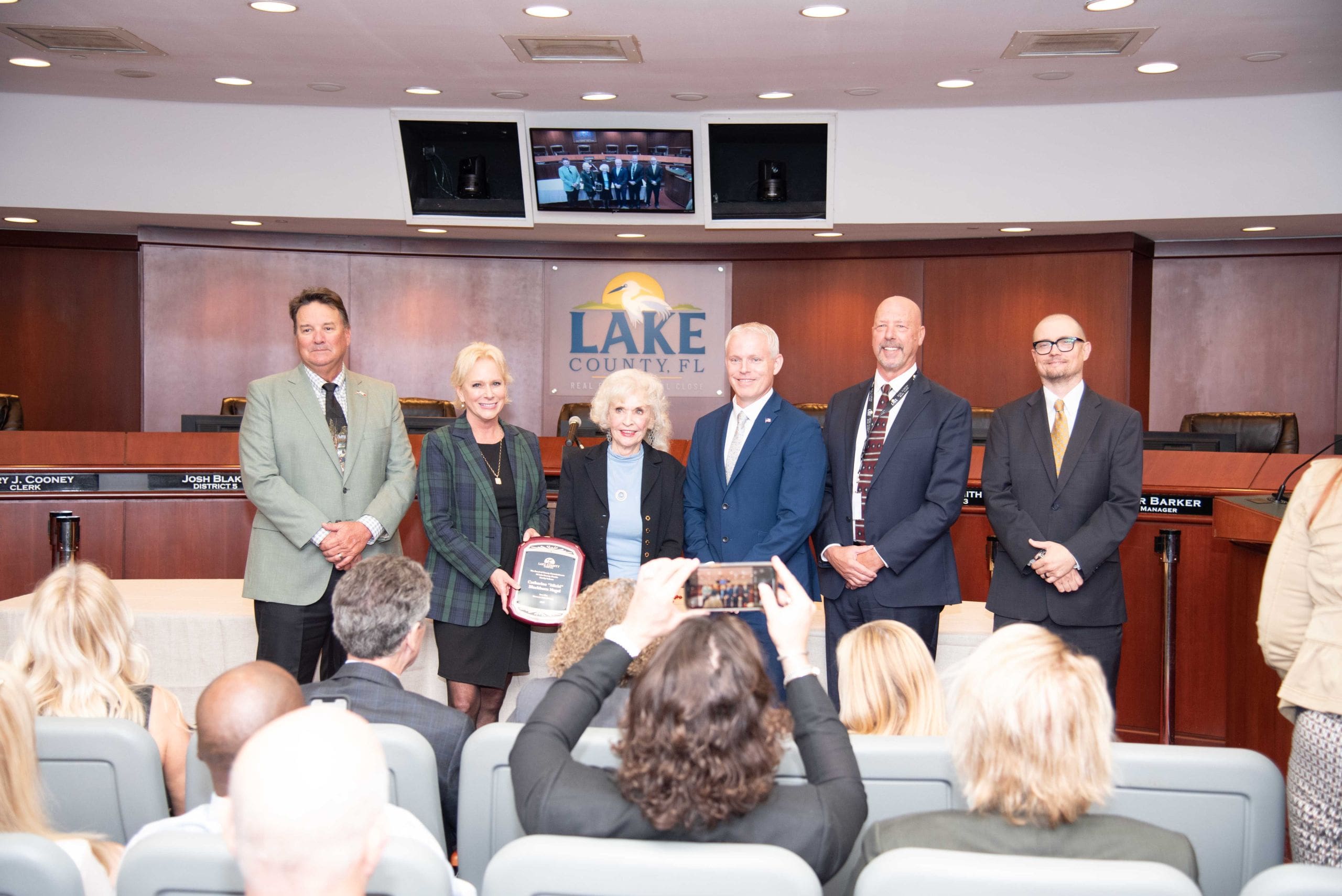 Micki Blackburn Nagel inducted into the Lake County Women's Hall of Fame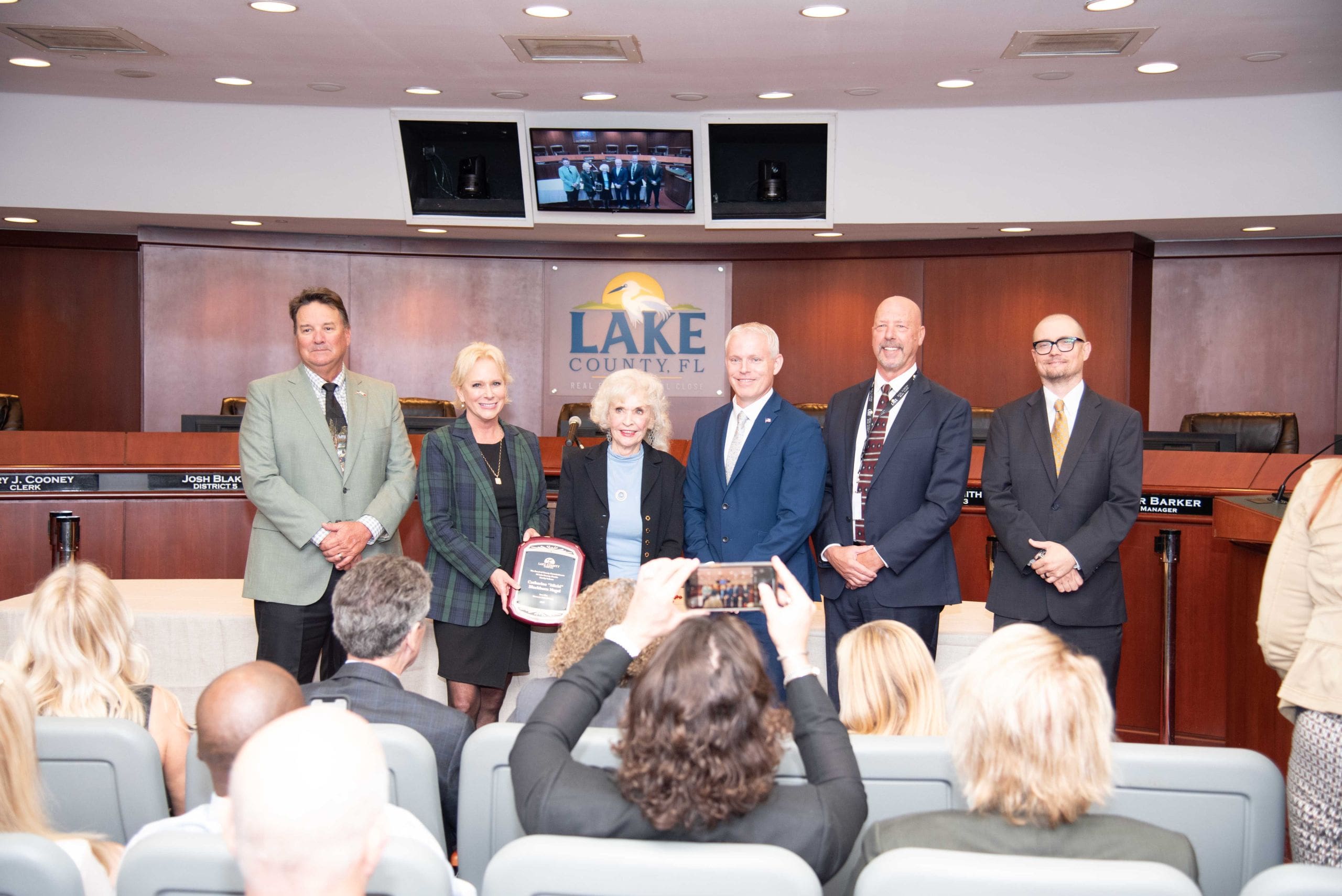 While at the podium before the Lake County Commissions' State of the County address Tuesday morning, Micki Blackburn Nagel asked for a show of hands from the dozens in attendance to determine who's lived in Lake County longer than she has.
Much to her surprise, the only person with a hand in the air alluding to having lived in Lake County since before 1954 was her husband, George Nagel.
The moment resulted in a sweet exchange between husband and wife, who for a second locked eyes and smiled at one another, but it also gave guests a glimpse into just how long Micki has been a presence in her community.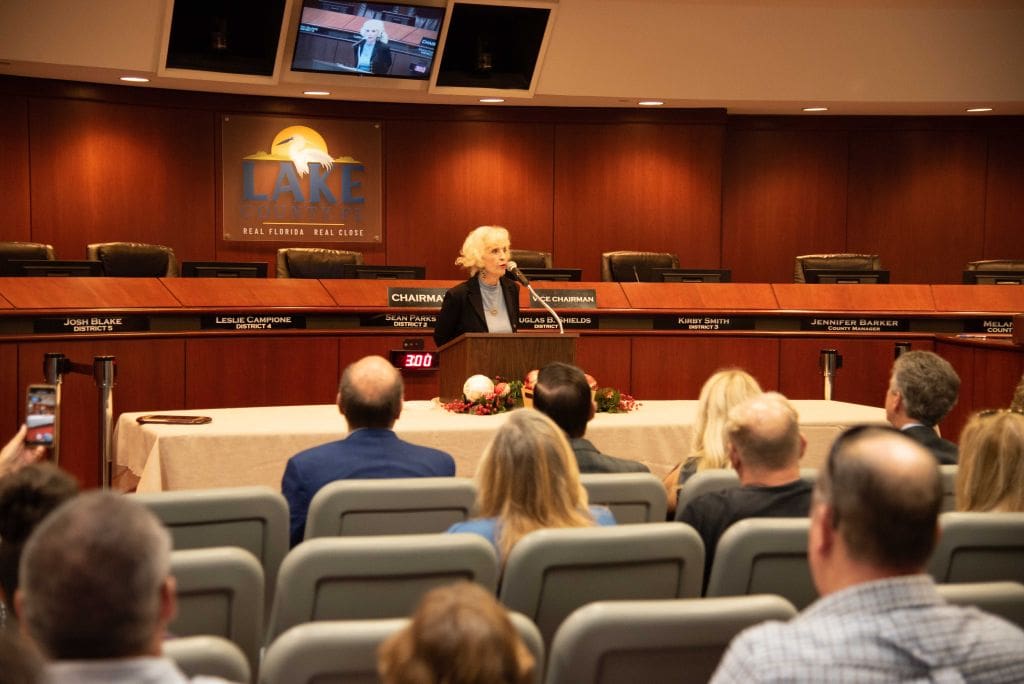 It also reiterated how deserving Micki is for having been the 44th woman inducted into the Lake County Women's Hall of Fame just minutes earlier.
"Micki has had such a tremendous impact on the County, not just from her success as an entrepreneur, but as an educator and a participant in the betterment of Lake County in so many ways," Commissioner Leslie Campione told guests before listing some of Micki's most notable achievements and presenting her with a plaque in honor of her induction.
After accepting the award, Micki spoke briefly, then joined Leslie for pictures next to a framed picture of her that will forever hang on the wall of honor inside the Commission Chambers in Tavares.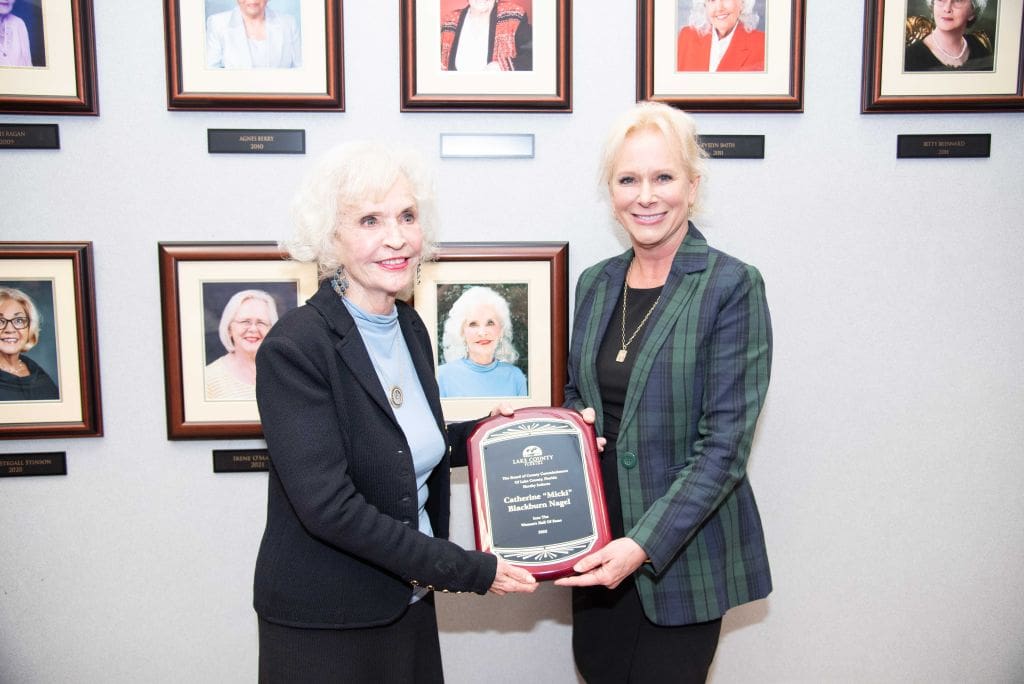 "Thank you. This is a great honor, but everything I've done or had any success in, has been because of the support of so many people," says Micki, while holding back tears. "I love Lake County and I love the people of Lake County."
Historically, Micki was born in Lakeland and at 3-years-old, moved to Groveland with her parents in 1954, where she graduated from Groveland High School.
She attended Florida Southern College and received a Bachelor of Science, then obtained her master's degree from Rollins College. After that, Micki taught history and social studies in Lake and Polk Counties and spent the last few years of her 17-year career teaching severely emotional disturbed children.
In 1972, Micki became a real estate agent and in 1993, started Micki Blackburn Realty, a company she's grown from one agent and one office in Clermont to more than 65 agents and three offices in Clermont, Groveland, and Webster.
"As one of the pioneers in women-owned businesses in Lake County, Micki Blackburn Realty has consistently ranked in the Top 25 Women-Owned Business in Central Florida. Micki Blackburn Realty was also a Top Producing Real Estate Office in Lake County and has been recognized by the South Lake Chamber of Commerce as a Business of Distinction," says a letter Micki's only daughter Meredith Nagel included in the application she and her cousin Angie Langley submitted to the County nominating her for the Women's Hall of Fame honor.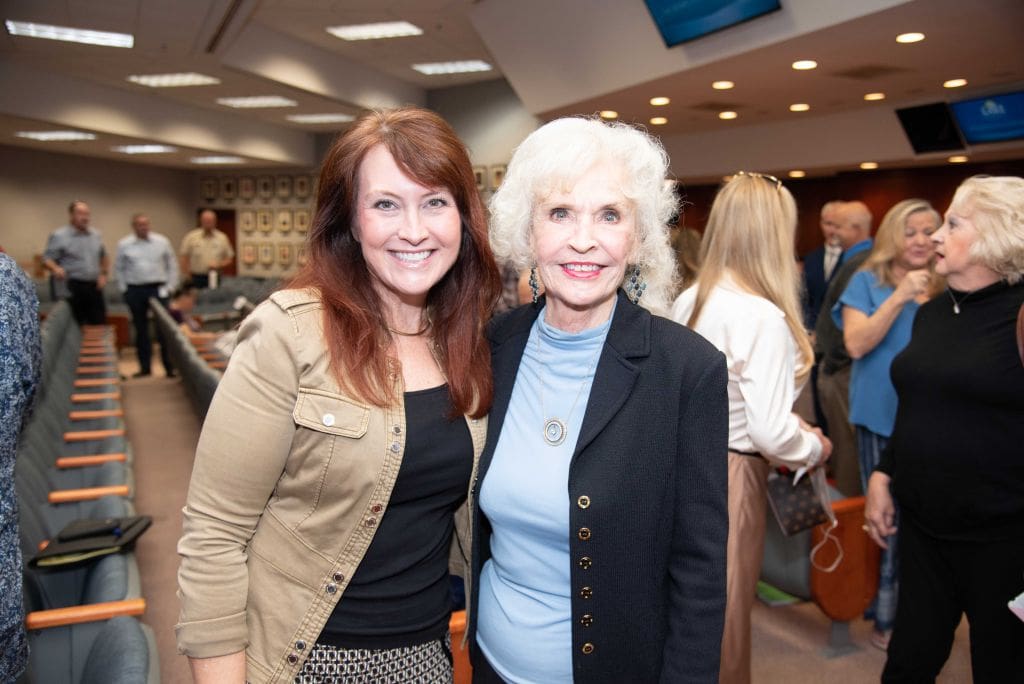 Besides her business however, Micki has remained heavily involved in the community in many capacities and achieved much, as follows:
Received the Lake County League of Cities Community Service Award
Boy Scouts of America Golden Eagle Honoree
Electoral College Representative for Lake County 1988
Lake-Sumter Community College (now Lake Sumter State College) Board Member
Founding members and current CEO of the Clermont Historical Society
President of the Lake County Social Council
Trademark Women of Distinction in Real Estate
Women of Hospice Women of Achievement Honoree
Served Cornerstone Hospice Foundation as Board Member and how Emeritus Board Member
Clermont Citizen of the Year, awarded to community members whose accomplishments have made significant contributions to the community
Lake County Special Citizen Award
South Lake County Citizen of the Year
South Lake Black Achievers Humanitarian Award
South Lake Hospital Sapphire Circle Contributor to the construction of the Women's Center at South Lake Hospital
Established and funded programs at South Lake Hospital and Langley Medical Center to provide free mammograms to uninsured and women of limited means
South Lake Chamber of Commerce "Gem of the Hills" award
Chair of South Lake County Relay for Life
YMCA Board Member
Clermont Neighborhood Center Board Member
South Lake and Sumter County Chambers of Commerce Board Membership/Secretary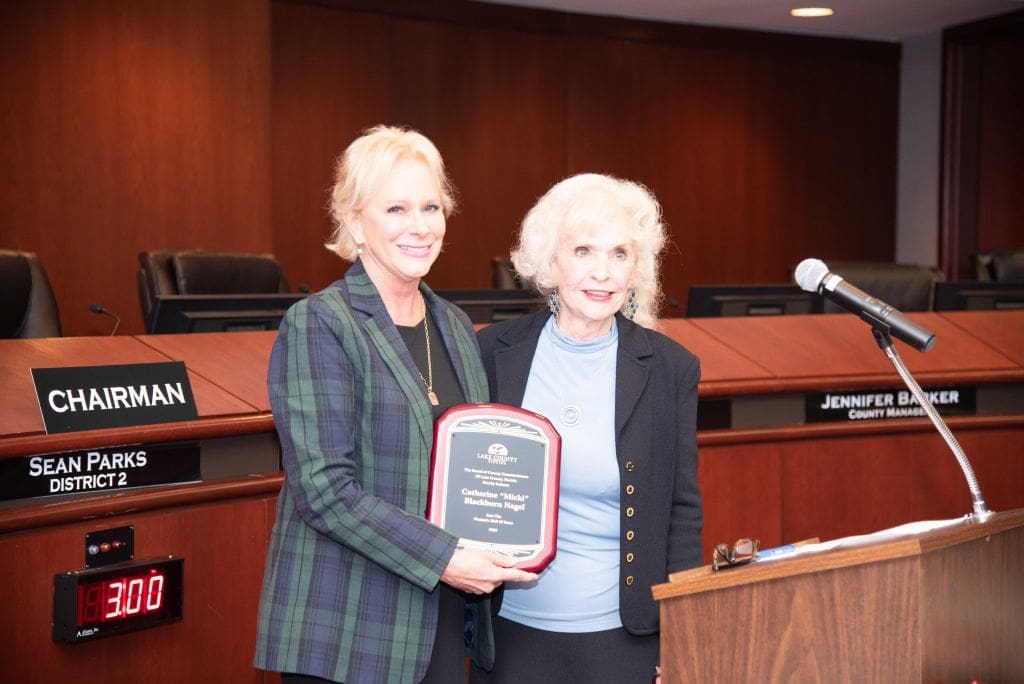 Other tidbits about Micki include that she is the youngest of four siblings, she was a cheerleader in high school, was a model and professional water skier at Cypress Gardens years ago and is a cancer survivor.
Additionally, Meredith says her mother does far more for people than anyone realizes, since much of it is done either anonymously or away from the public eye.
Her niece Angie says that includes having sponsored hundreds of golf tournaments, little league teams, church dinners, banquets and award events, galas, signs, teacher and first responder recognitions, etc.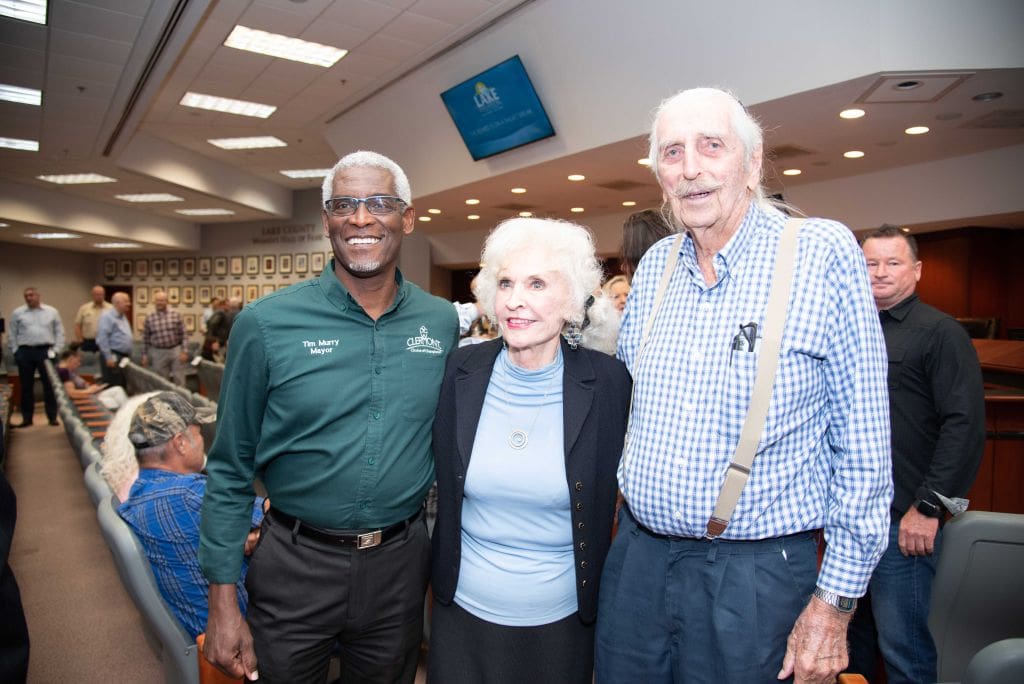 "I am bursting at the seams, I couldn't be prouder, and I cannot imagine anyone more deserving of this honor, even if she weren't my mother," Meredith says. "She's done so much in her life, so much that people have no idea of, and she does it all because that's just how she is."
"I also learned everything important from her: how to work hard, how to work ethically, and how to care for others."
As for Micki, she humbly thanks her family, friends, and everyone there to support her Tuesday and beyond.
"Some of the most important people in my life are here, people that have always been there for me, and I am so honored and blessed," Micki says. "I'm also thankful I've been able to serve others in my lifetime and I don't plan on stopping anytime soon."
"People say I've been good to Lake County, but Lake County has been good to me, too."
Originally from Nogales, Arizona, Roxanne worked in the customer service industry while writing independently for years. After moving to Florida in 1999, Roxanne eventually switched her career path to focus more on writing and went on to become an award-winning reporter for The Daily Commercial/South Lake Press newspapers for 16 years prior to coming on board with Akers Media as a staff writer in July 2020 – her dream job come true.
Share This Story!