MIKE Endowment Donates $30,000 to Enhance MDCA's Security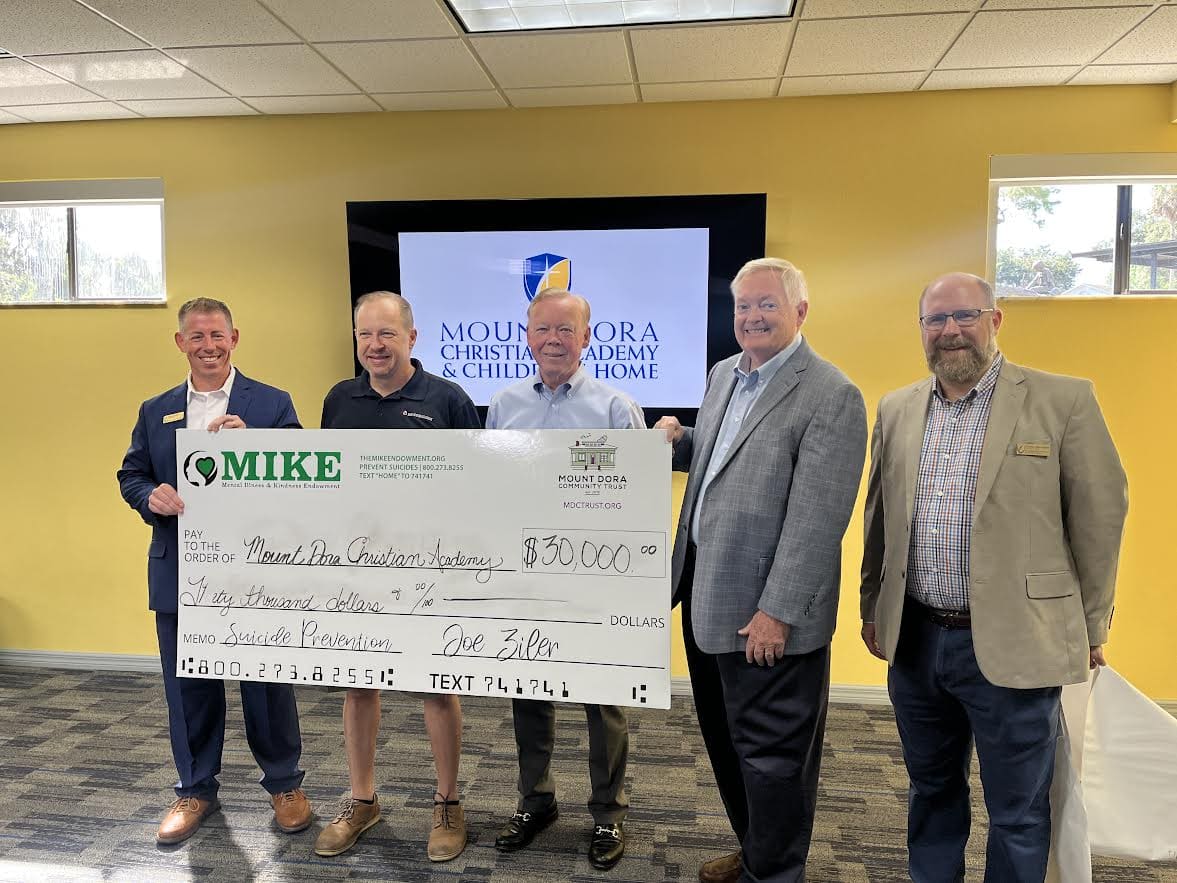 Mount Dora Christian Academy & Children's Home leads the way in campus secruity. A new alert system was made possible by the MIKE Endowment through Mount Dora Community Trust.
On August 9th, Mount Dora Christian Academy & Children's Home received $30,000 to fund a new campus-wide alert system.
The donation was provided by the MIKE Endowment (Mental Illness and Kindness Endowment), which falls under the umbrella of the Mount Dora Community Trust. It was established by Joe Ziler, retired president and CEO of Kevco Builders Inc., after losing his brother to suicide in 2013. The endowment brings awareness to mental illness and supports programming and education focused on suicide and mental health. (To learn more, visit TheMIKEendowment.org.)
"We are excited to connect Mount Dora Christian Academy with the MIKE Endowment," MDCT Executive Director Rob English says. "When Joe Ziler came to us three years ago, it was very evident that he had a passion for mental health and wanted to have an impact in the area. When the opportunity came up to connect him with Mount Dora Christian Academy, it was evident that it was a connection we needed to make."
"Obviously kids these days, they have a lot of pressure on them that heavily impact their well-being: social media, school, home environments. I believe this school initiative that we're helping fund through the MIKE Endowment will really help with the mental health aspect for the students, their families, and the staff. Students who feel safe and comfortable in their school surroundings are more likely to show up and do well."
MDCA&CA Vice President of Finance and CFO Charles Marcussen believes the partnership could not have come at a better time.
Kyle Coppola was born in Newton, Massachusetts and received his Bachelor of Fine Arts in Communications from Curry College in 2016. After traveling to Florida on a family vacation, he decided he could not get enough of the warm weather and made the move from snowy Massachusetts to central Florida 8 years ago.
For the last decade Kyle has gained valuable experience in social media content creation, marketing and sales, writing, video production, sports announcing and even broadcasting for local radio stations, such as FM 102.9 in The Villages and FM 91.5 in Massachusetts. Every year he volunteers at The Villages Charter High School as a play-by-play sports announcer for the football games as well as a public address announcer for the basketball games, including the annual Battle at The Villages Tournament.
Outside the office Kyle is a husband and father to two beautiful girls along with their cat. In his spare time he likes to spend time with his family, travel, play golf and swim. He is also a huge sports junkie and even bigger motorsports fan and loves to attend racing events when he can.
Share This Story!