Minneola's own Caponi's Cannolis School of the Arts show choir auditioning for AGT Wednesday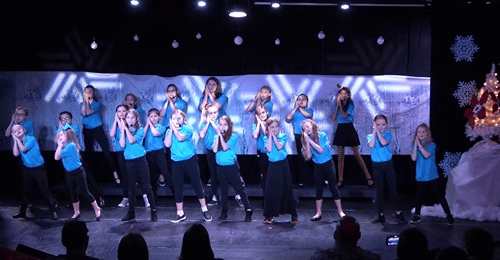 Minneola's own Caponi's Cannolis School of the Arts show choir auditioning for AGT Wednesday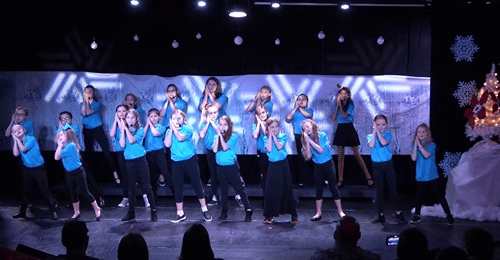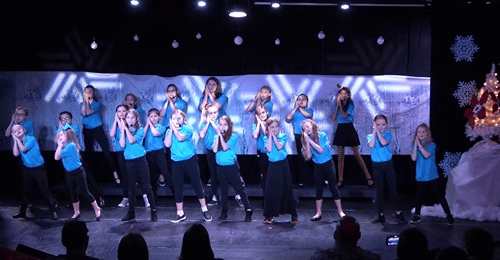 The Caponi's Cannolis School of the Arts show choir hopes to land an opportunity for its big break Wednesday when it auditions for America's Got Talent.
Director Angelo Caponi says he applied nearly two months ago, and was notified last week that producers have agreed to hear what his students have to offer.
If they make the cut by producers, the group could move on to the next round.
"I feel the groups on the show are great, but I feel our group is unique. I have never seen a group quite like ours at the auditions, what we do is just different, and I feel they (my kids) deserve a shot too, Angelo says.
According to Angelo, the Caponi's Cannolis' audition is set for 5 p.m. eastern time (2 p.m. Pacific time) Wednesday via Zoom, due to "in-person" performance restrictions associated with the Coronavirus pandemic.
The kids, ranging in ages from 6-13 years old, are part of the after school group's show choir that sings and dances to various songs. They will be auditioning out of the Angelo's studio in Minneola, but all 28 of them are from throughout Lake County, mostly south Lake, and Central Florida.
"I'd say 90 percent of our kids from last season are returning, but about seven students are brand new, so they had to learn part of the medley we'll be singing in like 2 weeks," Angelo says. "Having said that, you only get 90 seconds in the audition, so in those 90 seconds, I decided to go with Madonna's Material Girl and Bon Jovi's Runaway, two songs that are part of a "Stranger Things" medley we performed last fall."
Some of the students attend local schools and some are home-schooled, but what they all have in common is that they love performing, though the newer members feel they've entered in a whirlwind of sorts, Angelo says with a chuckle.
In the past, the show choir has performed at Disney, Universal Studios, during half time at Orlando Magic games and more. In December, the group sang at the Orlando Museum of Art's Festival of Trees.
"Some of the kids are nervous, because they just joined our group; our first rehearsal was last Wednesday, and now here we are auditioning for AGT, but it'll be fun," says Angelo.
And it's not the first time.
Angelo says his group, with help from current assistants Mikailah Wolfe and Alivia Kaylin, has auditioned for AGT each year for about 7-8 years of the 16 years Caponi's Cannolis has been in existence.
Angelo, who is also the music teacher at Minneola Elementary Charter School, says of all those years, this one is by far, the most nerve racking because he does not know quite what to expect.
That's because in the past, they have either auditioned live in front of producers when they've held Orlando auditions or by having submitted a video.
"We ended up getting wi-fi at the studio just for this, but there are so many things to consider. You have to hope your streaming is good and I don't want the call to fail or something," Angelo says of their Zoom audition.
Still, Angelo says he just wants the kids to have fun and give it their all and maybe, just maybe, this will be the year they end up auditioning for the show's actual judges and in front of people from all the world on national television.
"One year we were really close. We did a medley and then they called another producer in and he wanted to hear some more. We were really excited and that's why we keep auditioning every year," Angelo says. "That's where we're at and I think they know that we don't give up."
Angelo also says he feels confident because he's seen where other acts, after auditioning multiple times, finally get a shot in front of the show's judges.
Angelo further adds, "I don't know exactly what they are looking for, but we're a fun little group and this audition is a nice pick me up, a nice boost for the kids and the parents are jacked."
Regardless of how the show choir does, Angelo will be preparing all over again in two more weeks, because he, with middle schooler Logan Suero, also landed an AGT audition spot to perform their "Who's on First," skit by Abbott and Costello for producers.
"Logan is good at it, so we decided to give that a shot too. As soon as we get past Wednesday's audition, we'll start rehearsing," Angelo says of his skit with Logan. "Things are looking up for 2021, so let's see what happens."
Originally from Nogales, Arizona, Roxanne worked in the customer service industry while writing independently for years. After moving to Florida in 1999, Roxanne eventually switched her career path to focus more on writing and went on to become an award-winning reporter for The Daily Commercial/South Lake Press newspapers for 16 years prior to coming on board with Akers Media as a staff writer in July 2020 – her dream job come true.
Share This Story!