OLYMPUS PROJECT IN CLERMONT TO INCLUDE $100 MILLION, STATE-OF-THE-ART HEALTH CAMPUS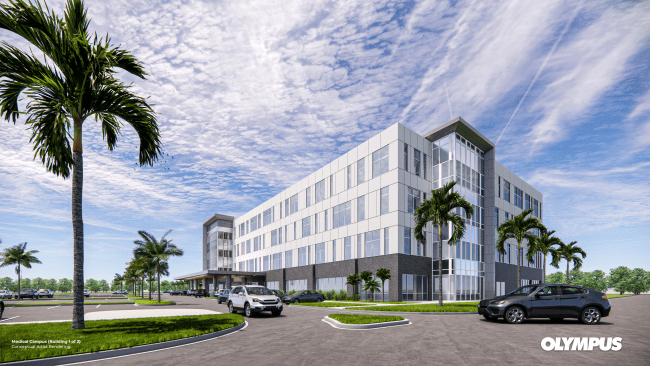 OLYMPUS PROJECT IN CLERMONT TO INCLUDE $100 MILLION, STATE-OF-THE-ART HEALTH CAMPUS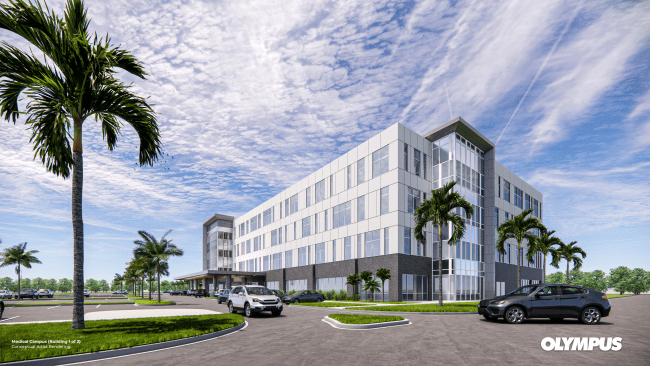 Olympus, the innovative master planned health, sports and wellness community located in Clermont, FL, and Healthcare Trust of America, Inc. (NYSE: HTA), the largest dedicated owner and operator of medical office buildings in the United States, unveiled today plans for a $100 million, state-of-the-art health campus. The announcement of the health campus, which is expected to generate approximately 325 direct, onsite medical jobs, comes just days after HTA's purchase of 6 acres and 175,000 square feet of medical office entitlements from Olympus.
As the premier health campus in Wellness Way, the HTA facility at Olympus is designed to feature multi-story, Class A medical office buildings, and a range of medical services –- from cardiology and dermatology to endocrinology and orthopedics. Located in the northwest part of the Olympus property along US-27, the health campus is within walking distance to the mixed-use Olympus Town Center, designed to feature unique residential, wellness, hospitality and entertainment zones. The cost to develop and construct the medical campus at Olympus is estimated at over $100 million.
HTA's data analysis points to the central-Olympus zone as the most attractive target for healthcare development. 156,000 people currently live within a 15-minute drive of Olympus, with expected growth of 12.3% over the next five years and 14% within 30 minutes. A final decision on the anchor tenant will be announced separately.
"The City of Clermont could not be more excited about this landmark health campus," says City Manager, Brian Bulthuis. "Both the construction phase and the permanent operations of Olympus will provide a very significant economic stimulus for the local economy and beyond," he added.
"The City is thrilled that HTA has chosen Clermont and the Olympus Development for this 175,000 square-foot medical facility," Clermont Mayor Tim Murry said. "Not only will this facility provide quality health care, but it will also provide significant employment opportunities for the residents in the Clermont area."
According to economist, Hank Fishkind, Ph.D., Olympus is projected to create 2,800 direct, onsite jobs and have a taxable value of $1.5 billion at buildout.
"Clermont and Lake County have been dreaming and working hard for years to attract high-wage healthcare jobs to Wellness Way," Lake County Commission Chair Sean Parks says. "HTA's plans mark a huge milestone in realizing this dream while providing our county with the highest level of healthcare. Thank you Clermont and HTA!"
"The health campus is another example of how Olympus fully integrates wellness into the core of its live-work-play development program, which aligns with –– and enhances –– the vision of Wellness Way," says G. Brian Wheeler, Senior Land Planner. "The Olympus plan incorporates public accessibility, functional open spaces, internal and external connectivity. Sports venues, performance venues, extensive trails and civic buildings reinforce the identity of the community, providing places of assembly for social, cultural, and managed recreation activities," Wheeler added.
"This exciting announcement is the culmination of years of intensive planning and overwhelming support from the City and County, not to mention perseverance in the face of the pandemic," says Michael Carroll, CEO of Olympus. "We are very pleased to welcome HTA to the Olympus campus and we look forward to a comprehensive, world-class health and wellness experience for residents and guests."
Additional development plans within the Olympus Town Center include hotels, multifamily, 55+ senior active adult, and mixed-use with retail, restaurant and entertainment.
About Olympus
Olympus is designed as a platform for business innovation and economic growth –– a smart, connected wellness community and global sports and entertainment destination. Olympus features a synergistic array of development opportunities in healthcare, wellness, fitness, sports training and competition, hospitality, and residential. These zones of excellence are centered in and around a vibrant Town Center, serving as the heart of the Wellness Way growth area in Greater Orlando. The Olympus development team has created proprietary market drivers –– an innovative master plan, high-value entitlements, world-class partners, a sports campus, and a perfect location. These drivers build business and real estate development within the 243-acre master planned community and destination, which is projected to drive 2,800 direct, onsite jobs and over $1.5 billion in economic value at buildout.