Online Exclusive Recipe: White Chocolate Cheesecake with Strawberry Topping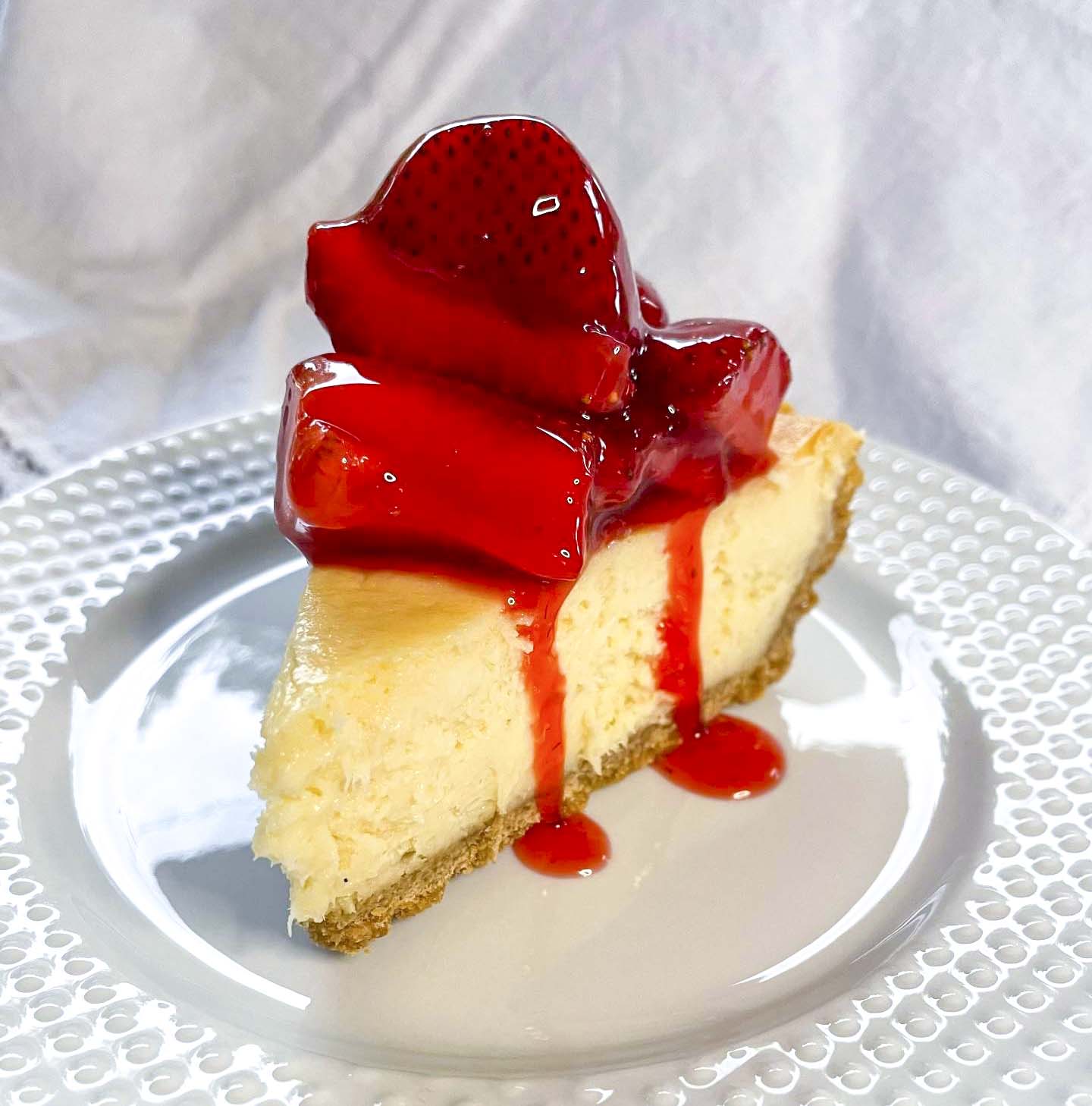 Online Exclusive Recipe: White Chocolate Cheesecake with Strawberry Topping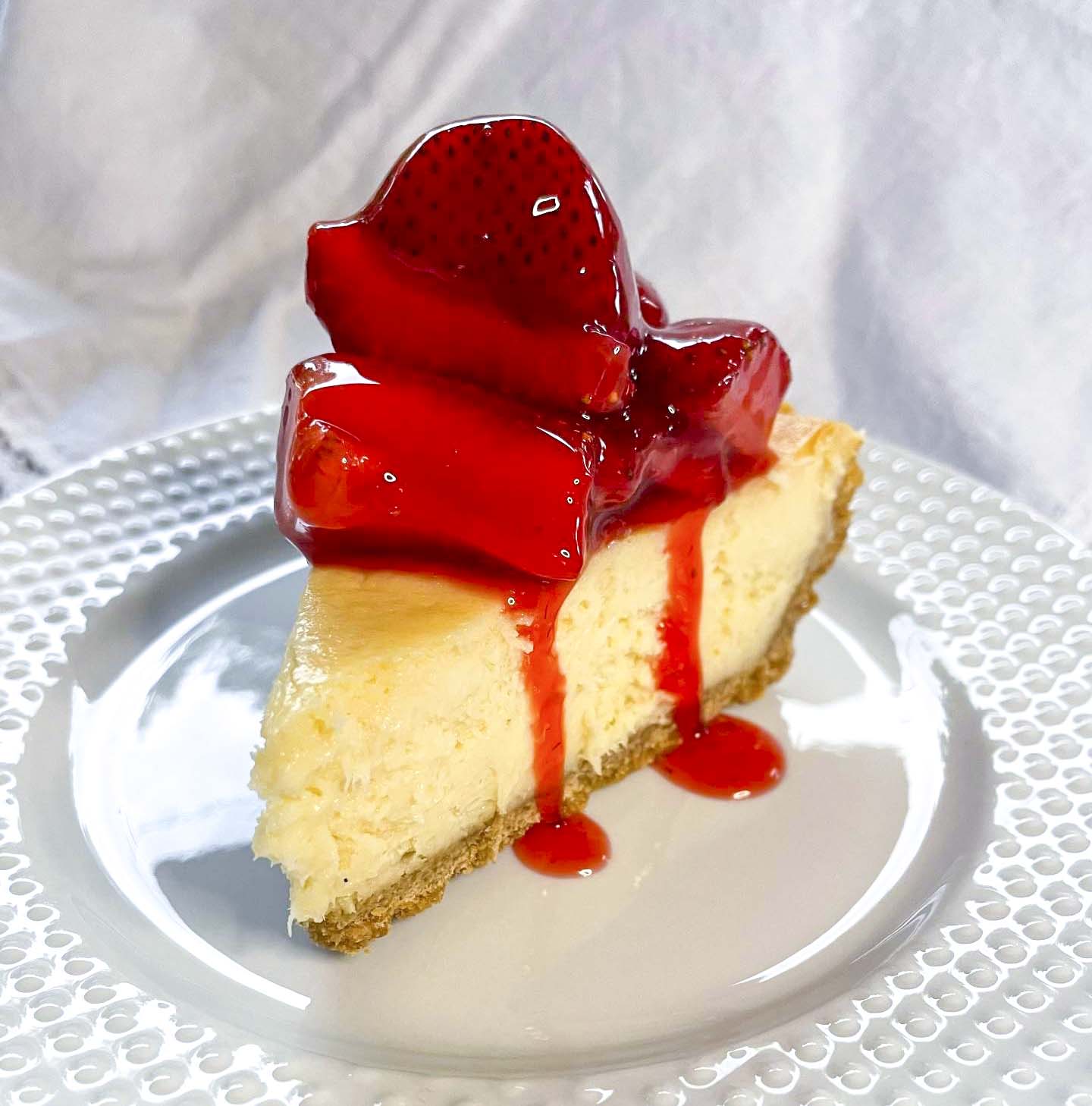 Who doesn't love a good piece of velvety cheesecake? Check out this online exclusive recipe by Jackie Watkins, owner of Pug & Pastry Baking Co. who was featured in this month's magazine —> She Takes The Cake
White Chocolate Cheesecake with Strawberry Topping
What you'll need:
Graham Cracker Crust
12 whole Graham crackers ground
6 tbsp. Melted butter
1 tbps granulated sugar
1/2 tsp ground cinnamon
Cheesecake Filling
4 8oz pkgs cream cheese
3 whole eggs 2 egg yolks
1 cup granulated sugar
1/4 cup brown sugar
1/3 cup white chocolate
2 tbsp heavy cream
1 tbsp pure vanilla extract
Strawberry Topping
1 qt. Fresh strawberries
1/4 cup granulated sugar
2 tbsp orange juice
1 tbps corn starch
Directions
Preheat oven to 350° grease a spring form pan and line the underneath with foil.
Scrunch foil up the sides of your pan. This will protect the Cheesecake when we bake it in a water bath.
Place on a baking sheet and set aside.
For the crust: Grind the Graham crackers, sugar, and cinnamon, add in the melted butter and stir till well combined Press into the spring form pan.
For the filling: Cream the cream cheese and sugar till smooth. Scrape down your bowl and continue to cream on low. Melt the white chocolate and heavy cream till smooth. Add into cream cheese mixture along with the vanilla and eggs. Mix till fully incorporated.
Pour mixture into your prepped pan. Place your baking pan in the oven and carefully add water to about 1/2 inch up the sides of the spring form pan. Bake for 20 minutes at 350° then turn the heat down to 300° for an additional 45-60 minutes. Until it slightly jiggels in the middle when you tap the pan. Turn off the heat cool in the over for 20 minutes with the door cracked. Leave on the counter to cool completely then refrigerate overnight.
For the topping: Wash and remove the tops of your strawberries. Take half and add to a small saucepot.. use a potato masher and smash the berries to small chunks. Add in sugar, juice, and cornstarch. Bring mixture to a boil then add your remaining berries. Depending on their size you can leave them whole or cut in half if desired. Cool the mixture then add to the top of your cheesecake.
Slice and Enjoy!
Check out the Pug & Pastry Baking Co. Facebook page for more yummy goodness.
Originally from the small town of Berryville, Arkansas, Cindy has become a multimedia specialist in journalism, photography, videography and video editing.
She has a B.S. in Communications from the University of Central Arkansas and is a correspondent for The Daily Commercial, LakeFront TV and Beacon College's PBS talk show, "A World of Difference," where she received an Anthem Award and Telly Award.
When she isn't working, Cindy spends time with her husband, Ryan, and son, David, traveling and taking photos of landscapes and wildlife.
Share This Story!