Orange Blossom Opry in Weirsdale Debuts New Renovations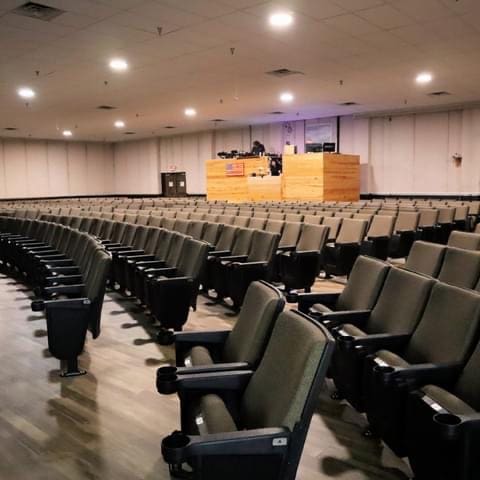 The Orange Blossom Opry in Weirsdale has debuted their newly-refurbished interior. The Opry looks vibrant and much more comfortable than ever before. The new seats have been a huge hit with long time concert and event goers and the new facelift has provided an experience that everyone can be proud about.
From the entertainers to the guests, staff and management, this has been a long time coming. As the most popular concert hall in the area, Orange Blossom Opry always brings in entertaining acts such as Hotel California, an Eagles tribute band who sound just like the real band, The Lettermen, Christmas and holiday-themed shows and much more.
With so much use, the facility was in need of a renovation and that is exactly what happened this summer as Roger Beyer and the Orange Blossom Opry team got to work. Old seating, which had been there for well over 2 or 3 decades, was removed to make way for new modern seats, allowing for a much more comfortable experience.
Not to say the previous seats were not comfortable, but longer performances sometimes were an issue. That has been fixed and these seats are perfect for a 2-hour performance. At no point do you feel uncomfortable. The team did a great job. Owner Roger Beyers has said that "I am proud of the work they did at Orange Blossom Opry. We have had great feedback from the new renovations and could not be happier with the turnout."
Along with the brand new seats, the Opry also got a new modern floor. The floor is a beautiful grey, which compliments the color of the seats. Previously the floor was just a concrete painted slab. Now, the new floor brings a new elegance to Orange Blossom Opry and has just made the entire place feel more like someone's home.
In the end, that is what Orange Blossom Opry has been all about – welcoming guests to this wonderful slice of history in Weirsdale. There is nothing like attending a show at Orange Blossom Opry. The entire crew makes you feel like family. From the moment you arrive until the moment you leave, it is such an intimate venue that makes you want to come back for more.
That is due in part to Roger Beyers, the owner of the Orange Blossom Opry. Roger Beyers also owns Beyers Funeral Home & Crematory in Leesburg and knows how to treat people. Working in the funeral home industry teaches how to approach people respectfully. Orange Blossom Opry takes those lessons and applies them to the entertainment world.
Each employee greets you with a smile, warm inviting personality and that is a reason that long-time folks have been attending events here for years and years. "They just offer an environment that makes you want to come back for more," he says.
As Orange Blossom Opry prepares for another holiday season, it also prepares to welcome back snowbirds to our area. I think for all the snowbirds returning they will be pleasantly surprised with this renovation. It was a long time coming and now Orange Blossom Opry continues to be one of the top dogs for entertainment in Central Florida.
We are thrilled about the renovations! But don't take our word for it, go see it for yourself. You will be glad you did.
Photos Provided By:
Orange Blossom Opry
Photo Credit:
Orange Blossom Opry
Kyle Coppola was born in Newton, Massachusetts and received his Bachelor of Fine Arts in Communications from Curry College in 2016. After traveling to Florida on a family vacation, he decided he could not get enough of the warm weather and made the move from snowy Massachusetts to central Florida 8 years ago.
For the last decade Kyle has gained valuable experience in social media content creation, marketing and sales, writing, video production, sports announcing and even broadcasting for local radio stations, such as FM 102.9 in The Villages and FM 91.5 in Massachusetts. Every year he volunteers at The Villages Charter High School as a play-by-play sports announcer for the football games as well as a public address announcer for the basketball games, including the annual Battle at The Villages Tournament.
Outside the office Kyle is a husband and father to two beautiful girls along with their cat. In his spare time he likes to spend time with his family, travel, play golf and swim. He is also a huge sports junkie and even bigger motorsports fan and loves to attend racing events when he can.
Share This Story!