Phantom Airborne Brigade 140 Paratrooper Training Jump into Lake Dora Happening Saturday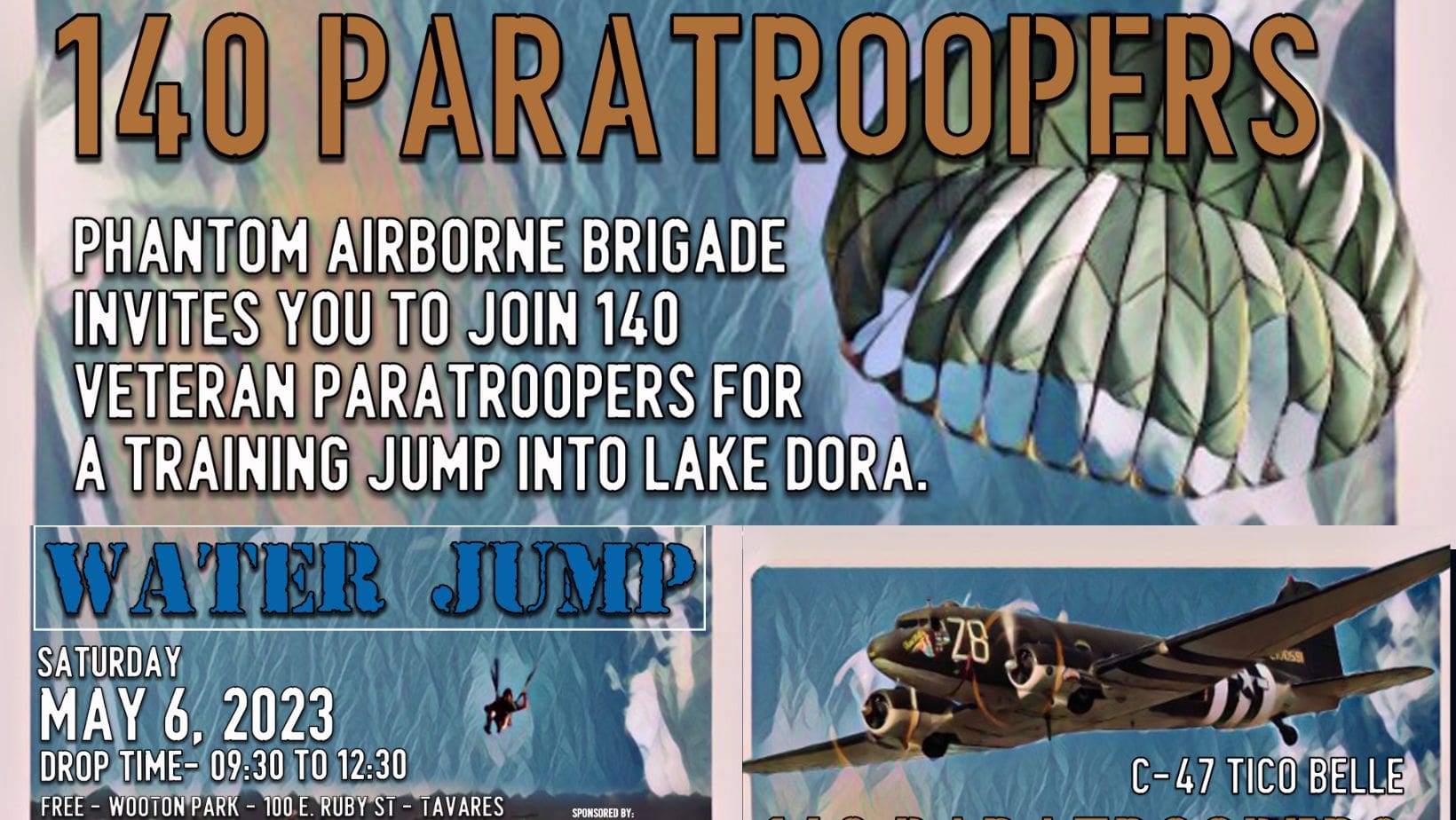 Phantom Airborne Brigade 140 Paratrooper Training Jump into Lake Dora Happening Saturday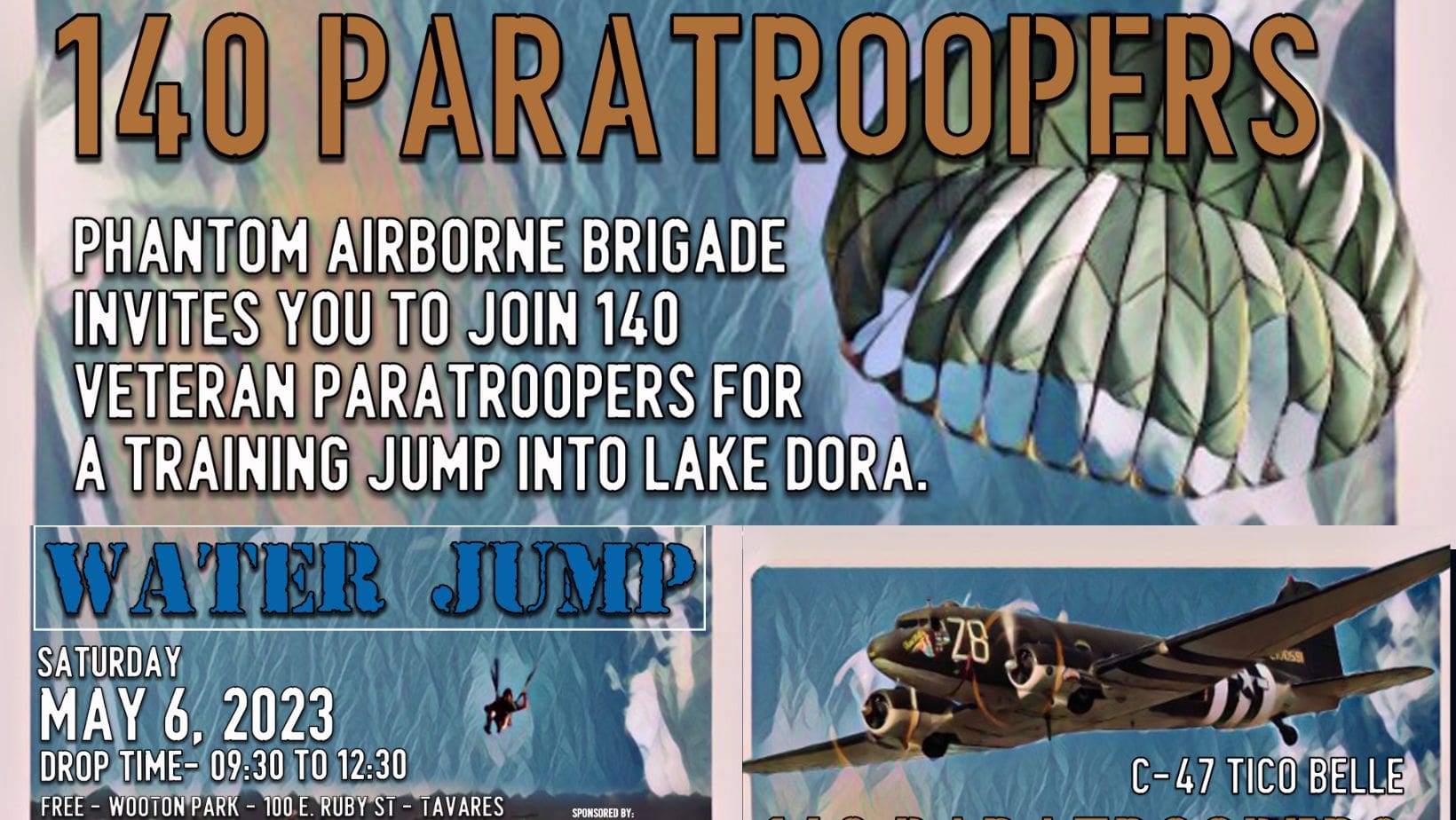 Phantom Airborne Brigade will present the Charlie Hardrock Foundation Reunion Jump on Saturday May 6th 2023 at 9:30am, at Wooton Park, featuring 140 Paratrooper Veterans jumping into Lake Dora. Phantom Airborne Brigade is a 501(c)(3) veteran's organization giving military trained Airborne qualified Veterans the opportunity to military static line jump after leaving active duty.
We are proud to facilitate the jumping of two veteran paralyzed paratroopers. This is a safe and unique opportunity that only Phantom Airborne Brigade provides to our disabled paratroopers. They will be the first jumper to exit the aircraft on lifts 3 and 4.
There will be 140 Paratrooper Veterans jumping into Lake Dora. The public is invited to come watch our jumpers parachute into Lake Dora. Our jumpers come from all ranks and Airborne units, foreign, and domestic. Participating in the jump will be the 82nd Airborne, 101st Airborne, 173rd Airborne, LRRP, Special Forces, 1Para, Rangers, and many others.
The first drop will begin over Lake Dora at 9:30am, with additional Paratroopers jumping every 20 minutes. Each flight will have 20+ Paratroopers jumping simultaneously into Lake Dora. The jump aircraft is a WWII C-47 Skytrain flown by Valiant Air Command from Titusville, Florida. She is named "Tico Belle" and dropped Paratroopers from the 82nd Airborne into Normandy on D-Day, Operation Market Garden in Holland, and provided support for the Berlin Airlift. She can carry 22 fully coat ready paratroopers.
The ideal location to view this event is from the shoreline of Wooton Park located at 100 E. Ruby Street, Tavares, FL. The parking garage is located at 100 N. Sinclair Ave, Tavares, FL is free and will be opened early to the public.
In advance, Phantom Airborne Brigade would like to thank all the City of Tavares government agencies, Lake County government agencies, SunAir Aviation, the Kalua Beach Bar, and the volunteer pickup boats. A safe, fun operation would not be possible without them. We are grateful for the support and sponsorship by the City of Tavares.
Media Resources:
Phantom Airborne Brigade Contacts
Chris Stephens
chriss.pab@gmail.com
937-573-7222
City of Tavares
Cheri Moan
https://www.tavares.org
Charlie Hardrock Foundation
William Henderson
whenderson@hardrockcharliefoundation.org
Valiant Air Command
https://www.valiantaircommand.com/c-47-tico-belle
Kyle Coppola was born in Newton, Massachusetts and received his Bachelor of Fine Arts in Communications from Curry College in 2016. After traveling to Florida on a family vacation, he decided he could not get enough of the warm weather and made the move from snowy Massachusetts to central Florida 8 years ago.
For the last decade Kyle has gained valuable experience in social media content creation, marketing and sales, writing, video production, sports announcing and even broadcasting for local radio stations, such as FM 102.9 in The Villages and FM 91.5 in Massachusetts. Every year he volunteers at The Villages Charter High School as a play-by-play sports announcer for the football games as well as a public address announcer for the basketball games, including the annual Battle at The Villages Tournament.
Outside the office Kyle is a husband and father to two beautiful girls along with their cat. In his spare time he likes to spend time with his family, travel, play golf and swim. He is also a huge sports junkie and even bigger motorsports fan and loves to attend racing events when he can.
Share This Story!